Page 2 of 4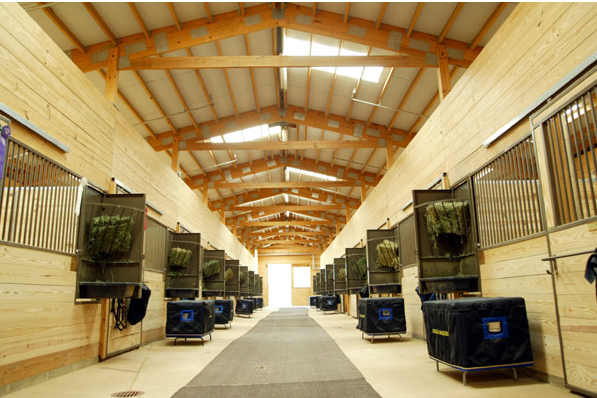 Sites on the property range in size from one-third-acre lots up to five-acre lots, and homes range from Club Casitas to custom homes at prices ranging from $600,000 to more than $4 million. Las Campanas' Clubhouse has been honored as a Platinum Club of America from 2014 to 2016 and is the only exclusive country club of its kind in New Mexico. The club ofers two championship 18-hole Jack Nicklaus Signature golf courses (Sunset ranked No. 1 and Sunrise ranked No. 3 by Golf Digest in the top 10 courses in the state); state-of-the-art Indoor Golf Performance Center; a ftness and tennis center with top-tier equipment, a resort-style outdoor pool and an indoor saline-purifed lap pool; a luxury spa and salon and an equestrian center.
The equestrian center is one of Las Campanas' most unique and impressive assets. The facility encompasses a world-class barn with space to board up to 80 horses, a 32,000-sq.-f. indoor riding hall, large outdoor jumping rings and access to more than 68,000 acres of outdoor trails. Instructors for personal lessons are available, and if members do not personally own a horse, they have access to use one of the club's horses upon request. Members of Las Campanas love to hit the trails with their friends and wander through the land of New Mexico, exploring new sites and taking in all of nature's beauty.
May 5, Cinco de Mayo, marks the fifh anniversary of the turnover of the club from the developer to the members. Since then, the community has been on a continual uphill climb. An investor group, Cienda Partners of Dallas, purchased the rest of the property. They are represented by Las Campanas Realty, Jerry Maher, Associate Broker.
"The nice thing about this club is you can be as involved as you want to be, or you can just kind of use it as your own oasis and your own home away from home. It's completely up to you. The members just want you to love it no matter what," says Director of Membership Development at Las Campanas, Colleen Edwards, who believes that the members themselves are really what make the community of Las Campanas so special.
The community offers the ultimate luxury and relaxation lifestyle to members and is an ideal location for Arizonans looking to buy a second home, as it is not a far trek back and forth and is still an escape from the summer heat. Santa Fe's high desert climate remains mild throughout the entire summer