Page 3 of 4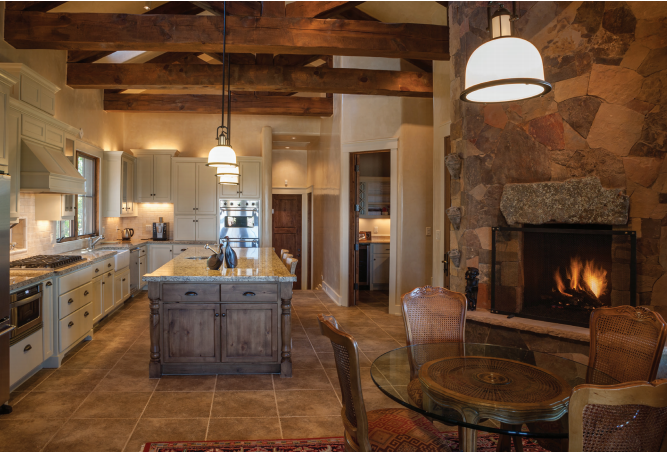 After buying a home in Las Campanas, you'll want to furnish it. Emily Henry's Millicent furniture collection is the perfect fare to add to a Santa Fe home. Millicent is a small collection of handcarved, North American wooden furniture made in Taos and Santa Fe. The process of each piece begins with Henry's initial drawings and carving designs. She says she spends hours exploring the land and sketching diferent designs for potential carvings. Each of Millicent's impressive designs seem to be popping of of the furniture and are a sure way to awe buyers. The unique style of Henry's furniture is a true refection of the artistic and cultural city where it is developed.
The captivating beauty of the Las Campanas community will make it difficult to want to leave, with mountain views from almost every angle of the property. However, Santa Fe's downtown area is another site for sore eyes and offers plenty of activities to the community. While wandering the streets of downtown Santa Fe, be sure to stop in to the Shiprock Gallery on the Plaza to browse the collection of historic and contemporary textiles, jewelry, pottery, sculpture, basketry and fne art by leading Native American artists. The gallery truly expresses the talent and history of New Mexican art and can be appreciated by everyone that comes in contact with it. A pit stop for lunch is next on the list, and Santa Fe is proud to be home to John Sedlar's Eloisa restaurant located inside the Drury Hotel.
After spending almost 20 years gracing the people of Los Angeles with his delectable cooking, Sedlar decided to come home to Santa Fe. Eloisa ofers a unique menu of both small and large modern Southwestern plates. The contemporary modern interiors of Eloisa complement the fare that Sedlar adds to his food perfectly. Sit back on the patio and order the pastrami tacos with sauerkraut, pickled serranos and ballpark mustard to start. They will shock your taste buds and are an absolute must try. After lunch, relax in the plaza, soak in the sights of the city or take a stroll down Canyon Road, a magical half mile in the historic art district that features more than 85 art galleries and studios. While traditional adobe architecture gives Canyon Road its unique charm, diversity and color are its true claims to fame. Aside from art galleries, this half-mile stretch features jewelry stores, clothing boutiques, home furnishings shops, studios and gourmet restaurants. (The town is No. 2 in the country for shopping.) Whether art collectors prefer contemporary, abstract, modern, fgurative or traditional art, it's all there. Galleries showcase paintings in several mediums along with woodcuts, engravings and sculptures in stone, bronze, wood and glass.