Page 3 of 5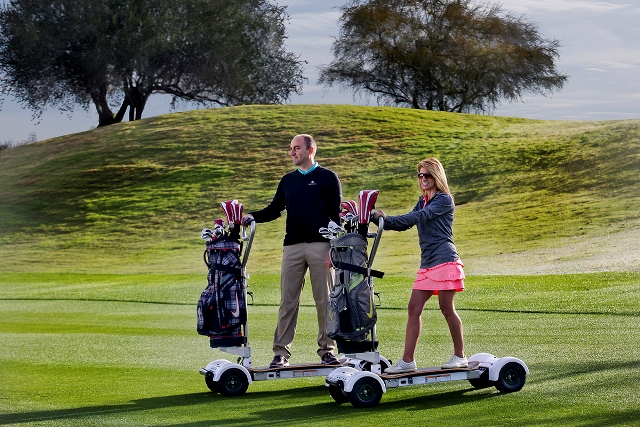 STAY AND PLAY: POINTE HILTON TAPATIO CLIFFS (pictured on opening page)
Through 2017, guests are invited to take part in the Pointe Hilton Tapatio Cliffs' Stay and Play package that not only includes a round at the resort's 18 holes of championship golf at Lookout Mountain Golf Club, but breakfast for two and a one-night stay in the resort's all-suite accommodations.
WILD THING: BOULDERS RESORT & SPA
Wildlife lovers are invited to hightail it to Boulders Resort & Spa to witness tailed friends on the resort's courses. Coyotes, rabbits, quails, roadrunners and even a stray javelina or bobcat can be spotted along the green. The "Coyote Rule of Golf" was even started at the resort: If you suspect a coyote has run off with your golf ball, you may drop one. For a truly luxe time on the links, players can consider The Boulders Elite Golf. Perfect for a day with your buddies or for sealing a business deal, the program includes ample time and privacy on the course; concierge assistance before, during and after play; personal coaching; a post-round catered barbecue with rare Scotch and custom-made cigars; and top-of-the-line golf gear.
PLAY ON—AND ON: JW MARRIOTT DESERT RIDGE RESORT & SPA
Via the Unlimited Golf package at JW Marriott Desert Ridge Resort & Spa's Wildfire Golf Club, players not only get to experience—as the name suggests—unlimited golf on the Palmer or Faldo courses, but also get to enjoy breakfast at stonegrill restaurant; use of the practice facilities; advanced tee times; golf bag storage; and 20 percent off at the golf, spa and tennis retails shops.
TRAVEL IN STYLE: THE WESTIN KIERLAND RESORT & SPA (pictured above)
Boasting one of the most innovative golf offerings in the country, The Westin Kierland Golf Club is the only golf club in Arizona at which golfers can choose to play the course on a Segway, Golf Bike, GolfBoard (similar to a skateboard) or a four-seater golf cart (of course, players can walk or ride in a traditional cart, as well). To savor The Westin Kierland Resort and Spa's Scottish programing, players can opt for the Scottish Golf Experience, which will provide golfers with a kilt and all the trimmings.