Page 4 of 5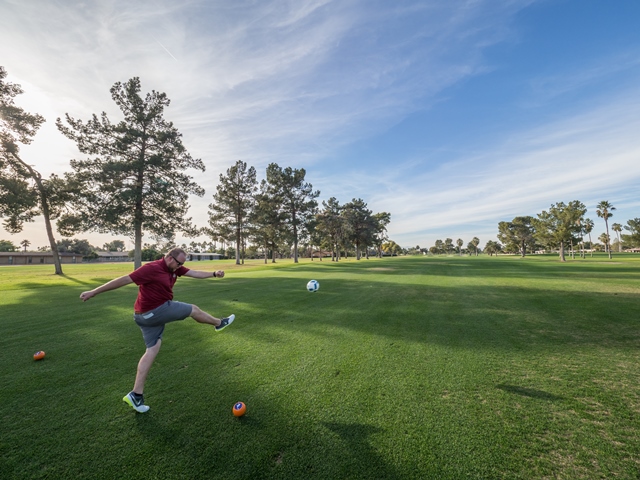 IF THE CLUB FITS: JW MARRIOTT SCOTTSDALE CAMELBACK INN RESORT & SPA
At Camelback Golf Club, the pros are prepared to fit you with the perfect clubs. Once you have an efficient swinging motion, the club-fitting process can commence, and Camelback Golf Club has teamed up with Cool Clubs to ensure to best custom fitting.
GET A KICK OUT OF IT:  WIGWAM ARIZONA (pictured above)
Footgolf, a mix between soccer and golf, just debuted at The Wigwams's Patriot Course at the start of the winter season. While no clubs are required, a soccer ball is available at the golf shop.
IT TAKES TWO: ARIZONA BILTMORE, A WALDORF ASTORIA RESORT
Arizona Biltmore Golf Club hosts Biltmore Buddies Golf on Thursday afternoons, making it the perfect way to break up the workweek with a little fun on the course. For $35, two players can enjoy nine holes of golf, two drinks and a sleeve of golf balls.
SADDLE UP: SHERATON GRAND AT WILD HORSE PASS
Koli Equestrian Center offers the chance to hitch a ride to Whirlwind Golf Course, on property at Sheraton Grand at Wild Horse Pass, in a truly unique fashion. Before hitting the green (36 championship holes, to be exact), a guest could begin their morning with a guided horseback ride through the desert.