If you're a golfer, there's no doubt that the preppy, classy-casual clothing at Brooks Brothers has satisfied a hankering for country club attire.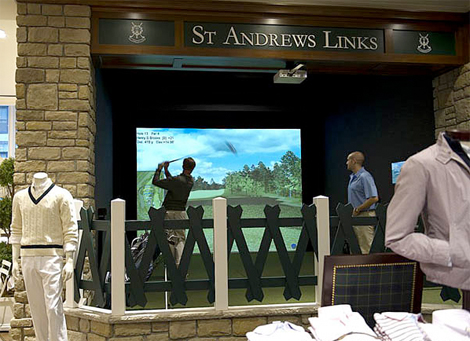 Recently, Brooks Brothers added a golf accouterment to its NYC location.
Brooks Brothers unveiled a redesign of its third floor as part of a multi-year, top-to-bottom renovation of the company's 10-story 346 Madison Avenue flagship.
The centerpiece of the 11,875 square foot sportswear floor is a state-of-the art, full-scale indoor PGA Tour simulator thought to be the first system of its kind in an apparel retailer environment.
Players are able to choose from a selection of courses most notably those of St. Andrews Links including The Old Course, The New Course and the Jubilee Course. Once the course is selected, players have a choice of playing on a driving range, practice mode or perfecting their short game as part of the 3-D experience, all while using Callaway clubs and balls provided.
Brooks Brothers has a long history with the world of golf, having created its first golf collection in 1890. In March 2010, Brooks Brothers and St Andrews Links entered into a long-term worldwide co-branding partnership with Brooks Brothers designated as an "Official Partner of St Andrews Links." The first St Andrews Links collection launches this season and is now available at Brooks Brothers stores nationwide.
Claudio Del Vecchio, Chairman and CEO of Brooks Brothers, said, "We wanted to celebrate our commitment to golf and also offer our customers a unique experience. I am sure our clients will appreciate the ability to shop as well as the opportunity to enhance their golf game."
The third floor also houses a full range of casual and performance clothing and accessories. Themed lifestyle displays are staged throughout the selling space. Highlights include an enhanced selection of Supima cotton sportswear as well as a corner featuring polo shirts in 34 colors which are available in both regular and slim fits. Sports enthusiasts will appreciate technical apparel for sailing, tennis and golf.
To Learn More
Brooks Brother, www.brooksbrothers.com
Image Courtesy of Brooks Brothers