Page 1 of 2
You'll feel just like a princess in paradise after flying the coop to picturesque Puerto Vallarta with a tight-knit group of gal pals. Let the girl bonding begin!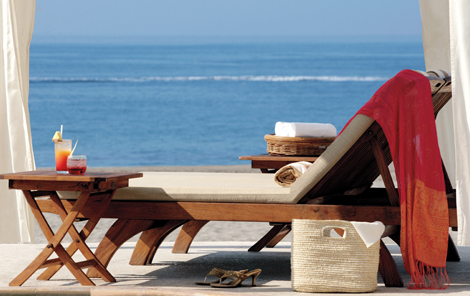 Why is it that when you grow up you stop going away with your gal pals? Somewhere between college and kids, summer vacay with the girls goes from the highlight of your social calendar to a faded memory. The easy answer is that life gets in the way—plus jobs, husbands, kids, responsibilities, blah, blah, blah—and the next thing you know the extent of your girl time is sending updates on Facebook. Yet a funny thing happens when age-old friends flock together: that fairy-tale feeling returns. You feel refreshed, rejuvenated, reconnected and even a little younger—at least that's what happens after an all-inclusive BFF escape to Casa Velas, an adults-only boutique hotel and ocean club in picturesque Puerta Vallarta, Mexico.
We all know that the most important thing about a trip with the gals is, well, the gals, but the right setting elevates the experience. Good news: Puerto Vallarta hasn't changed that much since your spring break days. Same sweet spot between the Sierra Madres and the sparkling Pacific Ocean. Same glorious sun. Same balmy 80 degrees. And Casa Velas fits in perfectly. Nestled along the beautiful Marina Vallarta golf course, the intimate and upscale resort is high on luxury. This is obvious from the minute you walk through the lobby doors. Instead of the usual check-in, you're ushered to a comfy couch where you deal with all the paperwork over a mouthwatering mocktail made with freshly squeezed guava from the garden. You're also bound to notice the service. It's perfecto (translation: consistent and genuine), and will instantly make you feel like a VIP.
Thankfully, the suites have nothing in common with your college dorm. All the rooms come with the sleeping beauty basics: Italian marble bathrooms (they're huge), lush bathrobes, mini bar and snacks stocked daily, a beach bag for carting your essentials and nightly turn-down service; rooms with private balconies, immersion pools and terraces are also on the menu. If you have more than three in your princess posse, the two-bedroom Royal Suite won't disappoint, but the true pièce de résistance is the Presidential Suite, a four-bedroom behemoth with a private balcony, a pool, a brag-worthy dining room and a fully stocked bar. The butler is optional.
Last Updated ( Wednesday, 06 July 2011 16:06 )