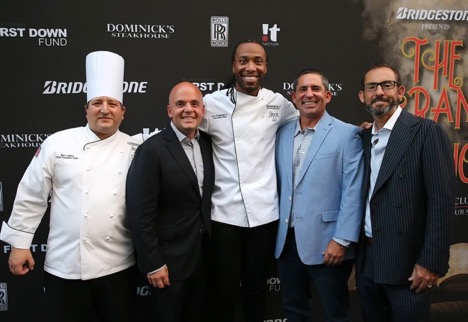 Arizona cardinals beloved Larry Fitzgerald has always found ways to increase the impact of his charitable work - especially by teaming up with others. And Fitz's Supper Club charity dinner is always a much talked about touch down!
Now celebrating 10 years of success, the fun event benefits the Larry Fitzgerald First Down Fund, which has supported programs for children and their families as well as grants for breast cancer organizations. You can help Fitz and his celeb friends celebrate 10 years at Fitz's Supper Club 2018, First and Ten on August 27th at 7 p.m. at Dominick's Steakhouse in Scottsdale, Arizona.
Current and former NFL players and sports executives turn out for this popular event.
This year, Larry will reminisce about some of the unforgettable plays made both on the field and off the field, especially through the programs that the First Down Fund has supported.
Guests can enjoy plenty of Larry's post game favorites prepared by Dominick's Chef Marc Lupino, and game changing cocktails. There's also a live and silent auction filled with celebrity items.
Tickets for the summer party start at $850 per person. You can find more information at larryfitzgerald.com

Kathy Shayna Shocket is a freelance Writer, and TV- Field Producer. The former entertainment TV-Reporter has written for publications such as TIME Magazine, MONEY Magazine, PEOPLE Magazine, The Hollywood Reporter and The NEW YORK TIMES. You can reach her at redkarpetgirl@aol.com