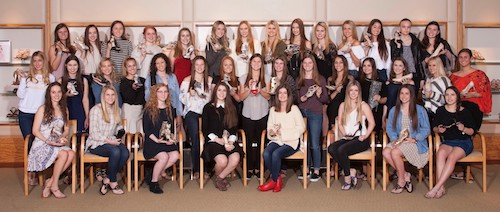 The Board of Visitor's Flower Girls will be stepping out in style for charity at the BOV's signature fashion show! Holiday style, that is.
And here's a sneak peak to check out their fashionable heels and fashions from Dillard's.
Yes, the BOV's 2018 Flower Girls who've been busy getting reading for the popular fashion show, selected their fashions from Dillard's.
They're carrying on the prestigious tradition of the now 64th Annual Fashion Show Luncheon. About 1,000 guests are expected for this year's "Sparkle and Shine." on Dec. 16, when the Flower Girls take to the runway for charity. This year's proceeds will benefit the community healthcare needs of women, children and the elderly.
The 2017 grant recipients that benefit from the show include Barrow Neurological Foundation, The Board of Visitors Ryan House, Circle the City, Hacienda Children's Hospital, Hospice of the Valley and Maggie's Place, to name a few.
By the way, the Board of Visitors is the oldest charitable organization in Arizona. Since its inception, in 1908, the BOV has granted more than 19 million dollars to local nonprofit organizations in the greater Phoenix community serving the healthcare needs of women, children and the elderly.
For more last minute ticket information you can click here

Kathy Shayna Shocket is a freelance Writer and TV-Field Producer. The former TV entertainment reporter has written for such publications as TIME Magazine, Money Magazine, PEOPLE Magazine, The Hollywood Reporter and The NEW YORK TIMES. You can reach her at redkarpetgirl@aol.com