"The AZ Insider" with Kathy Shayna Shocket: Get the inside scoop on Arizona's social scene and celebrity news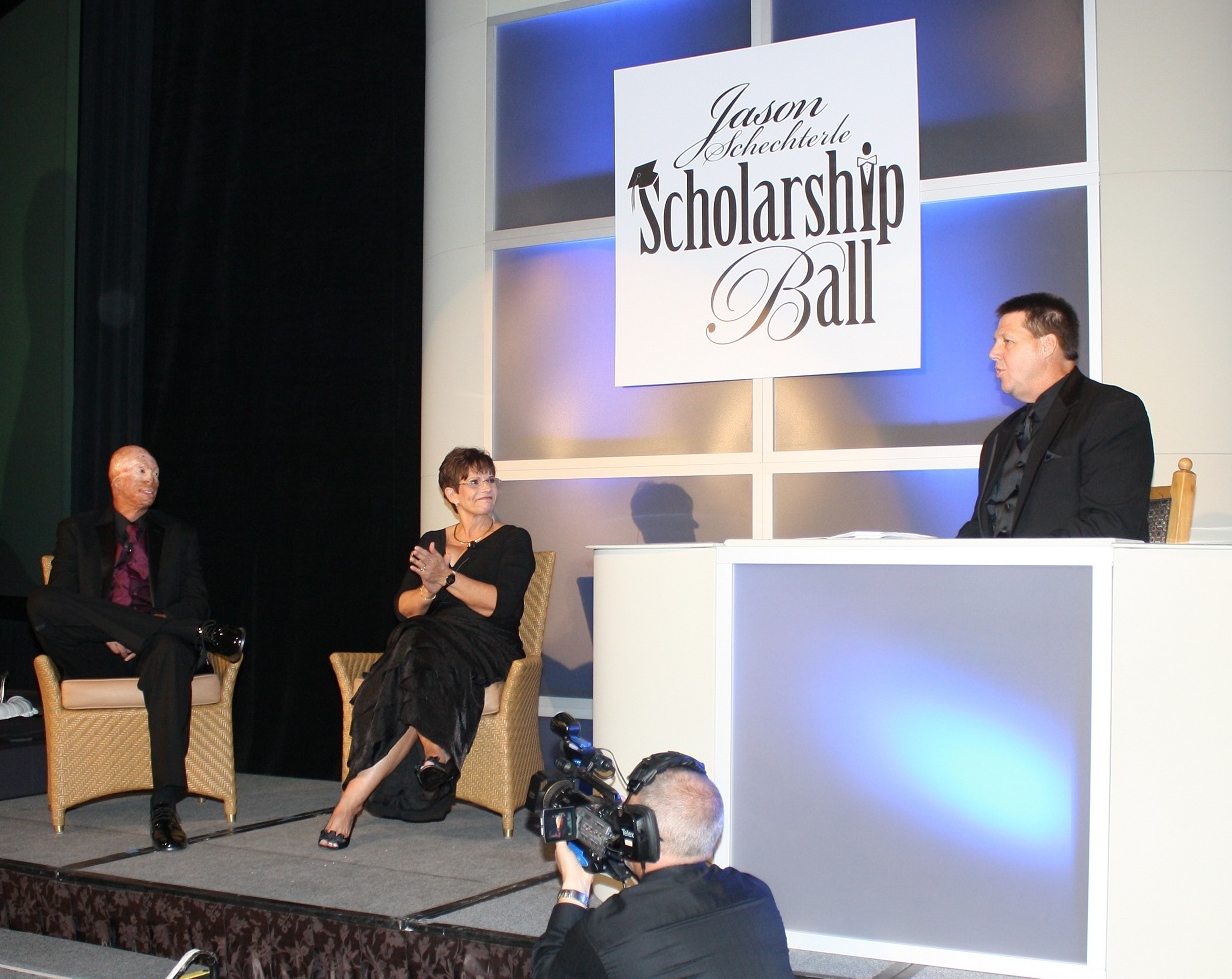 An emotionally engaging evening...
The Jason Schechterle Scholarship Ball is only five years old, yet $159,750 worth of scholarships was presented at this year's gala. The evening, named for former Phoenix Police officer and detective Jason Schechterle, was an emotionally meaningful and engaging one.
Through an engaging talk show format, Jason Schechterle shared his story with the 1,000 guests who turned out at the Arizona Grand Resort. (Jason who was catastrophically injured in the line of duty in 200 when his patrol car was hit by a speeding taxi cab and exploded; is pictured above with the 100 Club's Executive Director Sharon Knutson-Felix and Jack Ballentine of the Phoenix Fire Department. The former veteran and detective of the Phoenix Police Dept. and author was the ball's Event Chair.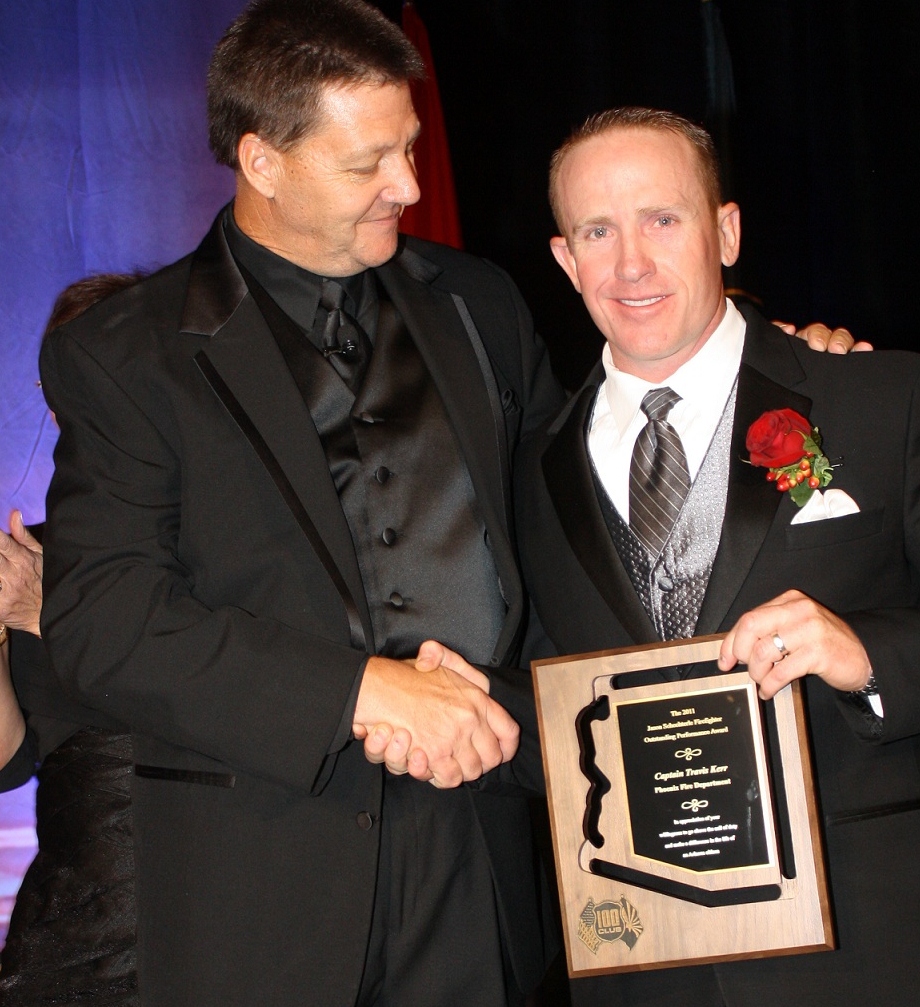 Jack Ballentine and Phoenix Fire Dept. Captain Travis Kerr
Along with the presentation of the scholarship awards the guests applauded (with many standing ovations) Phoenix Fire Department Captain Travis Kerr who was presented with the Outstanding Firefighter Award; Phoenix Police Department Detectives Rafael Ray Egea and John Justus who received the Public Safety Officer Outstanding Performance Award and Dr. William Leighton who received the Lifetime Achievement Award.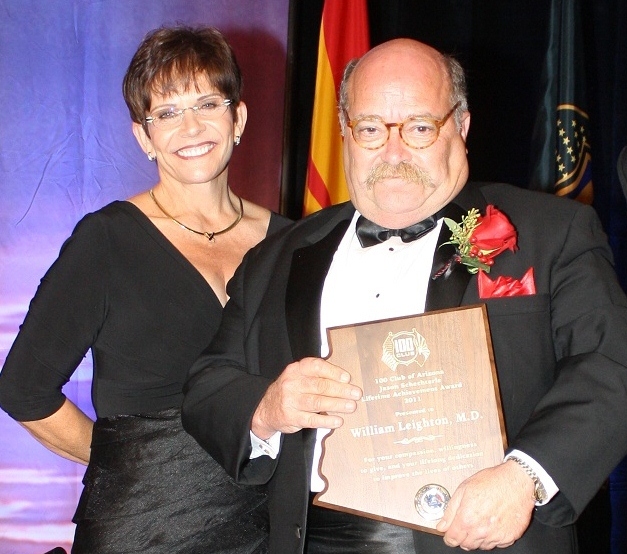 Sharon Knuston-Felix and Dr. William Leighton
Dr. Leighton operates on patients with birth defects, accident victims and burn patients, including Jason , who has undergone 52 surgeries.The audience at the ball was also captivated when they learned of Capt. Travis Kerr's heroic efforts after elderly women had fallen and laid alone covered in scorpions. Capt. Travis and his crew crawled through massive overgrowth of brush to reach her and endured the live scorpions to administer first aid. Beyond that he enlisted people to clean up her home while she was recovering in the hospital.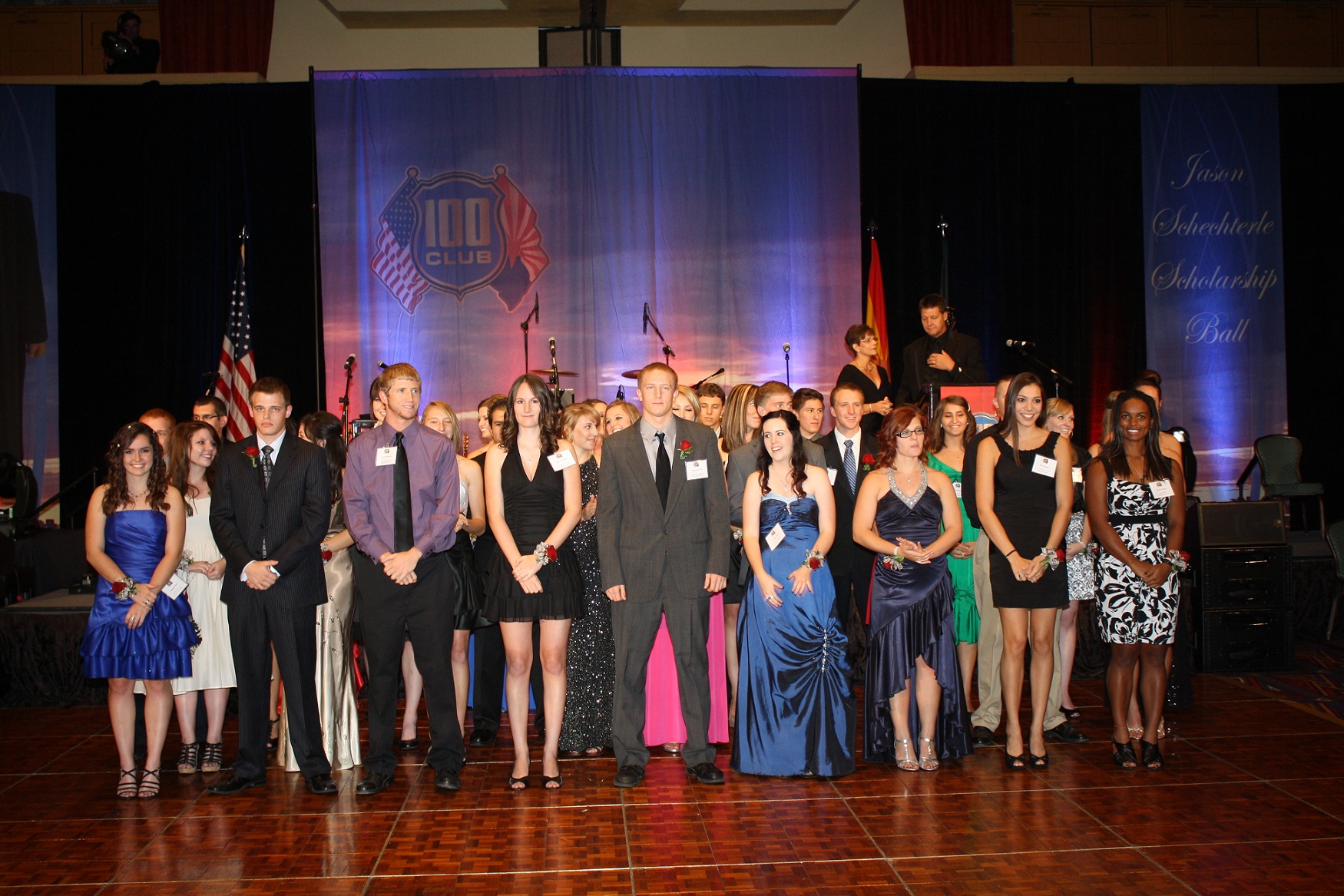 2011 Scholarship winners
They also heard the stories of the courageous detectives Egea and Justus who led an 18 month investigation which culminated in the arrest of dozen members of the Vinlander's Social Club in Arizona, an extremely dangerous neo-Nazi group who share violent philosophies.
The 100 Club is the non-profit organization which provides financial assistance to families of public safety officers and fire fighters who are seriously injured or killed in the line of duty. It also provides resources to enhance their safety and welfare.
It was the first organization which offered help to Jason Schecterle and his family.
The result of this accident, which made national headlines, tragically left him with disfiguring injuries from fourth-degree burns and a lifetime of surgeries to combat the related illnesses caused by those burns.
After Jason suffered through the financial difficulties related to his injuries, he realized a need to help other public safety members who were catastrophically injured.
Thus, Jason and the 100 Club teamed up to celebrate his courageous triumph over tragedy by naming the first 100 Club scholarships in his honor. The scholarships are awarded to dependents of catastrophically injured officers or firefighters.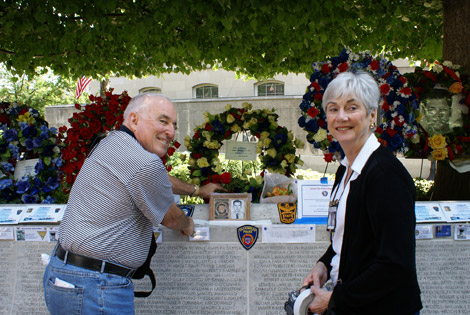 Bud and Sande Davidson
Among the VIPs at the ball were Bud Davidson and Sande Davidson. Bud received last year's Lifetime Achievement Award for his philanthropic work in Arizona's public safety. The Davidsons are pictured above during their visit to the National Law Enforcement Memorial in Washington, D.C.

Kathy Shayna Shocket is a freelance Writer, and TV- Field Producer. The former TV-Reporter has written for publications such as TIME Magazine, MONEY Magazine, PEOPLE Magazine, The Hollywood Reporter and The NEW YORK TIMES. You can reach her at redkarpetgirl@aol.com