As Arizona Diamondbacks pitchers Archie Bradley, Kevin Ginkel and Taylor Clarke were visiting with kids at Phoenix Children's Hospital, a group of D-backs' wives were busy preparing for a very special party.
Let me take you behind the scenes.
With Amanda Ahmed and Jordan Peralta at the helm, the ladies STEPPED UP TO THE PLATE and began transforming the Child Life Zone into a baseball birthday party. Soon a group children celebrating birthdays at the hospital and their families would be arriving. Amanda and Jordan are pictured above center flanked by Kristen Lovullo, Lene McKay, Shelby Swihart, Olivia Weaver and Tami Butcher.
They covered all the BIRTHDAY PARTY BASES, hanging the birthday decor, carefully wheeling in the custom-made, multi-layered birthday cake, and setting up the special gifts throughout the room.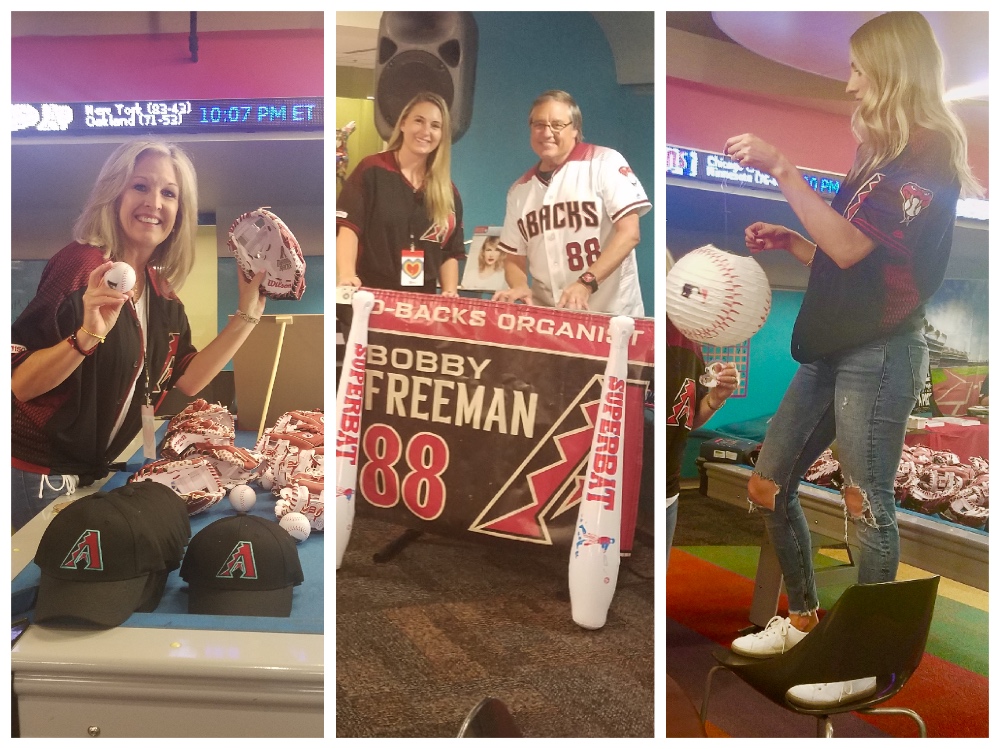 PIctured above left is Tami Butcher, pictured above middle is Jordan Peralta with team organist Bobby Freeman who entertained and pictured above right is Amanda Ahmed, hanging baseball decorations. There were pitchers' gloves, teddy bears adorned in D-backs T-shirts, toy baseball bats, and of a course, a photo booth. The team's Bobcat mascot was also there to mingle with guests.
Yes, when the kids and families arrived, this was a party where the medicine was allowing KIDS to be KIDS and enjoy a once in a lifetime baseball themed party!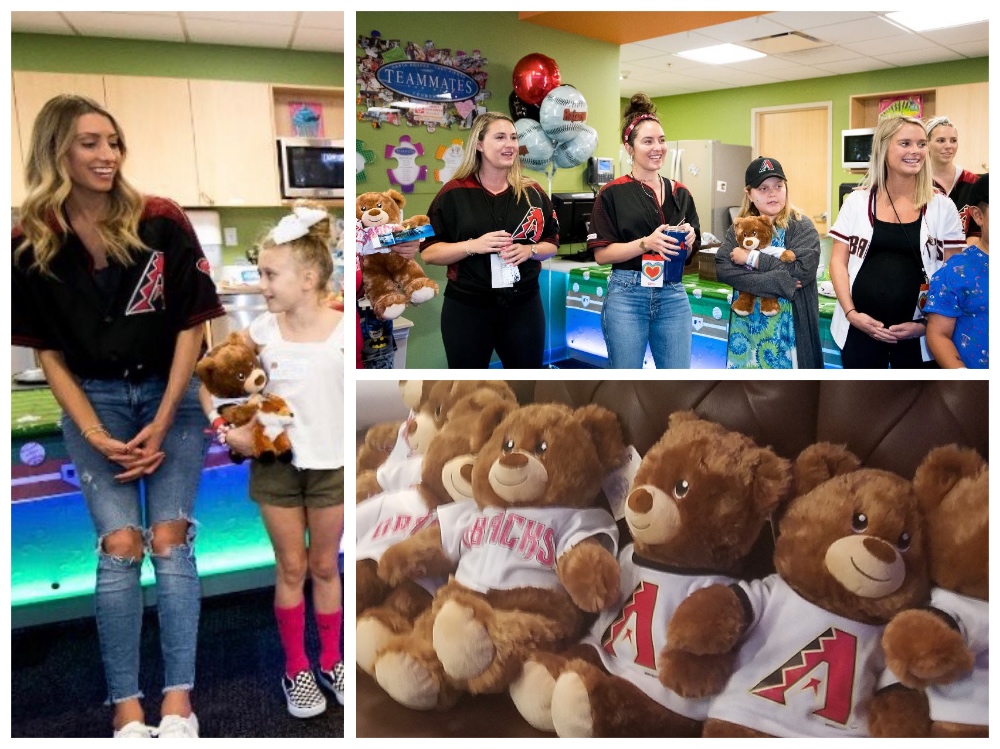 By the way, the D-backs are one of the many sponsors of the Child Life Zone at PCH. It was exciting in 2012, when Garth Brooks was at the hosptial to unveil the Child Life Zone and celebrate a generous endowment from Garth Brooks' Teammates for Kids Foundation, which provided funding for its construction. Today, the Child Life Zone Network has grown to 11 hospitals who are now Zone Teammates.
Congratultions to the D-backs' wives on a planning home run party!

Kathy Shayna Shocket is a freelance Writer, and TV- Field Producer. The former TV-Reporter has written for publications such as TIME Magazine, MONEY Magazine, PEOPLE Magazine, The Hollywood Reporter and The NEW YORK TIMES. You can reach her at This e-mail address is being protected from spambots. You need JavaScript enabled to view it