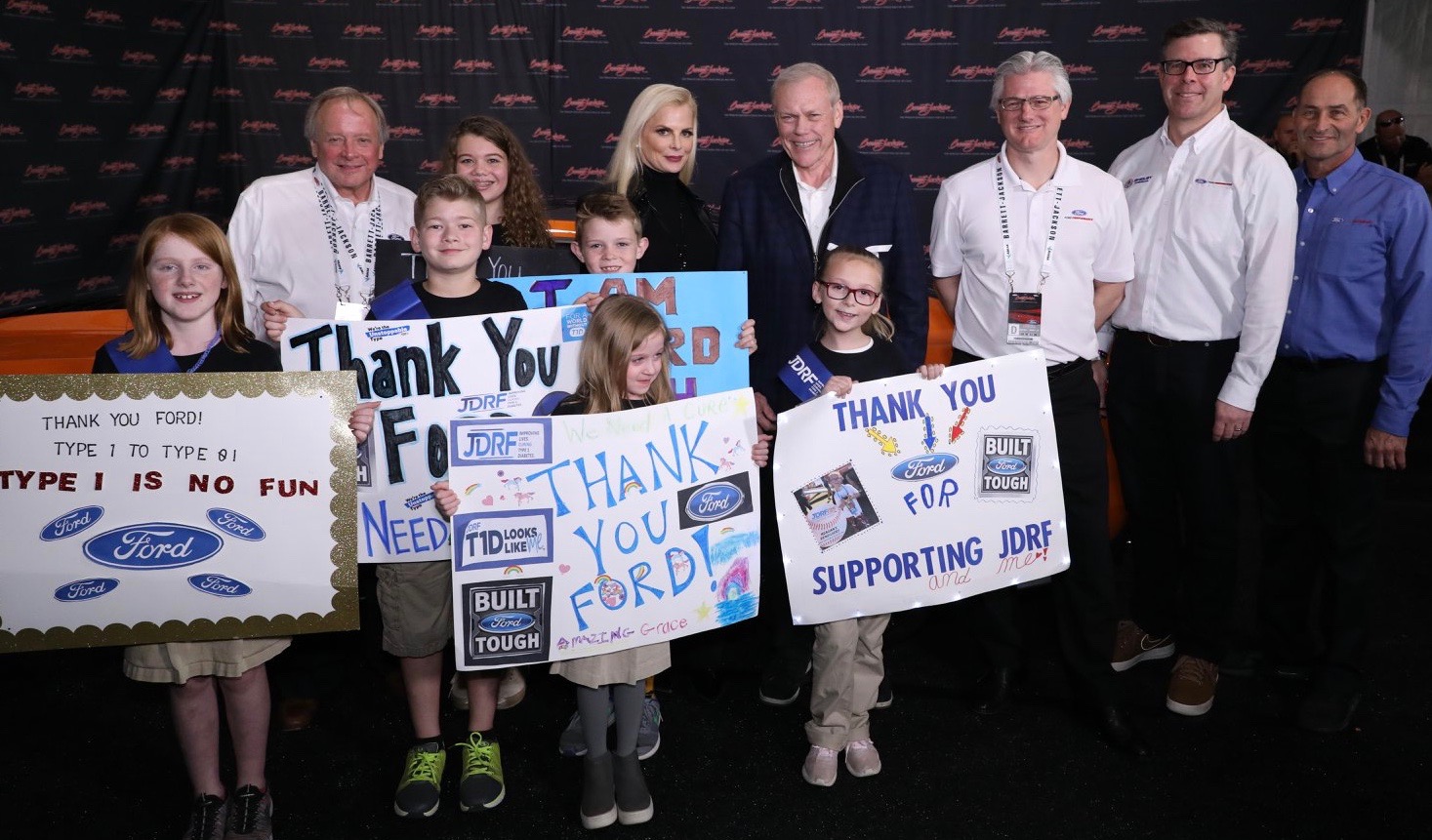 Amidst the furious bidding at Barrett-Jackson for the 2020 Shelby GT500, the crowd became even more thunderous with cheers as Chairman and CEO Craig Jackson himself and wife Carolyn became bidders! The winning bidders! Yes, the Jacksons bought the most powerful engine ever in a production Mustang for $1.1 million. The new car has more than 700 horsepower.
Not only was Aaron Shelby there, but so was Edsel Ford II.
For many years, Craig was friendly with Carroll Shelby and this new car will join several other Shelbys in the Jackson's incredible collection. That includes the 'Green Hornet,' and the experimental Shelby, 'Little Red.'
Then there was the excitement when singer/songwriter Ray J bought the ultimate custom 1967 Chevy Camaro! Childhelp co-founders Sara O'Meara and Yvonne Fedderson were there to thank the entertainer for his bid, as he proceeds from the Chevy — $165,000 — will benefit Childhelp through SEMA Cares.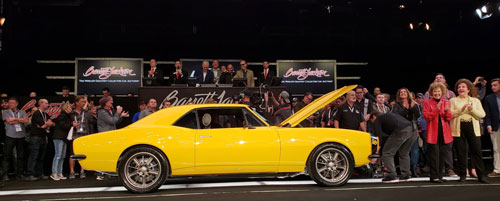 During the weeklong premier automotive lifestyle event, Barrett-Jackson raised $9.6 million, which includes donations made on the block beyond the hammer prices, and is the largest amount raised at one auction in the company's 48-year history. To date, Barrett-Jackson has raised over $114 million for charity.
Craig says that, "As a company that was built on giving back to the community, this is a significant milestone worth celebrating. We're so grateful for the countless wonderful people and companies, from OEM partners to celebrities, who have joined us on this phenomenal journey. Giving back is the heartbeat of Barrett-Jackson and the collector car community."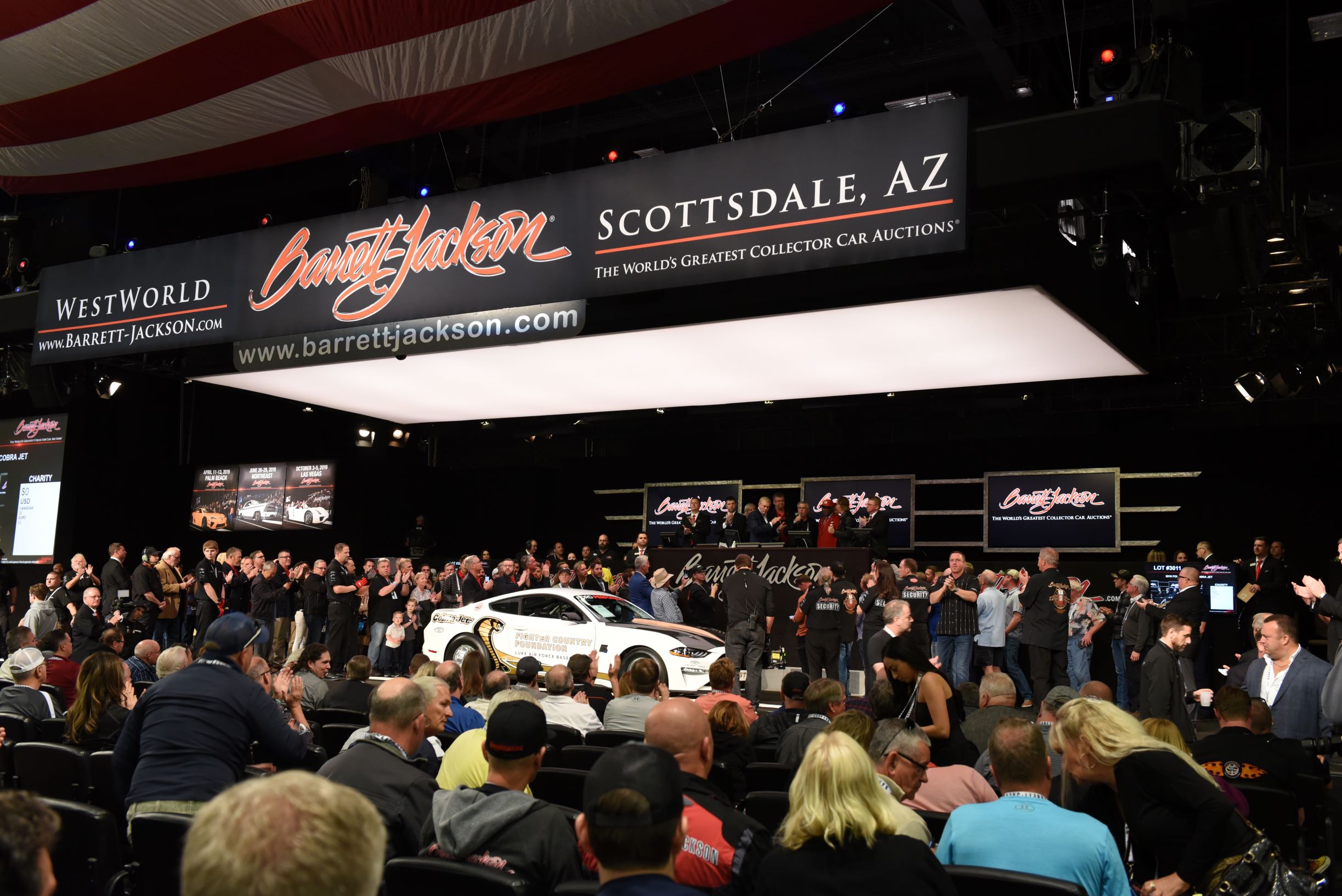 U.S. Air Force veteran and Top Gun Pilot Col. Richard Toliver (red) assisted in the sale of a 2018 Ford Mustang Cobra Jet (Lot #3011) which sold for $200,000 to benefit Fighter Country Foundation at Luke Force Air Force Base
The Jeep sold by actor Gary Sinise raised $1.3 million to benefit the Gary Sinise Foundation, which is dedicated to helping veterans, first responders and their families.
Several NASCAR legends, Medal of Honor recipient Dakota Meyer and top auto manufacturers – joined the Barrett-Jackson team to sell some of the most rare and desired cars.
A total of 13 lots were generously donated to help raise funds and awareness for deserving charities across the country.
Among the greatest names in NASCAR there in support of their favorite charities were Richard "The King" Petty, as well as former NASCAR Winston Cup Champion Rusty Wallace, Monster Energy NASCAR Cup Series driver David Ragan and NASCAR Hall of Famer Jeff Gordon each took to the auction block to encourage bidding during the sale of vehicles for their charities.

Kathy Shayna Shocket is a freelance Writer, and TV- Field Producer. The former TV-Reporter has written for publications such as TIME Magazine, MONEY Magazine, PEOPLE Magazine, The Hollywood Reporter and The NEW YORK TIMES. You can reach her at redkarpetgirl@aol.com