Page 1 of 4
Some, like Phoenix's Jack and Sharon Dawson, like it hot. But this active couple also likes it cold. So—such are the perks of retirement—they enjoy both: salmon in rugged Ketchikan, Alaska, and luxurious thaw and play at their desert haven in the Optima Biltmore Towers near 24th Street and Camelback Road in Phoenix.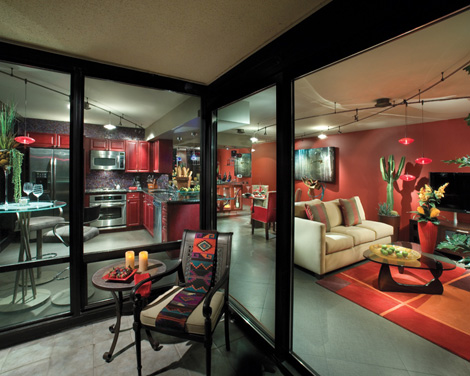 Designed by David Hovey, FAIA, the 1.65-acre Phoenix community opened in July 2006 with two crisply articulated 16-story towers. Distinctly modernist and Miesian, the 469,000-sq.-ft. residential community features 230 one-, two- and three-bedroom luxury condominiums overlooking the famed Biltmore shopping, dining and commercial district.
Shortly after acquiring their 1,400-sq.-ft. three-bedroom home, Jack and Sharon Dawson called Marcia Graber, Allied Member, ASID, to make the interior as memorable as their Valley views. "I first saw this space on a stormy evening the night before Thanksgiving 2007," says Graber, whose Graber Designs Ltd. has served the Valley with sophisticated interiors for more than two decades.
At the time, the Dawsons' home remained as built, so the only illumination were the city lights from one of Phoenix's most vibrant corners. "Despite the nasty weather, the lights below looked like jewels," she recalls. "They have a truly breathtaking three-quarter view, and, because they occupy a corner unit, you feel as if you are totally alone high in the air above Phoenix." Their home offers views of Piestewa Peak, Camelback Mountain and even the University of Phoenix Stadium miles west in Glendale.
"My clients turned to me and asked what my concept for the space was," Graber explains. "My design philosophy is always to find the concept that will bring joy to the client and beauty and function to their finished space. They were as excited about the space at night as I was. And it was that shared moment that determined the design for the space." She then described to them a sophisticated contemporary penthouse that matched the sparkle of those skyline lights—space equal to the best high-rise homes in Seattle, San Francisco and New York.