Page 2 of 3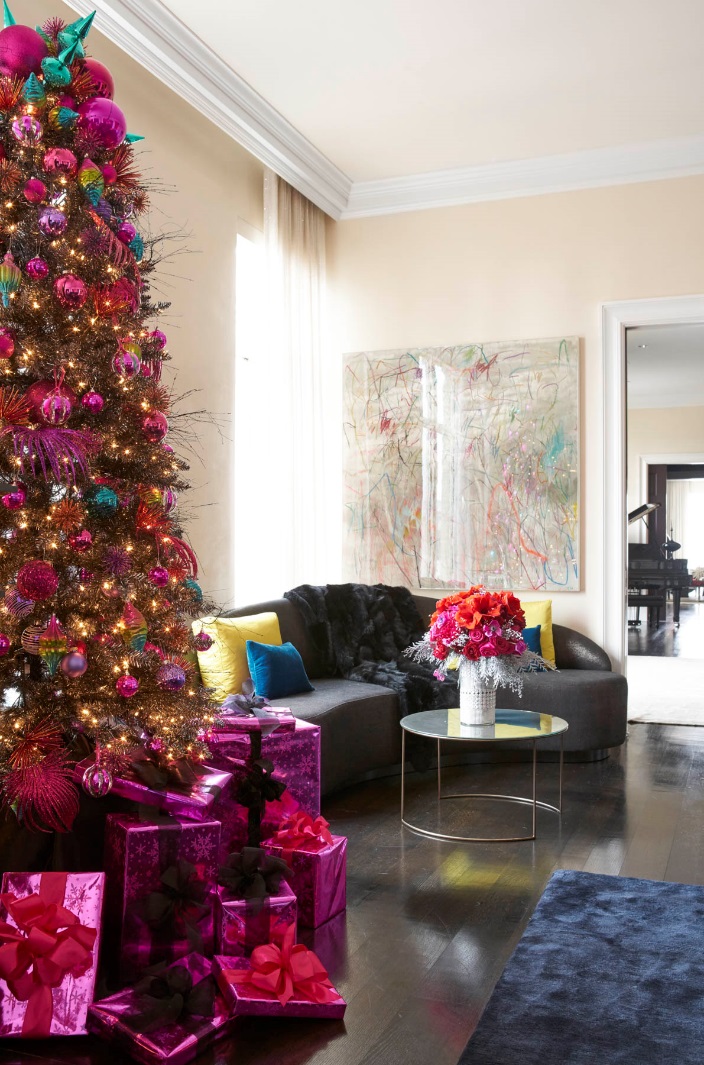 Photo: Nathan Schroder Photography
What overall looks are in for holiday décor?
It's all about color! I love the memories and magic brought about by a classic holiday color palette, but it is also fun to sometimes do a twist on the traditional and have some fun with color! Various shades of the colors you have always used bring a new vibe to the décor, or pick your palette based on the colors you already love and use in your home. Ombre, bold and bright, or beautifully snow-flocked white trees are wonderful alternatives to natural green if you are feeling like switching it up this season. A great oversized branch wrapped in tiny string lights or spray painted for a pop of color with modern geometric ornaments hanging off makes a great look, almost like a festive art installation.
Does holiday décor need to complement one's home décor?
I strive for the same vibe and balance when choosing seasonal décor for a particular room in any home. I love when a room is perfectly balanced in color, shine and warmth because it just feels right to your senses. I love coordinating the giftwrap as an accessory to the room by using paper that looks as if you could roll it onto the walls as wallpaper. I choose different but gorgeous ribbons for each family member to make it easy for me to play Santa when we gather 'round to share in the Christmas spirit. Honestly, it's so much fun to express yourself when you decorate your holiday trees.
Do you have favorite spots for purchasing holiday décor?
Inspiration can come from anywhere and everywhere, so I always like to keep an eye out for items that I can incorporate when decorating whether it be online shopping, local craft stores, or perusing the aisles of antique and thrift stores. One of the many wonderful traditions of celebrating Christmas is adorning my home with collections of found treasures and beautiful embellishments, new and old—for me, the more the merrier.
What items around the house can serve a dual purpose for the holidays?
Take a look around your home for containers that can be repurposed in your holiday décor. Bowls, vases, boxes and urns can serve a dual purpose filled with fresh greens, branches, flower arrangements, or filled with a display of brightly colored ornaments or pine cones. Glass votives and candlesticks will create ambience in your holiday tablescapes, mantels and holiday displays.
Cacti and succulents have been very popular in decorating locally. How can they be applied to holiday decorating?
The various textures and natural green color of succulents and cacti create a contemporary and organic look. The smooth, waxy leaves offer the option to have a little fun. Although I prefer fresh flowers, because there's nothing like the real thing, succulents are great if you would like to go the no-maintenance route; try the fabulous-looking faux option—you can hardly tell the difference. Succulents sit pretty atop a simple bed of rocks or moss, and they are the perfect addition to flower arrangements or potted plants. Add a touch of modern metal to a cool container by spray painting the succulent with a high-shine metallic paint. You can even increase the reflective factor by adding glitter for holidays or parties.