Page 3 of 3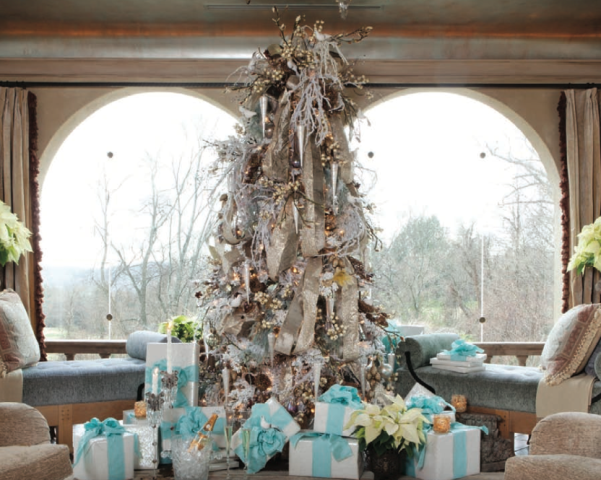 What are some unique ways to deck the Christmas tree?
For artificial trees, fill in the gaps with extra tree branches or garlands purchased at craft and specialty stores. Once you have had your fill, so to speak, you can begin layering your decorations. Or, instead of one tree, if the space allows, cluster a few trees in various sizes for a little extra wow-factor. I love to incorporate oversized details to my artificial tree to create a spectacular holiday tree and use a monochromatic color scheme. The full and billowing bows, long, fragile blown-glass ornaments, and tons of twinkling lights created the ideal essence required to bring the tree to life.
If you can't find exactly what you are looking for to fit the space, add paint and glitter to ornaments to tie in the colors of the room.
Fun, whimsical, and even unexpected accents to your gatherings will help you get in touch with your playful side. It's easy to add these touches during holiday celebrations because there are so many festive decorations that are available both online and in the stores. But think beyond the holiday affairs, and add playful touches to any of your décor. Let your imagination take flight with beautifully perched birds, birdcages filled with candles, floating feathers, birds' nests, butterflies, and earthy elements tucked into your décor.
Bring fun with brightly colored kites, confetti, hanging lanterns, fluffy paper pom-poms, and paper parasols or umbrellas that inspire child-like wonder and a carefree ambiance.
What tips to do you have for holiday-party planning?
Any time I entertain, my inspiration comes to life in my tablescape. Rather than the traditional color combos, try different shades and tones of the classic colors, or just pick one and have some fun. Incorporating black and white makes for a modern background where your color of choice can really pop, or mix in some metallic and go glam. Gold and white dinnerware, silverware, and linens can be used throughout the year for practically any occasion. Adding the accent of chartreuse in the ribbons, ornaments, centerpiece and glassware bring the holiday cheer to this table. Place cards and presents add a personalized touch to the holiday celebration. The holiday season is all about giving, so pretty wrapped packages or personalized ornaments serve double duty as place cards and party favors. And don't forget, a signature cocktail in the signature color always makes for merriment.
How can one winterize the interior of their home beyond holiday décor?
Bring in warmth with sensory elements to create an instant vibe—plush throws, touches of faux fur or velvet pillows or rugs, and the warmth of candlelight.