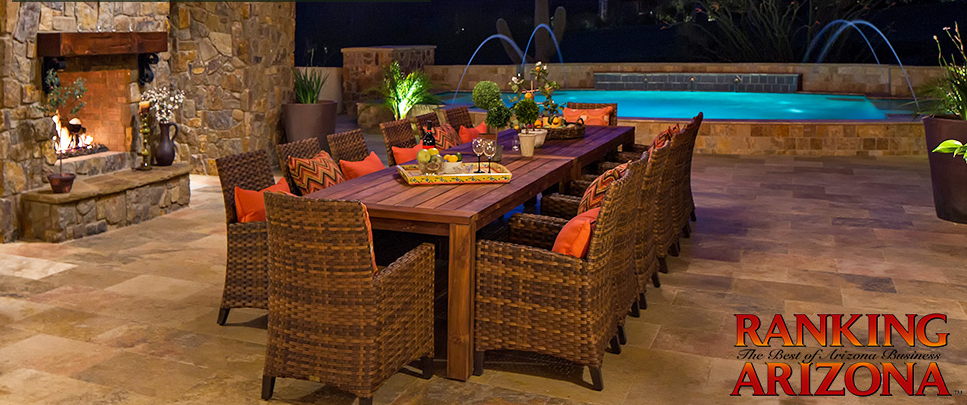 Arizona's very own Paddy O' Furniture has been named 2015's No. One Outdoor Furniture Retailer in Arizona by Ranking Magazine. The locally owned and operated furniture emporium has been established since 1988 and has stayed true to its core value of quality throughout the years.
"How long we've been able to thrive in this market speaks to our credibility, experience, and expertise," says Digital and Media Marketing Project Manager, Mazeratie Sweet.
What's kept them afloat and a reigning force in the state? Their unique, customer-centric approach encourages community involvement and their sales team places emphasis on creating an innovative, memorable and inspiring experience for their clientele..
By participating in large and high profile events throughout the valley, they've created impressive brand awareness and visibility around town.
Three Set Apart Qualities of Paddy O':
1. Emphasis on their slogan: 'Embrace Life Outdoors': Their specially trained Exterior Designers seek to pair clients with the collections, pieces, colors and fabrics best suited to each customer's specific needs and lifestyle.
2. Focus on World-Class Service: From initial consultation to white glove delivery service Paddy O' continually strives to provide the optimal shopping experience for each and every customer. '
3. Valley's Finest Selection of Luxury Outdoor Furnishings:-  Paddy O' houses a varied selection of high end, carefully crafted furnishings and offers customization via 300+ Sunbrella™  fabric choices.