Page 5 of 5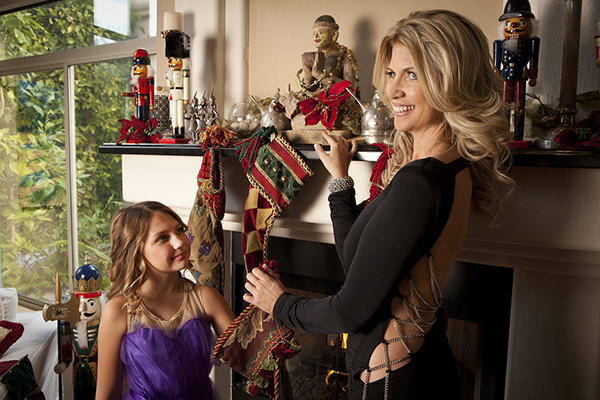 The Lane Family
For the Lanes, including mom Wendy Lane of Sexy Chef Wendy, the holidays are more about hitting the surf and soaking up the sun than opening gifts.
How do you plan to celebrate the holidays this year?
Wendy: We will be waiting for the arrival of Santa Claus over Christmas, and spending the New Year in Maui, where my parents live, sinking our toes in the sand, and soaking in the rays!
What is your favorite holiday memory?
Wendy: Christmas in Maui always brings me the most joy. We don't focus on gifts. Instead, we spend our time on the beach, feeling gratitude, playing, surfing, cooking and enjoying the beautiful ocean. Our time together as a family is our gift. 
Kaeley: Going to Maui to be with my grandparents and watching the whales swim around us
Brett: One year at Christmas I met some new friends in Maui and was invited to a party where Luke Perry opened my bottle of water!
What is the greatest gift you have ever received?
Wendy: When I discovered all 18 of my chef knives were sharp.
Lane: Hockey pads.
Kaeley: iPAD 3.
Christy: My dog, Ginger.
Brett: My siblings.
Given?
Wendy: Taking my little Chihuahua, Piglet, to a senior living center, and letting her share her love and good will to the residents over the holidays.
Kaeley: Donated my clothes and toys to a women's and children's shelter, Soul Sanctuary.
What is on your holiday wish list?
Wendy: I would like to cook with Emeril Lagasse, and dare him not to say "Bam!"
Kaeley: Clothes from Wildfox.
Lane: New hockey skates.
Christy: For my family to move to Los Angeles so they can be closer to me.
Brett: A trip somewhere warm.
In what ways do you give back to the community during the holiday season?
Wendy: The kids and I love to be secret Santa to another family! It's wonderful to watch the kids get so excited about helping out a family in need. 
Kaeley: Had a farmers' market to raise money and collected food cans for St Mary's Food Bank.
Favorite holiday song?  
Wendy: "Santa, Baby" by Eartha Kitt.
Kaeley: "Let it Snow." 
Favorite holiday food? 
Wendy: Triple cream cheese on a ginger snap with a strawberry and mint slice.
Christy: Whatever my mom makes—it's always amazing.
Brett: My mom's apple sausage stuffing. I live for it.
Kaeley: My mom's kale salad.
Lane: Baby back ribs.
Favorite holiday movie? 
Wendy: "The Grinch who Stole Christmas" with my favorite quote: "Then the Grinch thought of something he hadn't before! What if Christmas doesn't come from a store? What if Christmas, perhaps, means a little bit more?"
Kaeley: "Elf."
Christy: It's a toss-up between "The Grinch" and "Elf."
Brett: "Home Alone" (original). Puts me in hysterics every time.
New Year's resolution? 
Wendy: Trying to make at least one new person happy every day next year!
Kaeley: Every two months, volunteer for the dog shelter.
Christy: To drink less Coca Cola.
Story by Shannon North