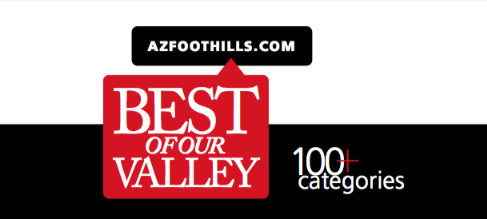 February 15, 2010 (Scottsdale, Ariz.)— After three months of Web voting, Arizona Foothills Magazine has found found the Best Of Our Valley winners. Another two months of interviewing, photographing, researching and writing, and AFM's first-ever Best Of Our Valley issue is complete. What's next? An elegant party, naturally! Best Of winners can look forward to attending an exclusive issue-release reception March 24, hosted at Best Of Our Valley winning restaurant Sassi. 
Sassi, a beautiful restaurant held in North Scottsdale, has the ambiance of a beautiful Italian villa, mouthwatering cuisine and wines and unparalleled views of the Valley. The sumptuous eatery took home several Best Of Our Valley awards, including Best Outdoor Seating, Best Date Spot and Best Wedding Venue. All Best Of Our Valley winners (and dates!) will be invited to the chic reception this March, where they will enjoy appetizers and vino.
The contest ran for 90 days last fall, and covered categories like Dining and Wine, Health and Self, Services & Professionals, Resorts & Travel, Kids, Shopping and more. Each section featured sub-categories like Best Italian Restaurant, Most Glamorous Place to Party, Most Influential Man and Best Homebuilder. Click here to see the winners.
The Best Of Our Valley issue will mention all the 2010 winners. To nominate a business for the 2011 Best Of Our Valley contest, please e-mail bestof@mediathatdeelivers.com.
"We're so looking forward to a successful and well-attended reception at Sassi," says President and Publisher Michael Dee, "We can think of no better place to hold the event than at Sassi, a multiple winner with a great view of our Valley.
ArizonaFoothillsMagazine.com is the Valley's fastest-growing Web site. Arizona Foothills Magazine and Arizona Foothills Online are dedicated to providing resourceful information on dining, entertainment, homes, fashion, culture and events in Arizona. Arizona Foothills Magazine is published monthly and is audited by the Audit Bureau of Circulations (ABC).
Scottsdale-based Media That Deelivers, Inc. (www.mediathatdeelivers.com) is a leading luxury magazine publisher that produces 11 titles in its luxury collection of magazines, incuding the monthly Arizona Foothills Magazine, Arizona Foothills Tucson Online and Estates West Online. The company also publishes an array of custom products for world-renowned organizations like the Arizona Biltmore Resort & Spa, The Westin Kierland, and JW Marriott Resorts.