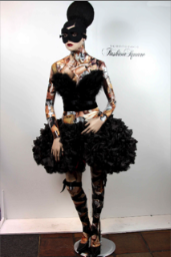 October 7, 2009 (Scottsdale, Ariz.)— Strike a pose! Scottsdale Fashion Square launched the The Mannequin is our Muse Design Project this week as part of the celebration of their East Wing Grand Opening, and has partnered with AZFoothills.com for the contest element to the promotion, which allows Web readers to choose the best mannequin of almost 100 entries.
The entire Valley is coming together- from merchants at Scottsdale Fashion Square, community dignitaries and local artists to celebrities, design firms and other talented individuals- to show off their fashionable sides by decorating life-size mannequins for the Grand Opening of the shopping center's new wing. The incredible creations are to be on display throughout the center October 15-18, with an anticipated attendance of 150,000 visitors to Scottsdale Fashion Square over the four days.
"We are so proud that we were chosen for the online vehicle for such a huge promotion that brings together so many people in the community," says President and Publisher Michael Dee, "We are definitely the leader when it comes to Web sites in our marketplace."
To vote for your favorite muse, click here, click on your favorite mannequin, type in the characters that appear in the box and click the Vote For This Entry button. Voting is unlimited, and concludes October 25.
The winning mannequin chosen by our readers will be featured in the December issue of Arizona Foothills Magazine. Another panel will choose a top five, who will be on display in the Scottsdale Museum of Contemporary Art through October.
AZFoothills.com is the Valley's fastest-growing Web site. Arizona Foothills Magazine and Arizona Foothills Online are dedicated to providing resourceful information on dining, entertainment, homes, fashion, culture and events in Arizona. Arizona Foothills Magazine is published monthly and is audited by the Audit Bureau of Circulations (ABC).
Scottsdale-based Media That Deelivers, Inc. (www.mediathatdeelivers.com) is a leading luxury magazine publisher that produces 11 titles in its luxury collection of magazines, incuding the monthly Arizona Foothills Magazine, Arizona Foothills Tucson Online and Estates West Online. The company also publishes an array of custom products for world-renowned organizations like the Arizona Biltmore Resort & Spa and The Westin Kierland.