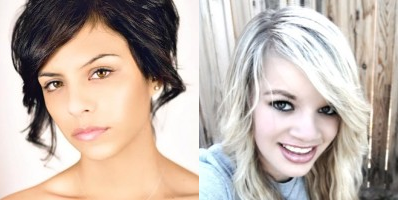 Arlene and Rain finished first in Round One of the Face of Foothills and Future Face of Foothills contests
May, 2010 (Scottsdale, Ariz.)- Beauty and brains! Turns out, the 2011 Face of Foothills and Future Face of Foothills semi-finalists sure know how to run promotional campaigns! Round one for both contests are complete, and Web voting results have shattered those of previous Web contests on AZFoothills.com!
Fun facts about the first Face of Foothills round:
* There were more than six times as many semi-finalists to start than last year
* The first day of voting beat the previous one-day record by more than 84%
* There were 33 votes the first second and more than 10,000 votes the first hour
* Nearly 2 million votes have been logged thus far
* The top vote-getters in Face of Foothills and Future Face of Foothills contests received 59,022 and 49,222 votes in the first round of the contest, respectively
Votes will reset to zero for the second round of the contest, which will narrow Face of Foothills and Future Face of Foothills contestant pools from 200 each to 100 each. For more information on the contests, rules and to see the contestants remaining, click here.
The 2011 Face of Foothills (age 16+) will be on the cover of a 2011 issue of AFM, star in a fully-styled six-page fashion spread and see their face featured on the AZFoothills.com header, Twitter page and AFM E-Newsletter headers for one full year. They'll also receive $5,000 in luxury jewelry from Molina Fine Jewelers, $1,000 cash, a weekend stay in a luxury Valley resort with spa treatments, Radiance Spray Tanning for one full year, a ZOOM whitening and Tasti-D-Lite frozen dessert for one year.
The 2011 Future Face of Foothills (age 0-15) will receive a $500 scholarship, shopping gift card, professional photo shoot and their photo in the magazine, along with other prizes.
Semi-Finalists for the contest were submitted online and found at 14 Westcor Casting Calls.
Arizona Foothills Magazine and AZFoothills.com are dedicated to providing resourceful information on dining, entertainment, homes, fashion, culture and events in Arizona. Arizona Foothills Magazine is published monthly and is audited by the Audit Bureau of Circulations (ABC).
Scottsdale-based Media That Deelivers, Inc. (www.mediathatdeelivers.com) is a leading luxury magazine publisher that produces a luxury collection of magazines, incuding the monthly Arizona Foothills Magazine, Arizona Foothills Tucson Online and Estates West Online. The company also publishes an array of custom products for world-renowned resorts.