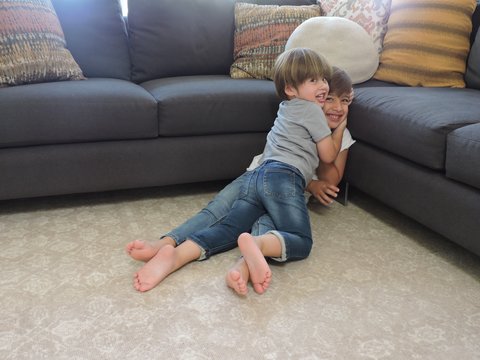 I'm all for anything that will make my life easier, cleaner, better, happier, comfier and prettier. Is that too much to ask? Here are my top ten finds for fall... things I didn't know I needed, until now.
With holiday visitors, you'll want a simple solution for keeping tidy, and for that, turn to your new BFF: the Dyson Cyclone V10 cord-free vacuum. This dream come true is battery charged; the most powerful suction of any cordless vacuum on the market. The V10 is very versatile, transforming into a handheld or wand. Plus, the air it expels is actually cleaner than the air you breathe.
My newest obsession is also from Dyson, the Pure Hot+Cool Link: a fan, heater, and purifier in one. This bad boy kills mold, bacteria, pollen and pet dander; we filter our water, why not filter our air? Flip the machine into auto, and it will detect lingering pollutants- you can also use it as a heater or cooler, keeping rooms at your preferred temperature. I seriously want one for every room.
...little changes that go a long way. Update your living room with a 100% wool rug from Pottery Barn. Go with something neutral- an ivory with simplistic design- warming up your gathering area for fall. Dress your sofa with orange and gold pillows to reflect the season.
PediPocket is a plush, velvety fleece blanket that's ultra long, equipped with a pocked to keep your toes warm. That's right- no more poking feet! It's wrinkle-free, easy to clean and available in plenty of patterns and colors.
Welcome fall with a stunning centerpiece from Saaya Roses- a pre-made bouquet made of real Ecuadorian roses that come in a variety of flower arrangements and colors. Guaranteed to last 365 days with proper care and maintenance- without ever needing watering! (That's right, no need for a green thumb.)
Ooma Home is an innovative home security and monitoring platform offering a suite of wi-fi connected smart home sensors that can be placed anywhere. The Ooma Butterfleye offers 24-7 live streaming, optional facial recognition, and can be operated during internet outages.
The Instant Pot from Bed Bath and Beyond is a Pressure Cooker, Slow Cooker, Rice Cooker, Steamer, Saute vessel, Yogurt Maker, Sterilizer and Warmer. If you're a non-cooker like myself, this kitchen essential will be a total lifesaver, allowing you to cook delicious creations efficiently and effectively.
Start the season early with matching family PJs (winter-themed and beyond)! Lazy One offers over 50 adorable designs for families who prefer to twin. Perfect for holiday photos or movie night, these pajamas are seriously too cute and comes with optional matching slippers and blankets. (And your hubby will look hilarious in the onesie ensembles.)
HFactor Hydrogen Infused Water is the new "it" item, keeping celebs and athletes properly hydrated. Avoid the holiday weight gain by drinking adequate amounts of H2O- this water gives you a pop of energy and is proven to increase athletic performance & reduce inflammation from exercise.
If you're a legging-wearing mom on the go- this one's for you: MyPhonePouch. This innovative accessory allows you to wear your phone hands free. Forget stashing your phone in a purse or pocket- this solution will make everyday errands a lot more convenient.
Nadine Bubeck is a TV personality, fashion designer, author, blogger, and Scottsdale-based blessed boy mom.