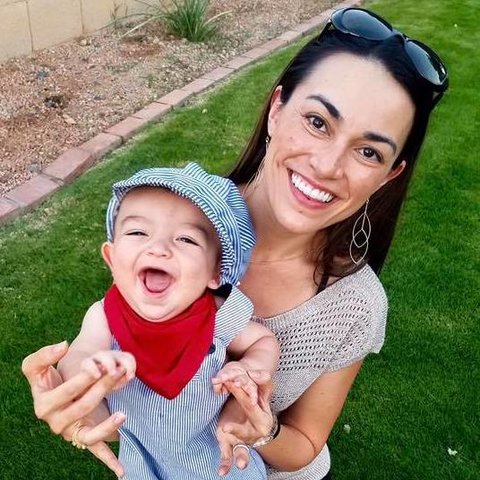 I got my first TV reporting job when I was 21. I remember one of my first assignments was on a marine who was killed in a helicopter crash. I had to knock on the door of his house and ask to interview his wife. This, after she just got the news. I remember sitting in the news truck crying to my photographer saying I didn't want to do it. He told me to compose myself and knock. And so I did.
That same gut-wrenching feeling is in my stomach as I write this piece. I had to ask questions that made me feel like an insensitive asshole. However, some stories should be shared. And as it turns out, the family wants to share their story with the hope to spread awareness… after losing their son to something that apparently could have been prevented.
September is Leukodystrophy Awareness Month- and chances are; you don't even know what that is. (I didn't either.) Known as Krabbe, the terrible disease causes the degeneration of the white matter of the brain and affects the nervous system. Without early detection, and if left untreated, Krabbe warriors suffer great pain and discomfort as their bodies shut down & their nervous systems malfunction, often resulting in death.
My friend, Ashley Crowell, is a boy mom of two- one thriving four-year-old, and one angel baby: Connor. On December 3rd, 2016, her baby "King Con" was diagnosed with Early Infantile Krabbe Leukodystrophy. The disease had progressed too far for him to receive the only available treatment, a lifesaving stem cell transplant. He was 8 months old at diagnosis, and passed away just one week after his first birthday.
When Connor was born, and for his first few months, he seemed like a normal, healthy baby. After that, Ashley says he developed unexplainable issues with pain and discomfort. He was examined by many specialists, and everyone had different theories- but nothing was concluded. And during that period, Connor stopped rolling over, sitting, babbling, and laughing. Soon after, he died.
I asked Ashley how she copes.
Her reply: "It is eye-opening to realize how much pain people can be walking around with. Losing a child is one of the loneliest experiences. Everyone deals with loss differently, but you are not alone and finding and connecting with others who understand the loss is vital. Also, I give myself grace; the grace to love and miss and long for him. The grace to grieve. The grace to be strong, and to be weak."
But when I see Ashley on occasion at preschool drop-off, she never comes across as weak. In fact, I consider her one of the strongest people I know- especially given that Connor's death could have been prevented.
The life saving treatment available is only effective if administered before onset of the disease; in other words, before a child is symptomatic. Early detection through newborn screening for Krabbe is critical in giving these warriors a chance at life. Several states have implemented, or are in the process of implementing, newborn screening for Krabbe… but Arizona is not one of them. If King Con had been born in New York, it would have been caught- and he could still be alive.
During the last few years, Krabbe warriors and their families fought to bring Krabbe screening to Arizona, but it has yet to be implemented. As a result, Ashley and her family started the The King Con Strong Foundation, dedicated to bring public awareness to this dire disease.
Please share this article, visit this website, and educate yourself and your loved ones.
Nadine Bubeck is a TV personality, fashion designer, author, blogger, and Scottsdale-based blessed boy mom.