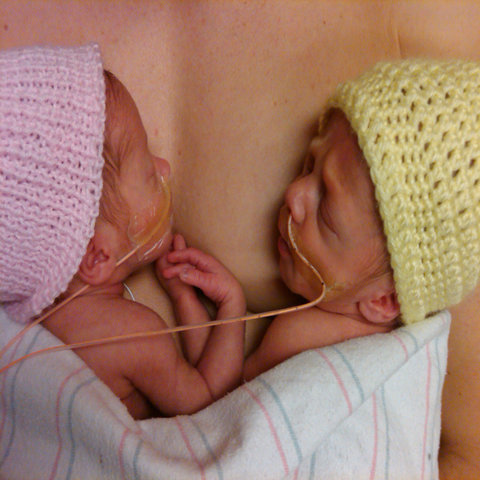 My son was in the NICU for 7 days. At the time, it seemed like forever, but since then, I've bonded with and befriended many other moms whose stories are simply unfathomable and unimaginable; topping the list: Stacy Lovell.
Most recently, I connected with Stacy, who just so happens to be spearheading an upcoming NICU fundraiser I'm honored to emcee. But before I share those details, I have to share a glimpse of Stacy's story. It's seriously crazy.
Stacy had a happy and healthy pregnancy until it wasn't. At 29 weeks, she fell critically ill with pneumonia, pleural effusion, and empyema, ending up intubated and in a coma. The only chance for her (and her unborn twins) to survive was to deliver premature, resulting in an emergency C-section.
Once the babies were delivered, Stacy had to have emergency surgery, as she was septic with zero airflow. The story gets worse… she was in critical condition in the ICU, and in a coma for five days.
After coming out of the coma, the new mom developed empyema and pleural effusion, which led to emergency chest tube surgery to clear her lungs. After that, she slowly began the recovery process.
Meanwhile, her twins resided in the NICU, under the care of nurses, considering Stacy was unable to attend to her newborns. For eight weeks, the babies grew and developed; fast forward… they're now 8 years old. According to Stacy, the three of them are the epitome of miracles; downright blessed to have survived.
Stacy has been forever changed- her story is insane, to say the least- and now she's determined to pay it forward, giving back to the people who gave so much to her. Because of that, she is excited to embark on her first annual NICU High Tea benefitting Scottsdale HonorHealth's NICU. Her goal: to host a meaningful event for attendees and raise much needed funds for the NICU.
Event details include:
Date: Tuesday, September 25th from 11am-2pm
Where: Arizona Country Club, 5668 East Orange Blossom Ln; Phoenix, 85018
Details: Enjoy a delicious high tea with guest speakers including: Mary Luster, Senior Clinical Director of the NICU; Dr. Matthew Abrams, Medical Director of Neonatology, HonorHealth; Ann Dicharia, NICU RN and NICU families. Tea, treats, and amazing raffle items!
Price: Adults, $75.00; Children under 12 years old: $30
Table sponsorships: $1,000 (includes seating for 10 guests)
RSVP & Questions: Stacy Lovell, 440-666-5767 (by September 20th)
Event MC: Nadine Bubeck, NICU mom, author, TV personality and fashion designer
Attendees are asked to bring donations of preemie/newborn clothing, sleepers, scrapbooking materials or gift cards
Nadine Bubeck is a TV personality, fashion designer, author, blogger, and Scottsdale-based blessed boy mom.