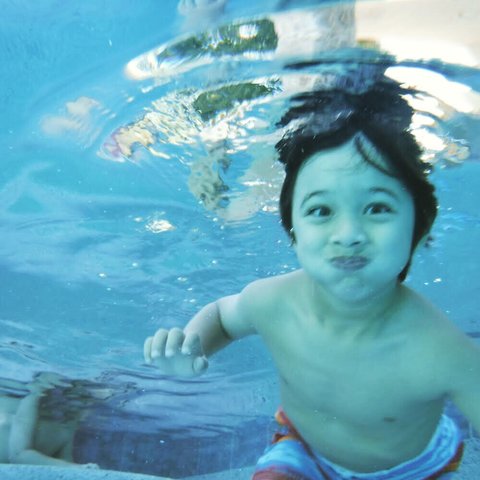 The pool freaks me out. Even with our fence, I fear the worst. A million years ago, I was once a lifeguard. At the time, sure- I valued teaching safety... but really, the pool was all about fun. Now, as a parent, the pool equals me worrying.
I have three boys under four. The oldest is fearless, the middle is cautious, and the third is too young to speculate. Instead of enrolling the older boys in once a week group lessons, I've invested in private swim classes to teach my kids what they can't seem to learn from me: to respect the water and embrace swimming basics that could- one day- save their life.
My swim class route of choice is Kidtastics, an Arizona-based program that values instilling swim safety in children. They come to your house (or to a pool of your choosing) every day, four days a week, for designated sessions. The philosophy is simple: consistent, one-on-one classes guaranteed to show results. And my kids are such proof.
Since I fear potential effects of swallowing water, I kept my four-year-old's head above water for his first few years of life. (And I'm not kidding.) Kidtastics has since taught him to hold his breath (correctly), kick, and float on his back. He now thinks he's a fish.
And my middle child- the cautious one who once just played on the steps... well, he now gets in the pool- within reason- and blows bubbles.
Kidtastics is also available to provide lifeguards for your summer pool parties.
And speaking of pool parties, I connected with the founder of Life Saver Pool Fence to offer insight on drowning prevention. Not a fun topic- but reminders parents need as we head into simmer.
According to the pool safety expert, parents should assign one person as a designated "water watcher" and change shifts every 15 minutes when children are in the pool. Active supervision means:
Sitting close to the pool with your full attention on the child/children
No phones or reading materials
Doing regular headcount
Step in when there is too much horsing around
If you have to step away, another adult must be designated as the Water Watcher
And when it comes to drowning, it's important to keep in mind a person who is drowning is simply in survival mode.
Look for these signs of drowning:
Head low in the water, mouth at water level
Head tilted back with mouth open
Eyes glassy and empty, unable to focus
Eyes closed
Hair over forehead or eyes
Body is upright and vertical, but there is no leg kick
Hyperventilating or gasping
Trying to swim in a particular direction but not making headway
Trying to roll over on the back
Appear to be climbing an invisible ladder.
For more pool safety tips, download the Pool Safety Guide from Life Saver Pool Fence.