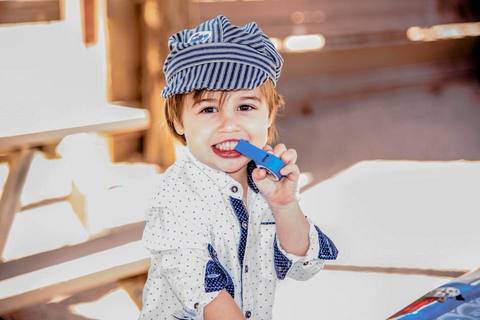 We call my middle child Zaza. Don't really know where the name came from, but it's somehow stuck, and he is everything you would think a Zaza to be... fun, funny, magnetic, entertaining and the sweetest devil you've ever met.
Since he's adapted quite well into his new role as middle child, we wanted to make his 3rd birthday party perfect and special. See, I don't do birthday parties until my kids turn 3. I'm not a believer in a first birthday blowout, as it just seems like too much work for an event they'll never remember. And at two, they're so unreliable in their ways, that I feel three is the perfect age for birthday party initiation.
Nothing makes me happier knowing my Zaza has channeled my grandfather's love of horses- or has he calls them, "neigh-neighs." This, partnered with his immense obsession with Thomas the Train and "choo-choos." So of course, we opted for a "neigh-neigh, choo-choo" birthday bash.
I wanted to do something different- something out of the box for my Zaza, so my mind immediately went to a party at MacDonald's Ranch in North Scottsdale. Run by three sisters, this property is known for their amazing Halloween-time pumpkin patch, but as it turns out, the ranch is an ideal hot spot for parties and events all year round.
Here are my 5 tips for throwing a ranch style par-tay for young kiddos.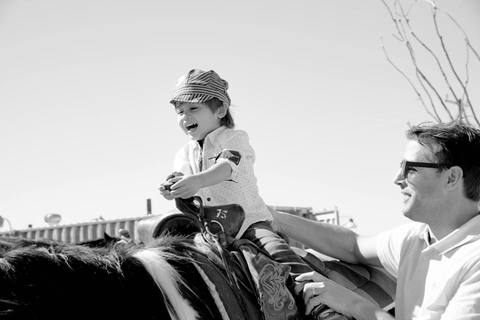 1. Location, location, location
I don't plan on hosting a birthday party at my house, ...ever. I'm a germaphobe, and the thought of cleaning afterwards gives me anxiety. I prefer choosing a place that's unique, out of the norm, and something party goers will remember. For us, it was Macdonald's Ranch. The property is right out of a western movie, offering horsey rides, a train (or hayride), petting zoo, and plenty of photo opps among the cowboy-esque setup. We had picnic tables to do as we please, and what I liked best was that they really gave us freedom to do what we wanted in our dedicated space. Parking was easy and we weren't crowded with tons of other visitors. It really felt like we had the ranch to ourselves.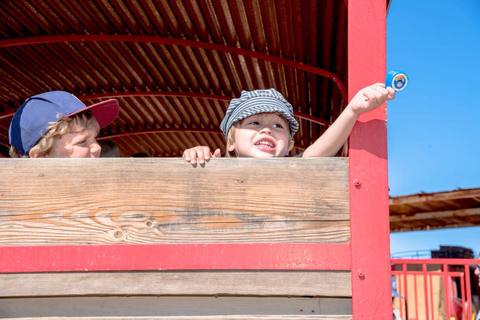 2. Activities
Keep 'em busy, right? You simply cannot throw a 3-year old birthday party without having pre-arranged activities. I'm all about setting up a party agenda and making sure there's a good flow from one thing to the next. Once all our guests arrived, every kid got a professional-led pony ride (which my Zaza and his buddies LOVED). Then, we had lunch (make it easy and order pizza). Following lunch, everyone rode the train through the endless acres of the property- this was especially fantastic for my Thomas-loving son. Following the train, we did cake, and before the party ended, guests had a chance to visit the petting zoo. The party kept moving, if you know what I mean- there wasn't time to sit and be bored.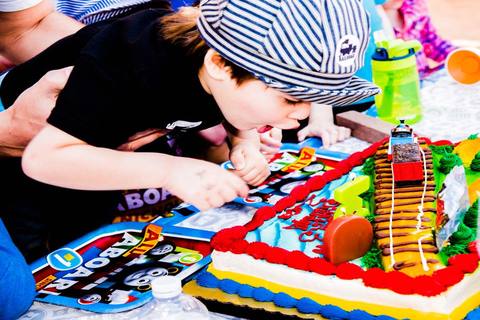 3. Select a Theme
It's always a good idea to go with a theme. Makes decorating easy, and also allows you to showcase your child's interests. For us, obviously, we did a Thomas the Train theme, giving all the kids train hats and Thomas whistles (which they loved on the train ride). But seriously, keep it simple. I didn't go Thomas-overboard... just stuck with themed table cloths, plates and a cake. I ordered a bunch of snacks on Amazon (goldfish and fruit snacks) and scattered them on the table. You don't need to do a production to make things look perfect.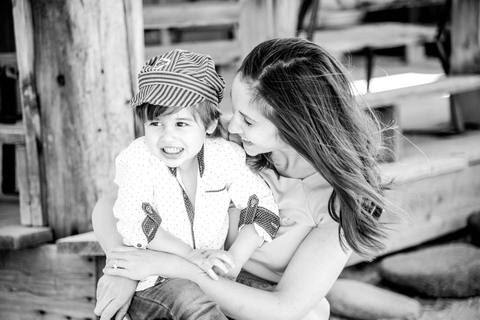 4. Hire a Photographer
...Or designate one. Luckily, we had a photographer capture the MANY photo opps around the property. She was worth her weight in gold, and the pics turned out great. But more so, it took a huge weight off my shoulders. Since I'm a photo-taking-addict, I didn't have to worry about capturing every single moment; in fact, I put my phone down and actually ENJOYED the party without stressing over taking pictures. If you want to bypass a photographer, designate a friend or family member to be the unofficial picture taker. And make sure to get in some photos, mama! The photo of me and Zaza totally made my day, thanks to Orchid Bloom Photography.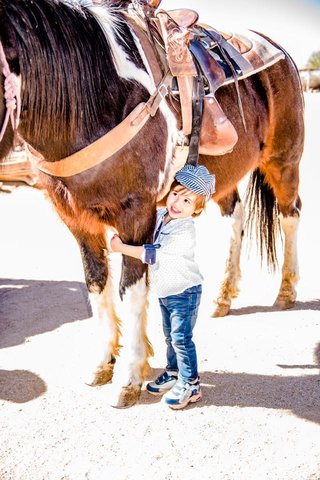 5. Explore Perks
It's awesome to give your guests an experience they might now know about. Many of our guests didn't realize MacDonald's Ranch held parties, so now it's on their radar. Also, many properties have cool perks; for example, MacDonald's Ranch offers a free hour horseback ride for every kid's 5th birthday. They also hold pony rides all year round, only kindly seeking tips (Check their hours of operation). Make sure to ask your event manager about property perks.
Photo credit: Orchid Bloom Photography
Nadine Bubeck is a TV personality, fashion designer, author, blogger, and Scottsdale-based blessed boy mom.