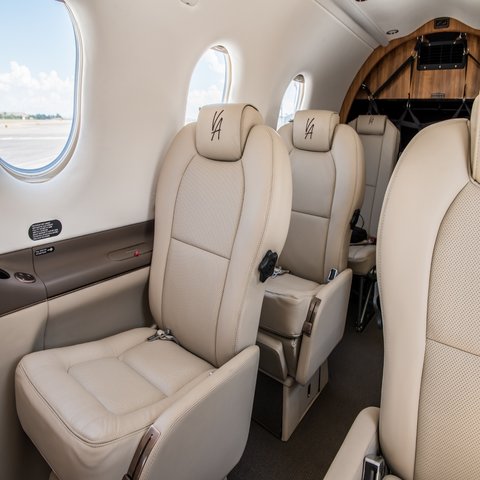 As you drive yourself silly spending hundreds on presents, I thought you might want to consider a rather unique holiday gift for yourself, your family and your friends. There's nothing better than making memories on vacation, but with crazy plane fares, many of us are opting out of Christmas travel. However, don't rule it out completely.
Vernon Aviation recently landed at Scottsdale Airpark, offering Valley residents an A-list option for getting out of town. The charter plane service lets you fly in style, accommodating up to nine passengers. The company is quite different than your cliché charter service because they operate esteemed Pilatus aircrafts. This enables them to fly farther, fly faster, and fly cheaper on one tank of fuel.
So, if you're interested in a quick escape, you might want to consider these guys. It's safe, luxurious and affordable, especially when the flight is split among all flyers.
They just released their Scottsdale specials. Intrigued? Take a look…
Bachelorette/Bachelor Party in Sin City*:
Grab your gal pals/best men for a roundtrip to Las Vegas, Nevada from Scottsdale, Arizona. This 2-night trip grants you an experience your wedding party will remember forever. Pop the bubbly aboard their Pilatus aircraft and travel in style.
Prices start at $4600. (Only $575 per person with a group of 8!)
Shop 'Til You Drop*:
Did someone say shopping spree? Vernon Aviation is excited to offer a roundtrip shopping escape from Scottsdale, Arizona to Los Angeles, California. Travel in their elite aircraft and allow them to arrange car service to Rodeo Drive.
This 2-night trip starts at $4400. (Additional car service fees may apply.) (Only $733 per person for a group of 3 couples!)
Beach Escape to San Diego*:
Craving surf and sand? Gather up to 9 of your closest friends or family members for this 2-night roundtrip to the beach from Scottsdale, Arizona to San Diego, California. Beat the Arizona heat and relax to the sound of the waves.
This special starts at $4000. (Only $571 per person for a family of 7!)
Magical Family Escape*:
Treat the kids to an A-list weekend from start to finish. Depart on a Friday after school from Scottsdale, Arizona and fly to Anaheim, California for a 2-night Disneyland adventure. Play hard for the weekend and return Sunday evening. Your kids will love the privacy, and you'll love the convenience. They are happy to arrange rental car service for ground transportation.
Starts at $4400 (Only $880 per person for a family of 5!)
From Sun to Snow*:
'Tis the season to ski! Indulge in a 2-night, (2 full days) roundtrip flight from Scottsdale, Arizona to Telluride, Colorado, transporting your friends and family from sun to snow for the weekend. Commercial flights cannot access the intimacy of Telluride, but charters can!
Starts at $6,000 (Only $1000 each for a group of 6 people!)
I Left My Heart in San Francisco*:
For lovebirds seeking some QT, hop a 2-night roundtrip flight to the Bay Area via Scottsdale, Arizona. Plenty of touristy endeavors including The Golden Gate Bridge, Alcatraz, oysters on the Embarcadero and more.
This discounted deal starts at $9000. (Only $1125 per person when you travel with a group of 8!)
* Safety is their greatest concern. As such, they cannot be responsible for any delays or cancellations due to unforeseen weather events. Prices may be impacted by seasonal demands, fuel prices, and other factors.
To book, visit vernonaviation.com