Rachel Roland is a mom on a mission - exploring the Valley with her two little companions in search of the best restaurants, attractions, and products for you and your children. See what she has in store for your family today!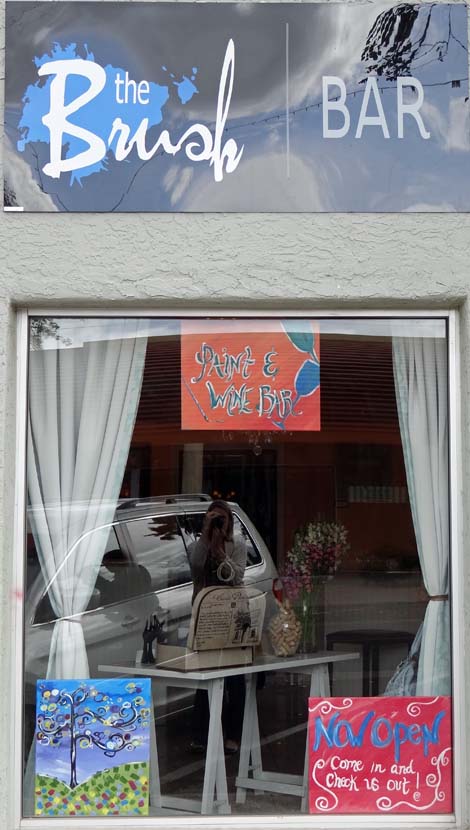 Have you ever wanted to unleash your inner artist? I know you have one - and I bet your kids do, too! Jeremiah, Sarah, and I were fortunate enough to check out the recently opened (and already highly successful) Brush Bar in Old Town Scottsdale. What's The Brush Bar? I'm glad you asked!
It's a unique experience where you go with your friends, spouse, first date, or even your kids, and learn to paint! Not only do they offer actual instruction, they also offer wine, beer, and non-alcoholic beverages. This is so different and, well, much more fun than your average dinner and a movie! Classes range from $25 per person (for family days) up to $40 for 'date night' type situations. (The minimum age for children for family days is 6 years.)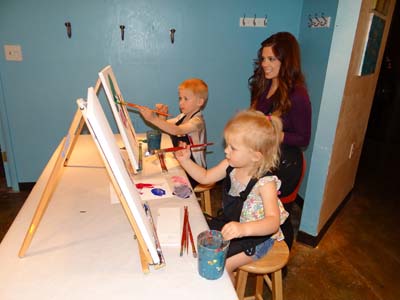 The way it works is simple - you go online, choose what you'd like to paint, and book your class.  Gia, who's one of the owners and one of the painting instructors, was thoughtful enough to set Jeremiah and Sarah up with their own canvases to paint. Gia's sweet, easy to talk to, and clearly a great teacher - the walls are covered with all the paintings she and the other artists on staff have created.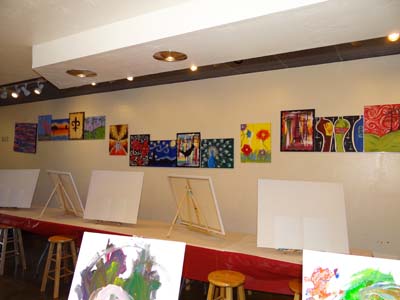 If you're feeling inspired during the day, The Brush Bar also offers open paint days Thursday through Saturday during the day - it's $25 and includes the canvas and paint. This would be great for a spontaneous family day activity - Jeremiah and Sarah are already asking when we can return to paint some more - and it would be a fun 'day date' if you're kid-free.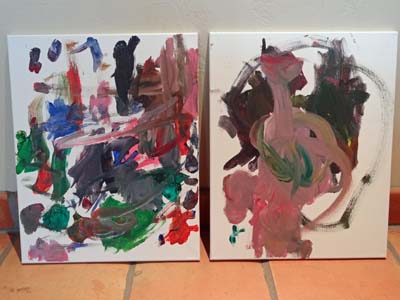 (Jeremiah's creation on the left, Sarah's on the right)
The Brush Bar is a new, unique experience here in the Valley - it's the first of it's kind in the Valley, and is doing very well. Classes are always sold out, so you definitely need to reserve beforehand, either online or via phone: 480-947-8700.  Not only is this a great spot for a date, but what about a bridal shower, kid's birthday party, or corporate team building?  The opportunities at The Brush Bar are endless!
The Brush Bar is located at: 4165 North Craftsman Court, Scottsdale - within walking distance of many great restaurants!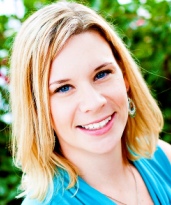 I'm Rachel - a mom, wife, and 'green' blogger at Small Steps On Our Journey. If you want me to come visit your place of business, have any questions on this article or suggestions for a future article, you can email me at rachel@smallstepsonourjourney.com or tweet me at @rachelroland.