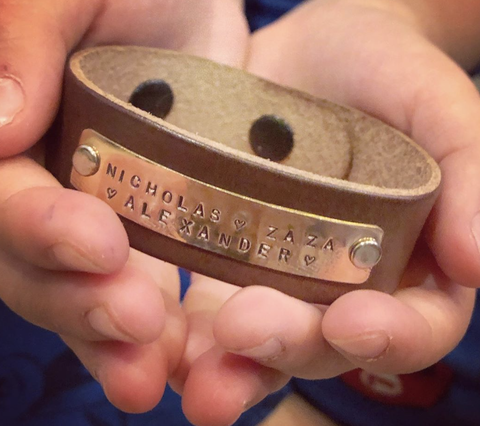 I'm a big picture person, and love anything that's custom or personalized. Yes, I'm one of those people who never take off that necklace sporting my kids' initials and have family photos all over my house.
Come 2020, fill your heart and home with special things that serve meaning and purpose. Here are six items I'm currently swooning over...
1. Project Repat makes blankets out of old t-shirts. Consider it a simple solution to clean out your closet and conserve those tees that hold special memories. The company also makes blankies out of swaddle blankets. I had a nice stack of special baby blankets I sent them, and in return, received a meaningful lap blanket of my numerous swaddle swatches.
2. Artkive is my go-to for making my kids' artwork look like Picasso. The company takes your kids' art and professionally captures it via photograph, then turns those pictures into a beautiful book showcasing their artistic creations. My favorite part, however, is that Artkive offers a custom framed mosaic featuring 25 of images.
3. If you're a perfectionist and can't seem to perfectly frame a photo, Framebridgeis for you. The company has an array of frame options available, and professionally frames your favorite photos to your desired liking- matting included.
4. I love supporting small businesses, especially when it comes to those who flaunt a unique fashion forward twist. Christy Alvarado Designsis a Scottsdale-based jewelry designer makes boutique custom pieces. My pick: the leather cuff with a rose gold badge showcasing your children's' names.
5. The Little Book of Youhelps parents create the most modern baby book ever, featuring a family tree and significant happenings throughout the baby's birth year. It's stunning- and filled with lovely illustrations and tidbits about the year your baby was born (like the average cost of gas).
6. Have a sports buff in the fam? Big League Pillows is a fun service that makes custom pillows fans will want to get their hands on. They recreate your favorite team's jersey and input your name on the back, making it fun for any football-baseball-basketball fan.
Nadine Bubeck is a TV personality, fashion designer, author, blogger, and Scottsdale-based blessed boy mom.