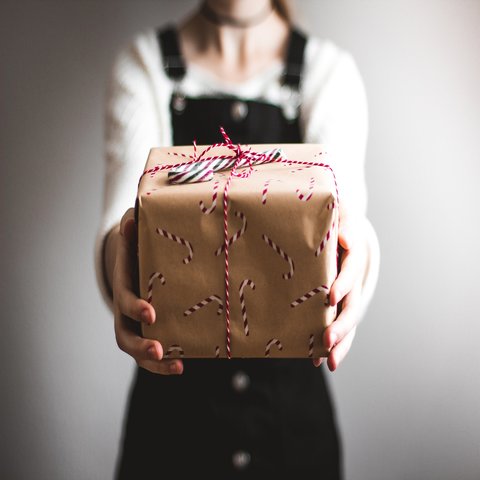 'Tis time for my annual massive gift guide, breaking things present ideas for everyone in your family. This year, I'm going back to the basics: games, art, music and more.
FOR CREATIVE MINDS
Get your kids gardening with this pizza-centric kit. It comes ready to grow with basil, peppers, oregano and tomato seeds (all non-GMO). Once the pizza essentials sprout in the provided pots, your kids can transport them as need be. After weeks of tending to the growing plants, make a homemade pizza (recipe included)!
VTech Kidi Star Karaoke Machine™
NEW from VTech! Sing like a star with the Kidi Star Karaoke Machine™. Grab the mic and use Music Magic mode to turn down the main vocal track of your favorite songs so you can be the star. Easily connect your MP3 player or phone with the included audio cable to play your own collection. There's even a disco light for colorful effects! Additional features include audience sounds like applause, cheering and laughter so it really feels like you're onstage at a concert. Plus, you can record yourself up to five minutes. Two color combos available for boys and girls.
I love, love, love this. Instill in your kids the creativity of running their imagination. This book-making kit aids kids in writing and illustrating their own best sellers. Comes with two quality hardback books, colored pencils, clip art, stickers and more.
This is a fab intro to charades. Makes for a great group activity for parties or game night, Kids on Stage builds confidence, creativity, and communication skills. Kids will hop like bunnies, fly like airplanes, and play imaginary jump rope as they showcase their acting skills… so others can guess their roles! No reading required. Ages 3+
Thomas & Friends Super Station
An ode to my middle son, a Thomas obsessed little boy who talks trains 24/7. This set is downright awesome. This multi-system track set flaunts 3 levels of play. It holds over 100 engines and features over 35 feet of track, in addition to iconic Sodor locations like Tidmouth Sheds, Brendam Docks, Knapford Station, and Dieselworks. So many ways to play; Cranky the Crane has a crane that moves; there's a turntable complete with a stop-track lever; and it also comes with some engines plus Harold. If you have a kids who eats, breathes and sleeps Thomas, you gotta get this.
The Mukikum array of portable, durable and compact pianos and drumkits are a great introduction to instruments. Ideal for young rock stars, these musical concoctions let you learn and play on the go. Plenty of features like record and playback functions, multiple sound styles, MP3 hookups and more… even pedals for bass drums and hi hats! Peruse the offerings- cool, innovative and interactive. ASTRA Award Winner for: Creative Play 7+
The Field Replica Farm Field Toy
If you're on the hunt for an uber unique kid's toy, opt for The Field- literally a mini fielded play-space with hedging, a meadow and wooden farm gate. A modern twist on "farm play," your kiddos will get creative pretending to herd sheep and mow the lawn.
The Cobra Walkies HERO Series are fun, functional and kid-friendly walkies that flaunt a 16-mile range. The ergonomically designed radio is an affordable and compact option rocking a camo green or camo blue design. Great for play, but also practical! A unique way to keep in communication instead of using cell phones.
It's the ultimate toy car building experience. Modarri kits lets kids design, build and drive their sweet rides. Track sets are fully stocked with cones- you can't go wrong giving your mini race fan these elite playsets.
FOR YOUR GAMER
Learn to Read With… BOB Books® and VersaTiles®
The best ready-to-read books ever. BOB Books focus on sight words- helping your little reader thrive. Each set includes 10–12 Best-Selling BOB Books® and an accompanying VersaTiles® practice workbook with hands-on activities to build on the reading experience. The puzzle-like answer case that VersaTiles® is known for provides a hands-on, interactive way to practice reading skills, complete with "self-checking images" that show kids they got the right answer—providing a safe place to make mistakes and try again.
The Very Hungry Caterpillar™ Spin & Seek ABC Game
The famed book is now a fun game! Hungry Caterpillar fans will delight in exploring the alphabet and learning the difference between big and little letters. Players spin the spinner and seek matching letters with images- an ideal first board game! Ages 3+
Let's Feed the Very Hungry Caterpillar™ Game
More "hungry" fun! Let's Feed The Very Hungry Caterpillar is another board game based on the book where children move their caterpillars from fruit to fruit, collecting a unique butterfly puzzle piece whenever they stop to eat. The first player to collect all five puzzle pieces and build a beautiful butterfly wins the game. Ages 3+
Dive in and dig away with this fun game of frantic finding. Kids practice literacy, coordination, and social skills as they race to match the images on their cards with objects from the bowl. Ages 5+
Pete the Cat® Missing Cupcakes Game
Join Pete the Cat and his friends as they work together to get the missing cupcakes back from Grumpy Toad. Players collect colorful cupcakes as they sing songs, act out physical activities, and identify favorite animals, foods and words in this fun board game. It's a game of luck, memory, and cooperation that changes every time it is played. Ages 3+
Monkeys Jumping on the Bed™ Game
Object of the game: get all your monkeys onto the bed. Sounds easy? Not so much. Kiddos will love this because their monkeys may jump off the bed at any time! When that happens, it's time to start over, leading to surprise and laughter. Players place all their monkeys on the bed after acting out bedtime activities (brushing teeth, putting on pajamas, taking a bath, etc) to win the game and reinforce good habits. Ages 3+
Shake It, Slide It, Solve It! Rubik's Race is a fast-paced, highly competitive game for two players – shake the mini cube, slide the Rubik's tiles and be the first player to match the pattern. It's the ultimate head-to-head brain challenge! Age 7+
LeapPad™ Ultimate Ready for School Tablet
Perfect for prepping preschool and kindergarteners for school. The LeapPad™ Ultimate Ready for School Tablet includes $150 worth of top-selling apps featuring core school skills, social skills, routines, problem solving and creativity. The unique learning technology is built into many of the learning games, assessing your child as they play and automatically adapting the curriculum to a more or less challenging level. This tablet is kid-safe, with a kid-friendly web browser that provides access to pre-selected websites. It also includes a built-in bumper, reinforced design and shatter-safe screen. An educational gadget parents + kids will agree on.
Little Passports Where To? Game
You've seen the commercials… Little Passports- a kid's monthly subscription kit instilling in them travel and culture. Well this year, the company launched its debut board game: Where To? In this travel adventure game, the world is only a scooter ride away. Experience 50 different destinations making memories like touring the Colosseum or hiking Machu Picchu. Make strategic decisions along the way, avoid travel delays and collect the most memories to win the game. And more importantly, learn about the places you visit.
FOR YOUR FASHIONISTA
My five-year-old requested a watch from Santa, so by golly, Santa's gonna deliver the best damn watch on the market. The VTech® Kidizoom® Smartwatch is the smartest watch for kids. Perfect for young photographers, this durable smartwatch makes it easy to take photos and record videos on the go. They can also use the touch screen to explore their creativity with fun photo effects, frames and filters. The watch helps kids learn how to tell time by letting them choose between digital and analog displays. It also includes a timer, alarm and voice recorder. Ages 4-7
You'll swoon over these Asher & Emery mother-daughter leggings. So chic- black with gold side-legged text… mom's pair says: Blessed Mama; and girl's pair says: Little Blessing. Adorbs!
Timeless, classic apparel for babies. These traditional offerings are excellent for church, special occasions, family photos or elite outtings. The vintage clothes for boys and girls are truly exquisite; gowns, rompers, bubbles, body suits, booties, bonnets, blankets, and more. Heirloom clothing you'll cherish forever. (Sizes newborn-toddler)
I don't have a daughter, but if I did, I'd go Justice crazy. The store is full of sequined stuff rich with pink, purple and all things girly. What little lady wouldn't want this posh, sparkly mini backpack or adorable koala pillow? There are plenty of non-cliché feminine finds instilling in gals confidence, sass, and individuality.
Thankful & Blessed Raglan (pink or navy)
Hip, cute and inspirational. This baseball-style tee has a winning look with contrast ¾ raglan sleeves and a shirttail hem. Heather grey with colored sleeves/text. Part of the Mama B. Designs collection that benefits March of Dimes.
The Ray Ban Jr shades from Smart Buy Glasses are the most fashionable stocking stuffer ever. If your kid is all about blue, he'll love this look- a mix of blue and black, flaunting the classic Ray Ban design like dad.
FOR BABY
Leapfrog's Water & Count Veggie Garden™
Love this toy. Little gardeners can dig into counting, colors and more. Pretend to plant vegetables and help them grow using the light-up watering can while learning about sizes, counting and colors. Explore early science concepts and learn fun facts about each vegetable, what plants need to grow and the plant life cycle. Plus, inserting the trowel into the dirt reveals a surprise gopher friend!
PaciMitts® are anti-scratch mittens with a dual purpose offering self-soothing! These perfectly shaped pacifiers are sized for ages 0-9M. They teach babies how to soothe themselves, promoting hand-eye coordination. Plus, the breathable, safe mitts prevent little fingers from scratching incidents.
These leather moccasins are the best for baby feet. Designed with an elastic opening, making them simple to put on, and stay on. Beautifully constructed leather bottoms built durable for rough terrain and an extra cushy insole for optimal protection and comfort. Each pair of Mia's Moccs are made with 100% genuine cow leather. Plenty of colors to choose from- for boys and girls.
A highly personalized book for your little one! It includes unique details from the day your child was born like birth place, time, weight and length. Also has pages of what makes their birthday special: what happened in history on their birthday, famous people who were born on the same date and more. In addition, there's a section dedicated to a customized family tree. Very special and sweet for a baby's first holiday!
Polka Dot Print Shop Toddler Book
I'm all for something meaningful, so this is one of my most favorite finds of the year. After finishing documenting baby's first year, you can now easily continue keeping track of milestones via this unique Toddler Book. These books help you remember all the silly things your big kid says, the crazy things they do, and all of the priceless memories they make. Each book includes 70 pages of blank photo space and journal prompts that won't force you to write inside the box. Design, style, colors and size are perfectly coordinated with Polka Dot Print Shop's Modern Baby Books.
Developed with dentists, the smart MAM Oral Care products ensure that babies get used to regular oral hygiene. Trendy colors and shapes arouse baby's interest and encourage him to clean his teeth. The Oral Care Rabbit massages sensitive gums; the Training Brush has a gentle rounded head; and the First Brush has a short, compact handle.
Susabella Personalized Ornament
This custom, classic rocking horse is simple and elegant- a lovely memento to document baby's first Christmas. The ornament is handcrafted, fired, glazed and then fired again- elegantly personalized with your child's name and birth year.
This sensory baby toy is truly addicting. The Dimpl is made of five vibrant silicone bubbles in varying sizes and colors. It's so simple, yet oddly, so brilliantly fun, fascinating, and impossible to put down. Push them in to pop them through to the other side- keeps little fingers busy and encourages fine motor skills. ASTRA Award Winner for: Early Play (Infant)
Baby shopping on a budget? Keep it simple with colorful, stimulating toys from Kidsource. There are plenty of simple options to choose from: Stack & Build Cups, Spiral Ball Towers, and my top pick: a bucket of 30 Mini Chubbie cars and trucks (ideal for littles who love four-wheeled vehicles).
I'm all for gifting something practical, and the Child Safety Store site screams practicality. There are tons of offerings for securing your house for baby/toddler. Especially if you're expecting, Christmas is a great time to stock up on home safety items like gates, outlet caps, window locks, corner cushions and wall straps. Consider this one-stop-shop an essential for keeping kiddos safe in the comfort of home.
FOR PARENTS
John Partridge is a UK-based apparel company that recently debuted in the United States. Their collection is all about elegant, sophisticated outerwear for men and women (jackets, vests and beyond). Made from the finest material, the array of offerings will leave you looking fab this winter. Two day shipping!
Meaningful Fashion that Gives Back
A duo set with major meaning. These contemporary tree of life leggings come with a corresponding shirt that says, "Miracles Happen." The verbiage was written by a 5-year old and former preemie; the inspiration behind the outfit. Why? Because trees signify growth; that out of a simple, small seed, can grow something big and strong. Proceeds benefit March of Dimes.
This brilliant concoction is a space-saving solution for washing and drying kitchenware when you're away from home. Consider it a portable platform to use when traveling- ideal for washing cups, bottles and more. An innovative, handy must have for traveling families!
Gift your family the most sought-after stroller wagon on the market. These elite, durable and versatile wagons come equipped with a canopy, cooler and more. The best part- they're allowed in amusement parks like Disneyland (unlike other cliché wagons, which are not). It's a celeb favorite and fabulous family find!
Designer glasses for a slashed price. This site will become your new BFF; score the best brands like: Ray Ban, Persol and Versace, all on major discount. Plenty of male and female options to choose from.
Fueling my kids with a respect for theatre is really important to me. I feel song, dance and story only enhances an individual's creativity and imagination. Here's an idea. Gift your family an experience like seeing a Broadway show. Some amazing performances are touring at ASU Gammage in 2019.
First, Aladdin. The thrilling new production tells the timeless Disney story through a colorful, choreographed and cultural experience. The costumes and set are among the most beautiful on Broadway, and the magic carpet ride scene provokes gasps of delight. This is a must-see for families and a show kids will never forget. It runs January 31st - February 17th.
Next, Wicked. I'm biased because I've seen this show and it's lovely, funny, and meaningful- your kids will learn some life lessons. Long before Dorothy arrives, there is another young woman, born with emerald-green skin, boasting a smart, fiery, misunderstood spirit. You'll be mesmerized by "the witch's story," and leave wanting more. Runs April - May.
Admittedly, I still wear maternity clothes, and I'll never be pregnant again. That's because there's just something special about maternity wear- it's extra soft, comfortable, moveable and forgiving (right, mamas?!). LEGOE is a premium Australian lifestyle label crafting relaxed yet refined pieces (I love the jumpsuits). Using organic & textural cottons, dreamy denims, luxurious linens, liquid like silks, merino wool & cashmere – these pieces will leave you happy while pregnant and beyond. A celeb favorite, as seen on Kim K!
Nadine Bubeck is a TV personality, fashion designer, author, blogger, and Scottsdale-based blessed boy mom.