Page 1 of 2
Jon Babcock was driving to work three years ago when a "strong, silent safety net called a trauma center saved my life."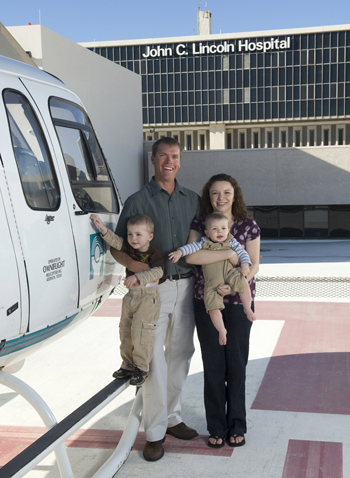 Jon and Heather Babcock with Hayden (left) and Jon Jr. on the helipad at John C. Lincoln North Mountain Hospital's Level I Trauma Center.
"Before that day, I didn't know that trauma centers existed," said the Phoenix native who is now the father of two young boys. "I'm alive today because of the Level I Trauma Center at John C. Lincoln North Mountain Hospital," he said.
The day he was rescued by that safety net started out like any work day for Jon and Heather Babcock. Heather Babcock drove to her job at a motor vehicle inspection station. She was seven months pregnant and she and her husband were busy making preparations for the arrival of their first son. Babcock climbed onto his motorcycle, fastened his helmet and rode toward his job as an air conditioning technician. The warm spring weather meant he would have a busy day.
At the intersection of Cave Creek Road and 48th Street, a mile away from his home, the unexpected happened. Babcock collided with a 6,000-pound pickup truck.
"I went flying head first over the low windshield of my bike and landed on the hood of the truck. I lay there for a split second then slid off. The impact knocked the breath out of me, but I thought that if I could just stand up, I could walk it off and be fine," the now 36-year-old Phoenix native remembered.
Another motorist stopped to render aid and called 911. "I'll always be grateful to him – whoever he is. He put his hands on my shoulders and told me to stay calm, taking charge in a kind, but firm way," said Babcock.
The driver of the pickup truck was uninjured. Paramedics arrived within minutes and evaluated Babcock's injuries. His vital signs were stable and he was fully alert. Both his wrists were fractured and he had an odd inability to speak. The paramedics called for a helicopter to transport him to the nearest level I trauma center, and that was located at John C. Lincoln North Mountain Hospital.
"I remember the helicopter being very loud, and it seemed to take forever to get to the hospital," said Babcock. In reality, the ride took fewer than five minutes. He was met on the helipad of John C. Lincoln North Mountain Hospital by a crew of trauma nurses and physicians who worked quickly to get him into the trauma center for evaluation.
"I felt so tired. I didn't really hurt anywhere except my wrists, but I felt incredibly, incredibly tired," he said. "Because I couldn't speak, I communicated with eye blinking, and the whole team kept working with me to keep me calm and focused."