Page 2 of 2
Within minutes, a CT scan revealed that Babcock had a life-threatening injury – his aorta was torn and he was bleeding into his chest. He needed immediate surgery to repair the damage to "big red," as the aorta is known because of its size and the fact that it carries all the body's oxygenated blood away from the heart.
In a level I trauma center such as John C. Lincoln North Mountain's, a fully staffed operating room is available around the clock, ready for emergencies. A team of experienced trauma professionals – surgeons, anesthesiologists, nurses, radiologists and others are ready to do their jobs in providing level I trauma care for a patient with critical injuries. Services also are provided by those who staff a blood bank, laboratory and diagnostic imaging. All components of that "strong, silent safety net" Babcock referred to were firmly in place when he needed them.
Babcock's father and wife, in the meantime, had gotten word of the crash and Babcock's whereabouts and headed to John C. Lincoln North Mountain Hospital. When his mom, a nurse at another hospital in the Valley, heard that his aorta was torn, she knew that the next few hours would be critical to his survival.
"Life seemed to be suspended that day, while he was in surgery and in the time just afterward. To know how critically injured he was, and to see how well he is doing today is just remarkable," said Heather Babcock.
Three days later, he was up and walking the halls of John C., the hospital where he had been born 33 years earlier. Six days after the wreck, he got to go home. Babcock returned to the hospital for several surgeries to repair his wrists and stayed at home for several months to recover and be a full-time dad to Hayden, who was born two months after the wreck.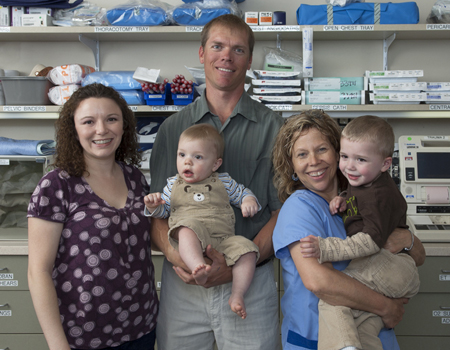 The Babcock family with Rhonda Beckstrom, RN, BSN, CEN, trauma clinical coordinator
The Babcocks look back on that time and think about what they learned that day. The "strong, silent safety net" that saved Babcock not only gave Hayden a dad, but gave Jon Jr. a chance to be part of the family. The baby was born two years after the wreck that could have so easily taken his dad's life.
"I think about it often, how I got a second chance at life, thanks to so many people – the man who stopped to help at the scene, the police and paramedics, the helicopter pilot and flight nurse, all the many professionals on the trauma team at John C., then all the many people who helped me recover. My family, my colleagues, my church, my neighbors – they were all there for us," said Babcock.
"I'll always, always be grateful to those who plan for the unexpected, and for those who are there, ready to help, when people like me need them."
For more information about John C. Lincoln's Level I Trauma Center, visit JCL.com/trauma.