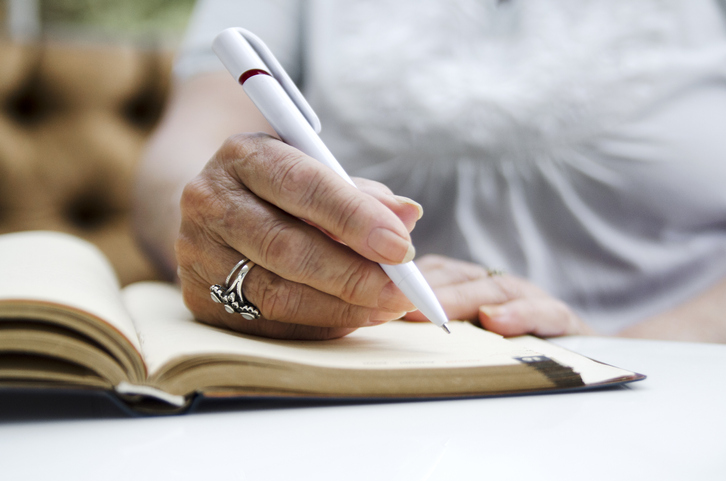 Narrative medicine, a medical approach taught by award-winning local expert, teacher, author and cancer survivor Sandra Marinella, focuses on writing to heal from illness, trauma or loss. Marinella currently teaches at Mayo Clinic in Phoenix, where her story-sharing and writing methods have been shown to dramatically improve moods, reduce stress, increase well-being and decrease pain. Here, Marinella discusses survivor's guilt, the impact of COVID-19 on mental and emotional health and writing prompts to allow narrative medicine to take place.
What steps should a person take once coming out of an illness to help with their mental and emotional health?
COVID-19 is a huge challenge because we are faced with not simply an illness but an unknown and challenging illness that has left us with a personal firestorm of fear, guilt, and even trauma. We know that in coming out of an illness we need to take care of ourselves by eating right, sleeping well, and exercising our bodies. But what we are realizing now is our need to practice what supports us psychologically. Here are equally important steps to take:
Stay connected with those you love. Talk, call, text, message, Facetime, or Zoom with the people important to you. Just hearing the voices of those you love helps. Edna, my 99-year-old-mother-in-law, lit up like light bulb when I was able to arrange her first-ever Skype call. She kept saying, "Is that really you?" and putting her eye up to the camera. It was precious. Sharing your concern and love during difficult times grounds us.
Share your story. Don't bury your difficult experiences with COVID-19 inside. If you feel comfortable, try to talk about it with those you love or write about it in a journal and work to make sense of what is happening. This will help you understand the experience, accept it, and move forward. Edna keeps sharing childhood stories from the depression. This experience has ignited memories of growing up during another time of hardship.
Work to be positive. If too much "breaking news" depresses you, limit how much you watch. Lighter fare like comedies or sitcoms that make you smile will help. I have been catching up on Modern Family. Most important know that you have some control over your attitude so work to find the silver linings or what you are thankful for at this time. Maybe I couldn't find paper towels at the grocery today, but they had Charmin!
Do what calms you. Do you like to garden? Walk on trails? Golf? Sit outside in your yard and read? Does meditating, painting, praying, or writing poetry calm you? Do what calms you and avoid what makes you anxious. When I walk, write, or meditate, I feel lifted-up. When you are weathering a difficult time or illness, make it a part of your regular routine to do these calming activities.
How can COVID-19 survivors address others who tell them how lucky they are to have survived?
When we are told how lucky we are, we should acknowledge we are grateful, but you can also admit to the challenges you faced—perhaps the isolation, the fears, and possibly the hospital experience. All of us are faced with some unexpected hardship right now, but we can try to learn and grow from this experience.
In college I discovered one of those life-changing books, Man's Search for Meaning by Victor Frankl. In spite of the horror of living in a concentration camp, Frankl held to hope. He maintained the best attitude he could and worked to search and live with love and meaning. In my teaching of story to writers, I work to show how we, too, can find our best possible story and rise above our obstacles. We can.
How can one deal with survivor's guilt?
Survivor's guilt is common after a large-scale catastrophe, but it is usually unwarranted. With COVID-19, you could not have caused or prevented it, but survivor's guilt allows us to have a false sense of control under difficult circumstances. We need to accept the hard and real emotions such as powerlessness and sadness that are evoked by living during this pandemic. If we deny these deeper emotions, they will get buried inside of us and prevent us from experiencing what we need to experience in order to process this tough time, reach a peace about it, and move forward.
One of the best ways to cope with guilt, sadness, or grief is by choosing to help others. If you can sew, perhaps you can make masks to help with the shortage. If you can deliver groceries to an older person, this would be a great act of kindness right now. If you have fully recovered from COVID-19, you should consider donating your plasma because your antibodies could help to save others currently fighting this infection.
How can someone support a loved one who is a survivor?
First and foremost—you can support a survivor by being there for her. When she is ready or needs to talk, the most important gift we can offer is our presence and our willingness to listen. Don't push your loved one to talk but be the ear she needs when the time is right.
At the right moment, you might share words that would comfort her such as "I am sorry you went through this." Or "I am so thankful you are doing better." Finally, offer to help with what she might need—make them a homemade meal, fix her computer, pick up her laundry, or babysit the kids for a few hours. I often give a journal or a book to someone who is facing or recovering from an illness.
Why is it important to write and put thoughts on paper?
As we work to "shelter in place" we face our fear of the unknown and a roller coaster of emotions. Some of us have lost jobs. Some of us are ill. Personal writing is a safe and helpful way to process what is happening to us. I teach patients at Mayo Clinic how to use writing to heal and grow, and the data we have collected from these classes show us that personal writing can help us lower stress and pain, and it can dramatically improve our moods and health. It offers us both a catharsis from our difficulties as well as a chance to reflect and change how we will face these challenges.
What are some prompts that can be used during a pandemic to help us get our thoughts onto paper?
At this time I think the best prompt is "What are you thankful for?" Research shows us in a time of crisis it is best to embrace what we have to appreciate. When my mom was dying last year, and I was caught up in sadness and grief, I began each day by arising and writing what I was thankful for. This helped me ground my attitude for the day in the positive.
This is a historic time, and we are experiencing the unexpected. If you are ready, and you should never write about something that flips you out, you should write "How is my life changing amid a pandemic?" A couple of weeks ago I wrote about the shock of going to my grocery store and the shelves were surprisingly empty. It was quite a jolt, and I began to worry about being able to feed my family. Write about your experiences and the feelings it evokes. Later go back and learn from what you have written and reflect on how this experience is changing your life—and growing you.
Learn more about Marinella, including her book and workshops, at www.storyyoutell.com.