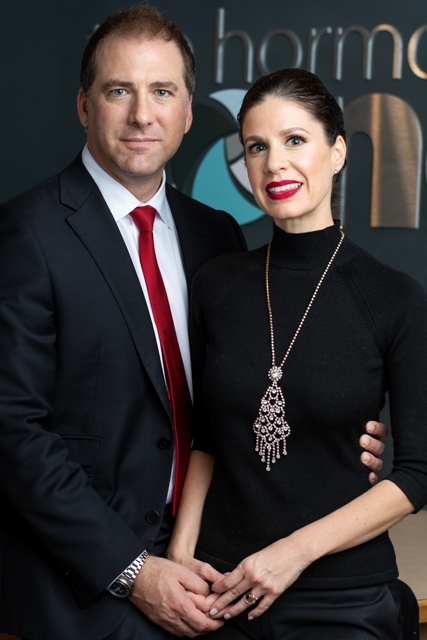 We're not talking diamonds and sports cars here, but this gift guide may prove to be much more valuable. Here, The Hormone Zone's Drs. Cristina Bosch and John A. Robinson, a k a The Sex Docs, share their health and wellness picks for the man or woman in your life. While some of them may not be wrapped in a bow or tucked in a stocking, they will guarantee a little time under the mistletoe.

O and P Shots. Starting at $1,500. hormone-zone.com. The O and P Shots are cutting-edge non-surgical sexual rejuvenation and enhancement procedures. "Both of these profound procedures enhance your sexual wellness and helps couples to get closer and stay there," says Dr. John A. Robinson.
ApexM. $299. apexm.incontrolmedical.com. This medical device treats urinary incontinence. "This medical device is one of the best ways to induce a true Kegel contraction," says Dr. Robinson. "This, in turn, helps with urinary incontinence. We add this device for patients to be used along with their O Shot procedure but can be used on its own as well."
Gem Bottle. Starting at $78. gem-water.com. Beautifully designed gem wands, gem-water bottles and droplets that are not only gorgeous, but the gemstones enliven water, restoring its crystal structure levels comparable to actual spring water. "This fashionable favor actually promotes health and wellness by channeling the energy of gem stones into your drinking water. One of our personal faves is the Forever Young that uses gems like aquamarine and quartz to promote inner cleansing," says Dr. Cristina Bosch.
Cosabella Lace Body Suit (starting at $130) and La Perla Desert Rose Night Gown ($2,600). cosabella.com; laperla.com. "This Cosabella beauty is perfect for the season to wear under soft cashmere sweaters or silky white blouses. And with a name like Desert Rose, your special lady is sure to feel like the most beautiful woman in the Valley," says Dr. Bosch.
Cashmere Patch-Pocket Robe, $675. neimanmarcus.com. "Lingerie for men?! Maybe not, but we can't deny that any man will enjoy this luxe cashmere robe," says Dr. Robinson. "And with a shorter length, it is less likely to get tangled in the sheets when the night turns a little sexier."
The Holiday Helper

Need a little pick-me-up during the hustle and bustle of the holiday season? Try a dose of intravenous nutrients from The Hormone Zone. "Feeling the stress of the holidays? Get an IV! Getting a winter cold? Get an IV! Flying for the holiday? Get an IV! Partied too hard? Get an IV? Our IV Therapies provide solutions for all kinds of concerns. It's an excellent energy, immune and mood booster!"
To Learn More The Sex Doc thesexdocs.com. @TheSexDocs