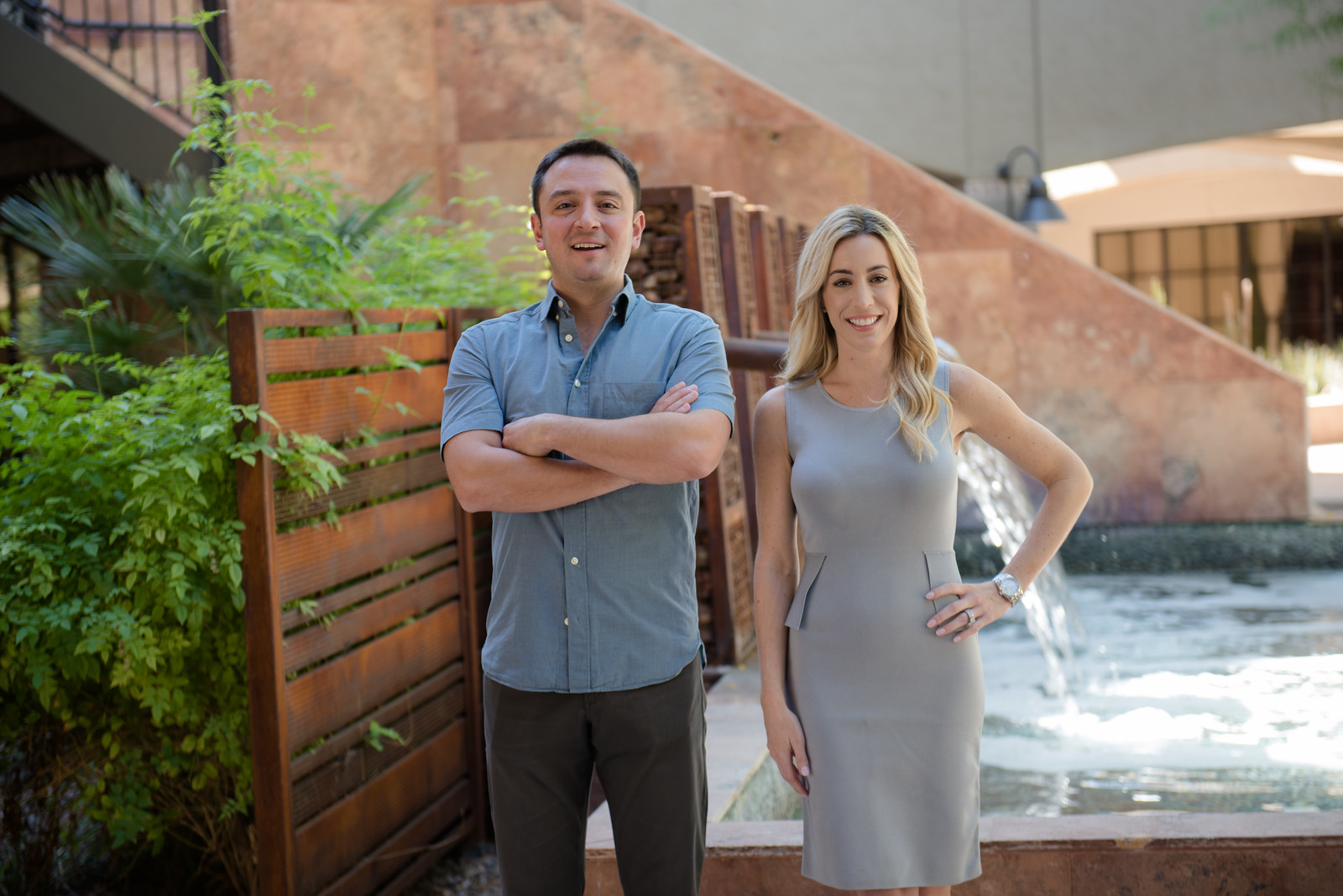 Born over a burrito during the dawn of a new age for the vacation rental industry, Book My Vacay rode a cultural and technological renaissance to become an entrepreneurial success story that defines an industry. This is its story.
Book My Vacay co-founders and Arizona State University alums Elizabeth Shapiro and Michael Pedenko (pictured, above) were catching up over lunch in 2013, when inspiration struck for a new business. Just five years later, the partners would cash in on that lunch idea to go to work for the company that acquired their business.
During lunch, Elizabeth, a property management expert preparing to go to dental school, shared her idea for capitalizing on an emerging local market trend: People were increasingly looking to rent vacation homes in the Scottsdale area. A real estate broker with an under-utilized condo, Mike agreed to put his property on the short-term rental market and help Elizabeth manage it.
They grew Book My Vacay from that rental condo into Scottsdale's largest manager of luxury and high-end vacation rentals, caring for over 131 homes and 20 employees in popular Arizona vacation destinations such as Scottsdale, Paradise Valley, Phoenix, Flagstaff and Tucson. Their success stemmed from a combination of bootstrapping entrepreneurial effort and great timing.
Back in 2013, the hospitality industry was undergoing a dramatic change with the rise of online booking. Featured on platforms such as Expedia and Homeaway, vacation rentals went from a cottage industry to mainstream seemingly overnight, with the privately owned short-term rentals becoming a legitimate alternative to hotels.
"The vacation rental management market was completely fragmented," says Mike. "Demand was everywhere, but there was no standardization. I'm not surprised to see major players racing to consolidate the industry today."
In July, 2018, Book My Vacay was acquired by Vacasa Arizona LLC, a subsidiary of Vacasa LLC, the leading U.S. vacation rental management company. A growth story in its own right, Vacasa is a technology-driven property management company that received an industry-leading $103.5M in funding last October to fuel growth on its path to IPO.
"It's such an exciting time to work in this space," says Elizabeth, who now works for Vacasa Arizona as a broker and community manager, helping expand the company's real estate program and recruiting new vacation homeowners onto the service. "The day we established the business we got our first listing under contract! I never thought I'd say this, but choosing the vacation rental property management industry over dental school was the best decision I've ever made."