Page 1 of 2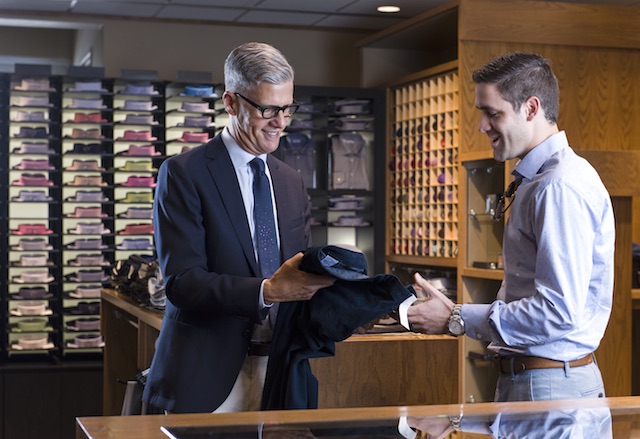 Known as the menswear powerhouse of Arizona, The Clotherie, has been providing the men of our Valley with a carefully curated collection for almost 50 years. Opened in 1969, and housed at the eminent Biltmore Fashion Park, the Clotherie is the destination for a man who desires a level of quality and international sophistication recognizable anywhere in the world. From traditional cuts and patterns to modern fits and cutting-edge colors, men of all ages can find their complete look at this one-stop-wardrobe-shop that sells anything from knickers to knockouts. As a major component of their business make-up, The Clotherie continues to evolve with time; and since in high demand, they have incorporated an expanded selection of luxury sportswear clothing. The assortment of their collection now ranges from top-selling dress wear clothing labels such as Canali, Ermenegildo Zegna, Samuelson, Eton and Zanella, to the latest in luxury sportswear by L.B.M., AG, Eton, Green Ribbon, Circle of Gentleman, and Sand.
Beneath all of the recognition and awards are the people who make it all possible; and after having a conversation with the Sportswear Director Tom Simon, we understand the level of specific tailoring The Clotherie exhibits for its clientele.
Here, Simon, gives AZ Foothills readers an inside into the latest Spring/Summer trends and his expert opinion of popular pieces seen on the runway.