You've all seen it! The signature White Big Top near Red Mountain 202 at McClintock Dr. in Scottsdale. But many wonder what the majestic tents may be….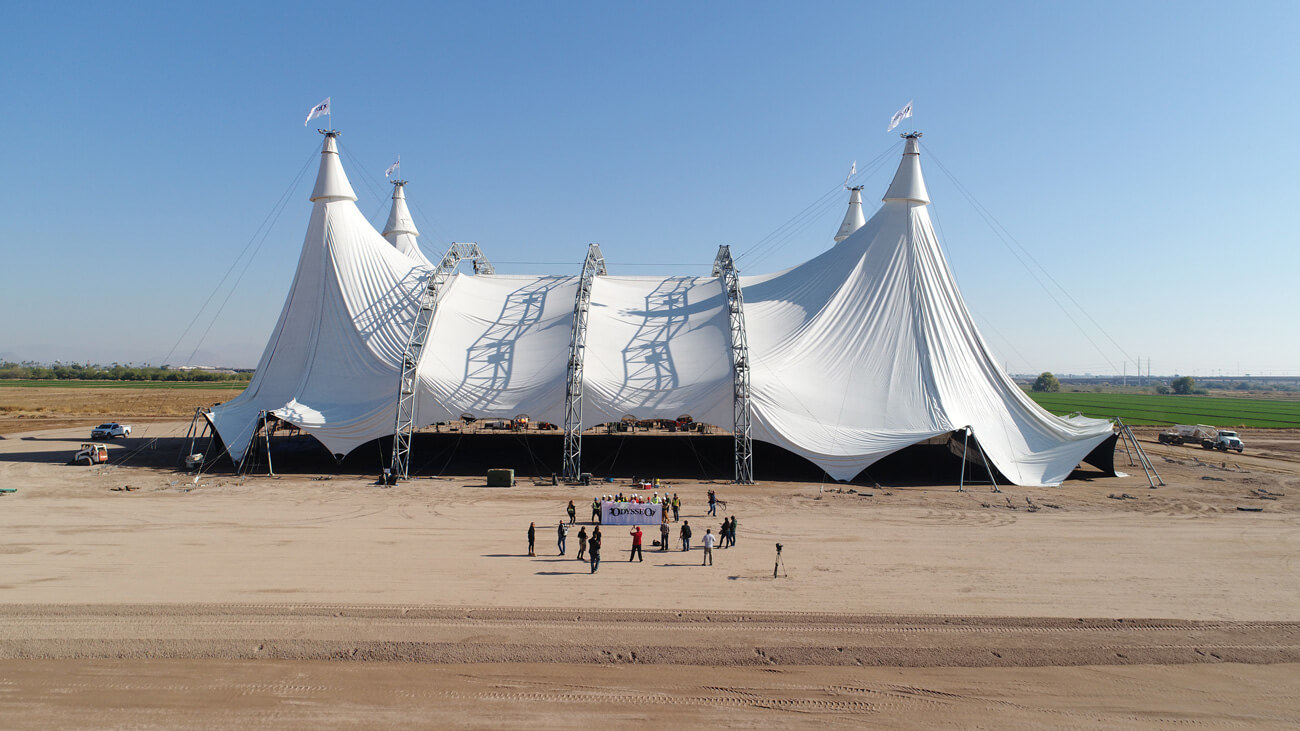 Cavalia Odysseo, the unique theatrical production and a grandiose multi-dimensional spectacle, is back in Scottsdale. Phoenicians can soon expect a live Hollywood-style movie set, where the moving interactions between human and horse are at the heart of the action. Layers of mesmerizing decor are combined with live music, gravity-defying acrobatics and aerial stunts. Add the staggering effects created by state-of-the-art scenery creating a sumptuous feast for the senses.
What's New at Cavalia
"The production has grown considerably in size and scope over the last few years without losing its soul. The performance area is almost twice the size as the one seen during the last stop in Arizona, enabling larger-scale, cutting-edge creative performances. The new scenic space allows us to build a full 3-story high mountain made of 10,000 tons of stone, earth and sand for astounding perspectives, literally recreating nature on stage, where man and horse come to enjoy each other's company in complete complicity," explains Cavalia Odysseo's resident artistic director Samuel Alvarez. "Overhanging the performance area is a technical grid that can support 80 tons of equipment, including a full-sized merry-go-round. This defies everything that has ever been done under a tent to date in the world. You really don't need to go to Vegas to see a Vegas show while we are in town!"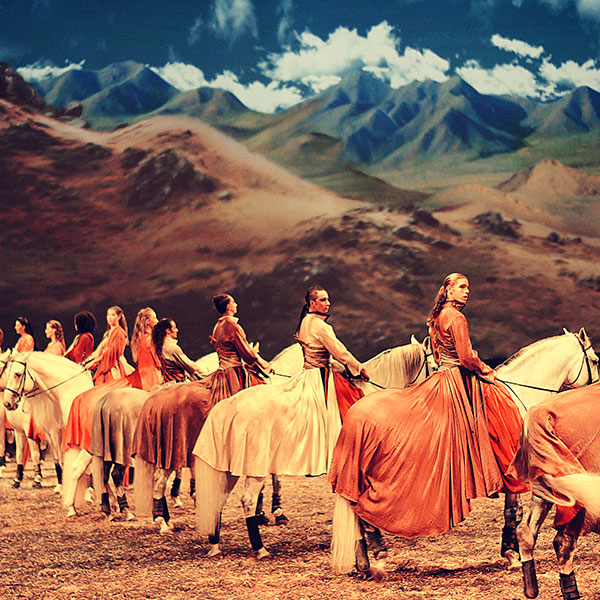 The Stars of the Show
The Odysseo herd comprises horses of 12 different breeds – Appaloosa, Arabian, Canadian Horse, Holsteiner, Lusitano, Paint Horse, Percheron Hanoverian Cross, Quarter Horse, Selle Français, Thoroughbred, Spanish Purebred (P.R.E.) and Warlander. Before, during and after transport, a 20-person stables team including trainers, health technicians and grooms create a comfortable environment and provide the horses with daily health care, grooming and activities. In their spacious stable tent, the horses each have a designated box with ample space to stretch, lie down, sprawl out, roll and relax. They always have the same neighbors to ensure a familiar and comforting environment in each city.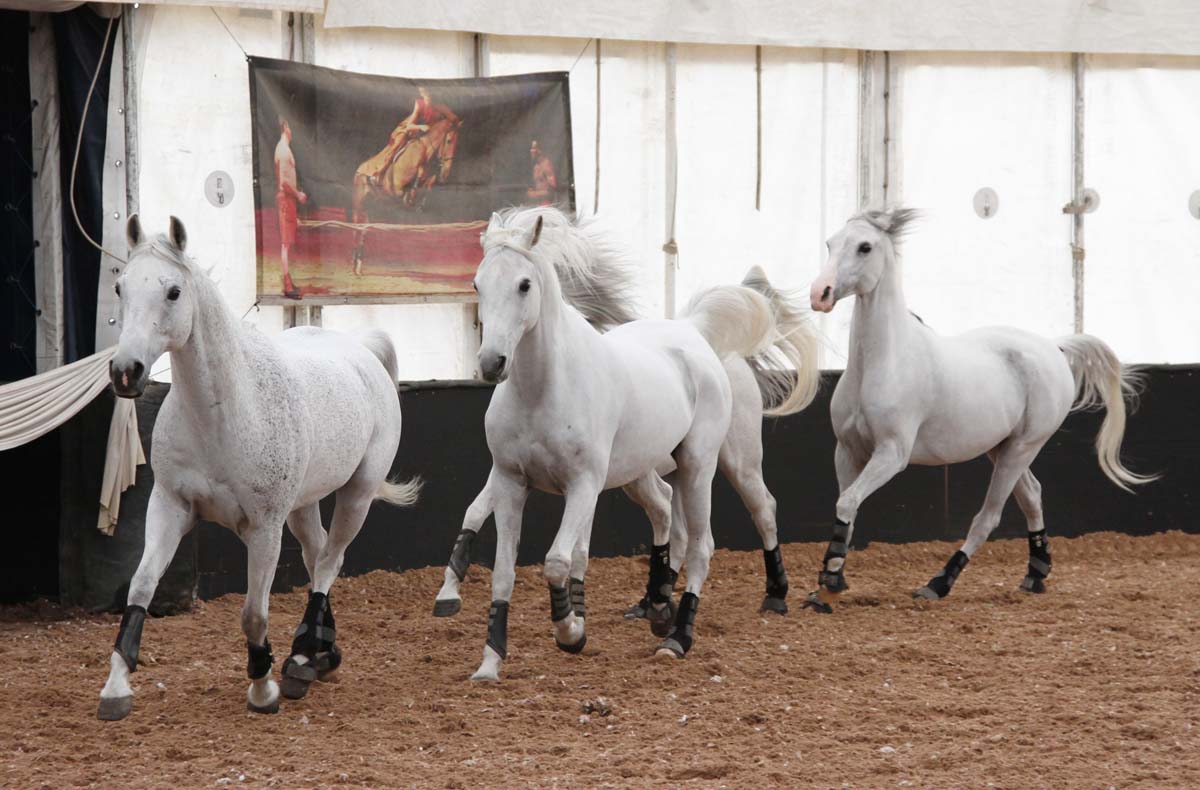 Every day the horses receive their share of pampering, including showers, grooming, massages, workshops with their riders, and outings to the paddocks where they roam and play. The performance aspect for each horse lasts roughly 12 minutes. The rest of their daily activities also include warm-up and free time. Cavalia Odysseo's horse training is based on communication, observation and patience as well as a keen understanding of each horse's talents and needs. The tone of the show, embraced by the entire company, is one of mutual respect, kindness and trust.
Get Your Tickets Now
Ticket prices range from $39.50 to $169.50 + applicable fees. For a memorable outing, the Rendez-Vous VIP package offers the best seats in the house, a full meal buffet dining before the show, open bar, desserts during intermission and an exclusive visit to the stables after the show. This unique VIP experience takes place in a tent alongside the White Big Top. The Rendez-Vous VIP package prices range from $154.50 to $289.50 + applicable fees. Special pricing and packages are also available for groups of 12 spectators and more. Tickets for Cavalia Odysseo are available at www.cavalia.com/scottsdale/ or by calling 1-866-999-8111.