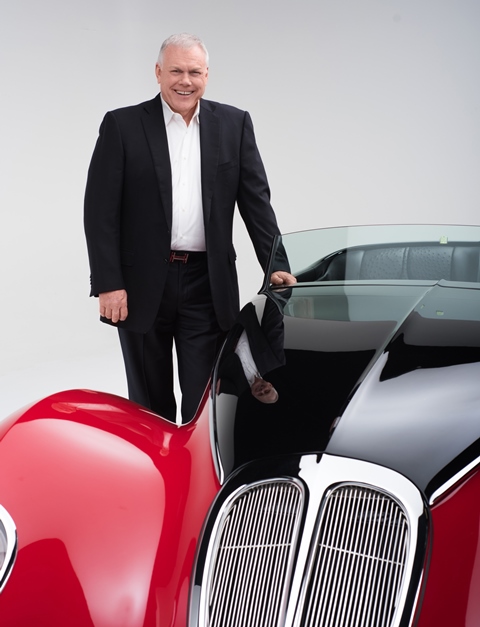 On the Auction Block
On behalf of the team at Barrett-Jackson, we'd like to welcome you to our home in Scottsdale. As we prepare for the 47th Annual Barrett-Jackson Scottsdale auction, it is amazing for me to look back and see how so many of you from all over the world have helped this event grow.
Although I was born in Pontiac, Mich., I grew up here in Arizona, and my life has been spent building on the vision of my parents Russ and Nellie, as well has my father's business partner, Tom Barrett. Our goal has been to build the ultimate automotive lifestyle event. We are excited for our 2018 Scottsdale auction, which will feature more than 1,500 vehicles and one million-plus square feet of indoor tent space at WestWorld of Scottsdale. Our 2017 event saw 40 world records and celebrity appearances from megastars Steven Tyler, Floyd Mayweather, Justin Bieber and many more. This January, we hope you will join us to witness some of the rarest and sought-after vehicles in the world crossing the auction block, along with hundreds of exhibitors and experiences that everyone in your family can enjoy.
In addition, your philanthropic support over the past 47 years has helped us raise nearly $96 million to support numerous charities and people in need. I am excited for my wife, Carolyn, who is spearheading our first-ever yearlong charitable initiative, "Driven Hearts," to benefit the American Heart Association. Carolyn and I will auction a 35th Anniversary Corvette at our Scottsdale auction to honor our longtime friend and customer, Dave Ressler, who will be greatly missed after his sudden passing. Dave originally gifted the car to me and my mother, Nellie, on the block at the 2006 Scottsdale Auction.
2018 also marks the return of Ron Pratte, who generously donated an incredibly rare 2017 Ford GT to the Evernham Family-Racing for a Reason Foundation, which will be auctioned to benefit the Autism Society of North Carolina's IGNITE Program. General Motors CEO Mary T. Barra also recently announced they will auction the first-production 2018 Corvette Carbon 65 Edition coupe, benefiting the George W. Bush Presidential Center Military Service Initiative. It all sets up an exciting start to 2018, and we hope to see you and your family January 13 to 21 at WestWorld for what will surely be a memorable experience.
Craig Jackson
Chairman and CEO, Barrett-Jackson