Arizona based homebuilder, Maracay Homes, maintains a core value of job site safety for its employees, trades and homeowners. This Halloween, Maracay Homes is extending its reach and partnering with parents and children in Arizona neighborhoods to demonstrate how to use reflector dots at night and tips for staying safe while out trick or treating. Blythe Sweeney is the director of marketing and communications for Maracay Homes and offers these helpful tips to keep families safer this season: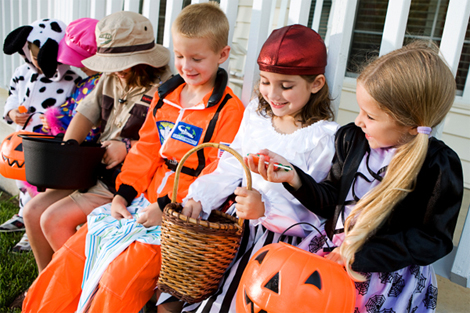 1. Know the route your kids will be taking if you aren't going with them. The best bet is to make sure that an adult is going with them. If you can't take them, see if another parent or a teenaged sibling can go along.
2. Make sure you set a time for children to be home by.
3. Make sure that shoes fit well and that costumes are short enough to prevent tripping, entanglement or contact with flame.
4. Because a mask can limit or block eyesight, consider non-toxic and hypoallergenic makeup or a decorative hat as a safe alternative.
5. Let your children know not to cut through yards, back alleys and fields. Stay in well-lighted areas.
6. Make sure your child carries a flashlight or glow stick or has reflectors/reflector tape on their costume to make them more visible to cars.
7. Avoid leaving your pets outside in the backyard on Halloween night so they don't become a victim to the occasional prankster or fowl play.
8. Dogs can have lethal tails, wagging all over the place. Don't leave any lighted candles or Jack-O-Lanterns where they could be knocked over by a swinging tail or by a curious cat.
9. Examine all treats and throw away any spoiled, unwrapped or suspicious items.
10. Unfortunately, you have to throw out all candy or treats that are homemade.
Have a happy and safe Halloween!