Page 2 of 9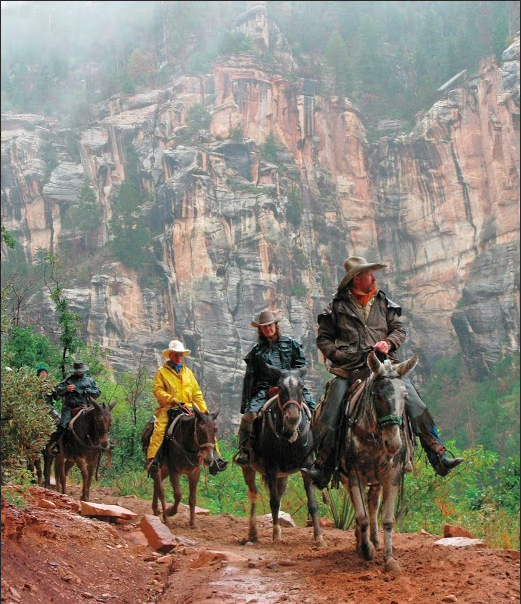 10 Outdoor Excursions
With perfect weather nearly year round, Arizona does not fall short when it comes to outdoor activities. From hiking and biking trails to rafting down the Grand Canyon, Arizona has proven to be one of the nation's premier outdoor-adventure states.
Hot Air Ballooning
A number of hot air ballooning companies in the state offer beautiful and scenic sunset and sunrise floats. Passengers aboard the hot air balloon can enjoy the thrill of floating over the beautiful desert scenery. Flights are available over a vast majority of the Phoenix Metropolitan area, Tucson as well as up north. Five to try: Fleur de Tucson, fleurdetucson.net; Rainbow Ryders Inc., rainbowryders.com; Monument Valley Balloon Company, monumentvalleyballooncompany.com; Arizona Hot Air Balloon Expeditions, arizonahotairballoons.com; Hot Air Expeditions Inc., hotairexpeditions.com.
Pink Jeep Tours in Sedona
Nestled in the Verde Valley, the enchanting red rocks of Sedona offer a plethora of activities for tourists. Visitors can stay at Sedona's luxurious resorts while partaking in the many adventure excursions available. Not only can one scale the red rocks of Oak Creek Canyon on foot, adventure seekers can take a sightseeing tour with Pink Jeep Tours, a staple company for one of the most popular ways to explore all Sedona has to offer. Pink Jeep Tours are also available at the Grand Canyon. pinkjeeptours.com.
Skydiving in Eloy
If you're looking to take the leap of faith and check off one of the biggest milestones on your bucket list, look no further than Arizona's backyard. Eloy is home to one of the largest drop zones and one of the most highly acclaimed skydiving companies in the nation. Thanks to AZ Skydive, exploring the desert sky via a daring parachute jump is a safe and feasible option. Jumpers will take a plane up to the heights of 13,000 feet where they will then jump tandem with a professional skydiver on their backs. AZ Skydive offers tandem jumps, coaching and training. skydiveaz.com.
Fossil Springs in Strawberry
Located in the beautiful Tonto National Forrest, Fossil Springs is a beautiful crystal clear swimming hole just a short hike away from the cute town of Strawberry. Weather depending, there is a road leading up to Fossil Creek open during certain times of the year. However, if the road is closed during your visit, you have a better excuse to hike. trails.com.
Grand Canyon with a Twist
Not many states can claim they have one of the Seven Wonders of the World in its backyard. When one makes the eight-hour drive out to the Grand Canyon to gaze upon its awe-inspiring depths, one can do much more than merely look at the steep-sided canyon. The canyon offers a variety of adventurous activities for visitors to partake in. Visitors can explore the canyon from the sky by taking a helicopter ride over the vast landscape or one can even hike into the canyon and spend a night on its desert floor. Whichever adventure excursion you are seeking, surrounding tourism companies give visitors several options to make your dream Grand Canyon adventure possible. We recommend Papillon Grand Canyon Helicopters, the world's largest aerial sightseeing company for helicopter rides. Staying at Phantom Ranch is the go-to choice when opting to spend the night at the bottom of the Canyon. papillon.com; grandcanyonlodges.com/lodging/phantom-ranch.
Wine & Dine Tour of Jerome
For those who enjoy a more relaxing excursion into the great outdoors, strolling through the beautiful vineyards of Jerome on a nice winetasting weekend getaway could be the perfect escape for you. Jerome is notorious for its wineries and tasting experiences. Whether you're looking for a romantic rendezvous with your partner or a fun outing with friends, this tour around Jerome and the Sedona region with stops to taste wine along the way is the perfect way to take in the spectacular views of Jerome. www.toursofjerome.com/wine-and-dine-adventure.
Kartchner Caverns
Kartchner Caverns State Park is an Arizona state gem featuring a cave with 2.4 miles of passages to explore and marvel at. This cave, the tallest natural column formation below ground, is something people travel from all around the world to see—but we have in our own backyard. Marvel at this breathtaking underground world of hidden limestone caves, often picnicking along the way. azstateparks.com/parks/kaca/.
River Rafting
When it comes to river rafting experience, Arizona has got you covered. Tourists and residents can raft the adventurous Colorado River, the scenic Verde River and several others. The Salt River also offers a more laidback float with friends. Whether you're looking for an experience comparable to a lazy river or an adventurous white water rafting trip, these river-rafting experiences will give you unforgettable memories. oars.com/grandcanyon; sedonaadventuretours.com.
Antelope Canyon
Antelope Canyon, also known as "Corkscrew Canyon," is an adventurous travel destination with discoveries around every corner. Tourists can hike into the magical world of this natural beauty or take a four-wheel tour through Antelope Canyon Tours, a Navajo-owned business that strives to immerse its customers in the beauty of the area, providing geology facts along the way. antelopecanyon.com.
A House Boat on Lake Powell
Lake Powell, a reservoir on the Colorado River between Utah and Arizona, is a major vacation destination. Visitors often rent a house boat and spend time doing an array of outdoor activities like fishing, watersports, camping and much more. This warm water paradise has nearly 2,000 miles of shoreline, making it the ultimate stomping ground for both a relaxing and adventurous vacation. lakepowell.com.
—Caitie Andreen
GRAND CANYON, ABOVE. COURTESTY OF MICHAEL QUINN