Page 4 of 10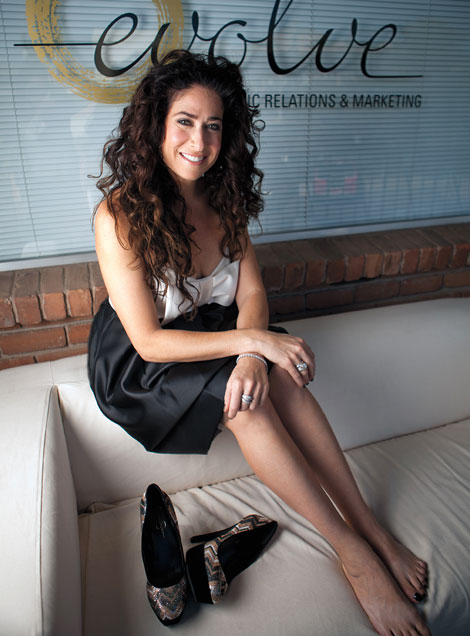 Jennifer Kaplan, Founder of Evolve Public Relations and Marketing
One might call Jennifer Kaplan a people person. As a kindergartener, Kaplan's teacher told her parents that their daughter was very active and eager to socialize. When she was a high school senior, she was voted Most Talkative. During her time at Arizona State University, Kaplan was the social chair of her sorority. And for the past eight years, Kaplan has led her own local public relations firms, most recently with Evolve Public Relations and Marketing, which she founded two years ago. "I always say I was born doing PR," she says. "I was always more interested in people and things people are doing than anything else."
Though the Arizona native has seen much success with her business as is (her team currently oversees 40-plus clients), she recently launched Evolve's Diversity Division to bring awareness in marketing to diverse demographics, including the Lesbian Gay Bisexual Transgender (LGBT) community. Kaplan and her agency are currently providing pro bono services to one n ten, a Phoenix not-for-profit organization whose mission it is to serve LGBT youth.
Next month, Kaplan is even performing during The National Kidney Foundation of Arizona's "Dancing with the Stars Arizona 2013" event Feb. 22 at The Phoenician. To take part, Kaplan has to fundraise and learn to dance, with the help of a pro partner. Thankfully, Kaplan is no stranger to working up a sweat. She lettered in four sports in high school and spends her free time training for half-marathons (shopping and frequenting great local restaurants also spare-time treats). "It's my outlet; it's my balance, my release," Kaplan says.
Though in the business of PR, Kaplan never knows what each day will hold ("I literally jump out of bed in the morning," she says), she looks forward to possibly growing her firm out of state and working to help more and more businesses increase their awareness.
—M.L.