Have you heard of Jolie Vanier? She's an award winning actress starring in an upcoming blockbuster, an author, and a philanthropist. Still not ringing any bells? Maybe that's because this talented Scottsdale native isn't in your normal social circle, which isn't all that surprising considering she's only eleven-years-old. You heard me right, eleven.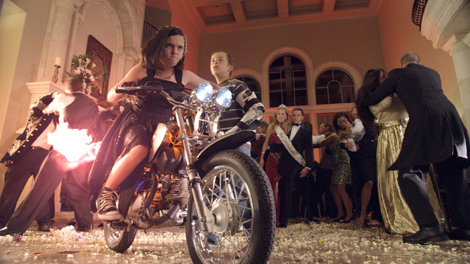 At an early age, Vanier showed an intense affinity for performance, showcasing her efforts first in front of her pets, followed by local theatres such as Childplay and Desert Stages here in the Valley, and now this summer she'll reach a national audience with her role in the feature film "Shorts."
Directed by Robert Rodriguez of "Spy Kids," "Shorts" focuses on the series of events that stem from the sudden appearance of a mysterious Rainbow Rock in the small town of Black Falls. This fantasy adventure film follows the rock as it makes it way into the hands of kids and parents alike, granting wishes and making an already wacky neighborhood a whole lot weirder. Told in a series of shorts, the audience gets to glimpse the out-of-control results of these wishes, where Vanier appears as "Helvetica."
This may be her first feature film, but it is not her first job on the silver screen. Vanier has also appeared in short films "Strange Little Girl," and "Juvenile Delinquence" in which her performance was nominated for Best Young Actress in a Short Film at the Young Artist Awards. Vanier also received a Child Actor Recognition Event award in spring 2009.
Acting is not Vanier's only talent, this girl has also mastered a more two dimensional medium. With the help of family and friends, she has created two children's books based on her love for adventure, fashion design and travel under the titles of "Puwaii Adventures with Joliea & Friends" and "Puwaii Adventures with Joliea and Friends …the Adventures Continue."
When Vanier is not pursuing her acting career in both Los Angeles and Arizona, she is a student at Scottsdale Christian Academy, a straight-A student and a young community activist involved with numerous charities. Whatever else she decides to pursue, we can predict only one thing from this budding star —success.
See Vanier this August in the PG-rated "Shorts" at your local theatre. Visit shortsmovie.warnerbros.com for more information.