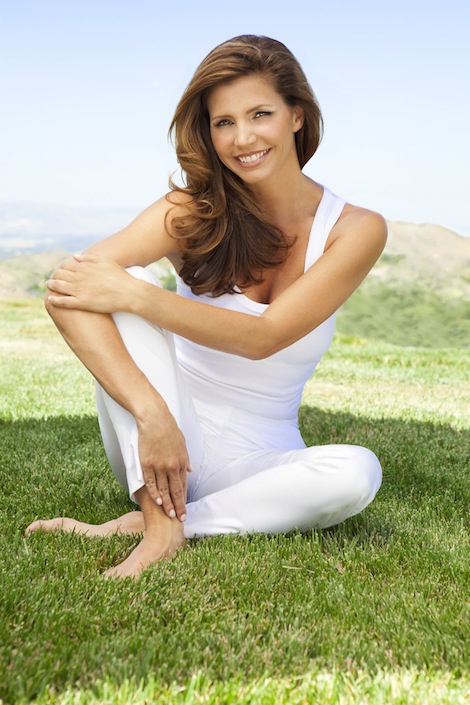 With a recent $50,000 grant by Chase Community Giving and an unshakable anthem from popular artist, Taylor Swift, it seems The Ronan Thompson Foundation is building massive momentum for childhood cancer awareness. On September 29, in honor of the ribbon color of childhood cancer, The Ronan Thompson Foundation will showcase their inaugural Gold Party at the W Scottsdale, hosted by actress, Charisma Carpenter.
AFM chatted with Charisma Carpenter about her connection with The Ronan Thompson Foundation and what it means to host the Gold Party on behalf of the Thompson family.
How did you first hear about Ronan and the Ronan Thompson Foundation?
CC: I found out about the Ronan Thompson Foundation right away because I had been friends with Maya for a long time before Ronan was born. We met in La Jolla, CA, and our children played together. 
What went through your mind when you first heard of Ronan's diagnosis?
CC: Well, my first reaction to Ronan's diagnosis was "what is it?" I had never heard of the word "neuroblastoma" so my initial thought was, "educate me."  When Maya first told me, I was in Las Vegas for the premier of the Expendables, and she called me when I was getting my hair and makeup done and told me what the prognosis was and it was devastating. The next conversation we had was her filling me in on information she had and what she knew.
Now Maya can speak pretty proficiently on the subject and tell you everything there is to know about neuroblastoma, and I learned that most children who are diagnosed with neuroblastoma, if they don't get diagnosed before the age of one, their prognosis for survival is almost zero, so it is like getting a death sentence if you are not one year old or younger.
We heard about this statistic but believed in science and doctors and wanted to believe that Ronan would be the exception and not the rule. And unfortunately, that's not the way it turned out.
What does it mean for you to host the Gold Party?
CC: (clears her throat) it's emotional—in a good way. It's a huge honor to host, I wish in a way it was Taylor Swift because it would get 10 times the media attention, and it would be what the Ronan Thompson foundation needs and deserves, more high profile attention, and whatever can garner that for Ronan, the better.
If I can help bring more awareness, especially regionally, then I am there, and it means the world to me to even be asked. It is a little nerve wracking and scary, speaking in front of larger groups of people even though I'm an actress, personally is a huge fear.
I'm hoping I will be able to carry the night in a way that will make Maya and Ronan proud.
What do you think people need to know the most about the Ronan Thompson Foundation and childhood cancer?
CC: September is childhood cancer awareness month. Seven children die a day from childhood cancer. Childhood cancer is the least funded cancer, which is appalling because our children are our future.
All the proceeds of The Ronan Thompson Foundation go toward research of neuroblastoma and other child cancers. There are a lot of charities that raise a lot of funds, but those funds don't necessarily filter into it 100%, that's a big deal. People should definitely ask those questions before they give their money (are they paying registration fees or other fees that don't go into research?)
To treat Ronan, it was more than $1 million. Not many families can treat their child if they have neuroblastoma or another type of childhood cancer. So these are really devastating truths about cancer that affects children. There just isn't a lot of advocating going on for the kids.
Can you talk about your reaction to Taylor's song?
CC: I know Maya, and I know Ronan and I know the things Maya writes on her blog, so I recognized everything she was saying. It was definitely deeper when you know the person and the child and the fact that Taylor wrote the song from the point of view from Maya. The things that she writes about are deeper and more emotional.
I was really shocked at how she was able to take those words and even make a song out of it. Moreover, I'm so grateful that someone such as Taylor, that's such a big musical person, which is another connection to Ronan and their family because their family are so musical oriented—to have someone in the musical industry with such prestige and popularity come to Ronan and the family's aid in that way, you know, who does that? And then on top of that, she's so young, I just feel like she's a really special person and I'm really impressed with that. What more can you ask for, what more can a person do?
What do you hope for the future of the Ronan Thompson Foundation?
CC: Obviously, I want the Ronan Thompson Foundation to get all the financing they deserve and need to help as many people as possible. So hopefully research will find a cure. The ultimate goal for the Ronan Thompson Foundation is that its name and appeal reach as many people as possible to get enough financing to allow the right doctors to come in.
Funds equal cure. If you don't have financing, you're not going to get a cure, and if we don't pour money and heart and passion in to the Ronan Thompson Foundation, which is geared mostly towards neuroblastoma and then other childhood cancers, we won't have a cure. And we need to help our kids.
To learn more about the Ronan Thompson Foundation, visit www.theronanthompsonfoundation.com
To learn more about the Gold Party, visit www.arizonafoothillsmagazine.com/events
To learn more about Maya Thompson, visit www.arizonafoothillsmagazine.com/people
Follow Charisma Carpenter and Maya Thompson on Twitter: @AllCharisma, @RockStarRonan