Page 1 of 5
Whether you're a parent on-the-go or a busy professional with appointments galore, the following services can help minimize your load and maximize your time.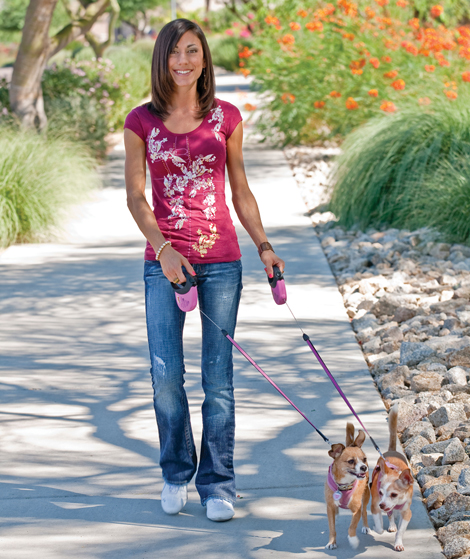 1. Pamper Your Pooches
Leaving Fido or Fluffy when going out of town can be one of the hardest elements of being a pet owner. Lisa Benitah of Scottsdale-based Pick of the Litter Pet Sitting is about to change that. Benitah, an animal lover and entrepreneur, provides a wide array of in-home animal care services.
"I always go to my client's house because dogs and cats are very comfortable in their home environment and normal routine," Benitah says. Her services provide an alternative to booking a stay at a pet hotel or having to run home midday to let the dogs out.
"I do anything from once-a-day half-hour visits to overnights and live-in care, where I stay in the client's home for 19 out of 24 hours a day," Benitah says. "A lot of my clients are busy individuals, so whatever is involved in an animal's normal daily and nightly care is what I will do." 480.248.6680, www.petsittingscottsdale.com.
2. Get Beautified at Your Home Salon
When Carla Olivares, founder of Beauticians on the Go, began in cosmetology more than a decade ago, she noticed a void for quick, mobile stylists that could serve a variety of clientele at various locations. Beauticians on the Go, a family-operated business, offers hairstylists, nail technicians, colorists and other salon services throughout the Phoenix area. The company also has branches in Miami, Las Vegas and New York.
Olivares says her diverse range of clientele includes families and moms on-the-go to corporate professionals to party events and care homes. "I was contacted by a young girl who mentioned that her mom had cancer and she couldn't get to a salon but wanted to do something special for her," Olivares says. "We took our tools and equipment to her location, and we did her hair. Afterwards, she just totally changed. She was smiling and you could tell she was happier—almost like at that moment, she just forgot all her problems." 602.803.2827, www.beauticiansonthego.com.
3. Put Your Money to Work
While high-net worth individuals enjoy many luxuries, from homes and cars to boats and planes, the management and organization of these amenities can be a full-time commitment. "We are kind of like a quarterback for high-net worth families," says David Harbour, president and CEO of Scottsdale-based High Point Capital Group (HPCG). "We help them find the appropriate attorneys, CPAs, money managers, and people to assist if they want to buy a plane, boat or second home, among other things. We are like the personal CFO for the family."
The concept of the "family office" appeals to such families because it simplifies the day-to-day financial management of assets, homes and luxuries held all over the world. HPCG assists families in setting up a stellar group of professionals specifically selected to manage a particular family's needs.
"For example, take a family that has four or five houses and 15 to 20 cars or more—that is a lot of work," Harbour says. "Each property has HOAs, property taxes, etc., so they hire a family office to manage all of that paperwork." www.hpcg.com.