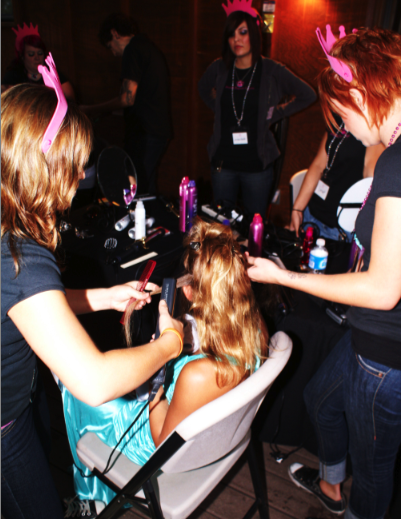 Every girl remembers their prom night; picking out the perfect dress, getting their hair done in an up-do, having their makeup done like a movie star, going out to a lavish dinner and feeling butterflies when their date walked them into the extravagantly decorated dance room. But not every girl is able to feel like a princess for a night, especially when they don't even have a family or friend to love them.
All this has changed for foster girls in the Phoenix area when non-profit, Hope & A Future, started the Princess Program in 2005. Their vision was to show girls in the Arizona foster care system that there are people that believe in them and that they could reach their potential and achieve their dreams. The Princess Program started as a camp for the girls in the program to attend each summer. This is a place for them to bond with each other and their mentors, a place where they could feel acceptance and love.
The program began to incorporate a dress drive so that they could put on a prom for the girls. Once the community learned what Hope & A Future was doing for these girls, many businesses stepped up each year to help provide all the necessary items to help - from dresses being donated by boutiques, to a five course meal for the girls to enjoy, to Dolce salon coming up to camp to give the girls makeovers for a night they would never forget. Male volunteers even come up and wear pink bow ties with black dress outfits to put the corsages on their wrists and escort the girls to their "prom".
One girl shared her experience and how much the program meant to her: "When I came to camp, I didn't realize that I would be getting treated so special. When I saw myself after getting my hair, makeup and nails done I just started crying. I felt like I didn't deserve it and didn't understand why our cousins* were doing all of this for us. My cousin told me that I am beautiful and that she will always be there for me. It made me feel good about myself, something I hadn't felt for a long time".
When the program started in 2005, 17 girls participated. This year over 45 girls will be attending camp. Currently the program facilitates girls from the ages of 12 to 15 but this year the organization will hold the first fundraising event to help create a similar program for foster girls in the 16 to 18 age range. This will bring the numbers up to around 90 if they can receive the funding. The Pink & Blackjack Affair will help raise money and awareness of the program so it can continue to expand.
The event will be held on September 17 from 7-11 pm at 8385 West Mariners Way, Peoria 85382. Over 200 valley residents are expected to attend, with the event raising over $35,000 for the program. Tickets will be $60 for a single or $100 for double and can be bought at www.azhope.com.