The National Speech and Debate Tournament, the largest academic competition in the nation, is making its long-awaited return to Arizona after nearly two decades. With over 6,000 participants, including middle and high school students, coaches, judges and community members, the week-long event from June 11–16, 2023 promises to be a remarkable gathering of talented individuals.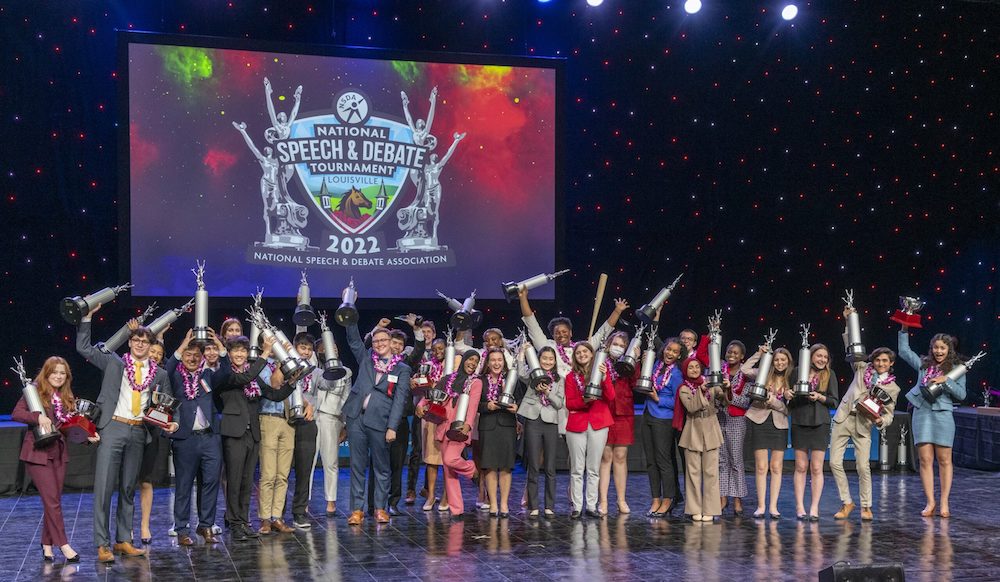 "We're very excited to bring this event to The Valley. We haven't hosted Nationals here since 1999, and this is an amazing opportunity to show off the best that this city has to offer," says Richie Glover, the National Tournament volunteer coordinator and AZ National Speech & Debate Association (NSDA) committee member.
The 2023 Cactus Classic National tournament will be held at various locations across the Phoenix/Mesa metro area, including Mesa High School, Mountain View High School, Red Mountain High School, Skyline High School, Westwood High School and the Phoenix Convention Center.
The tournament would not be possible without the hard work of Arizona district leadership and the support of community members. Volunteers will take on various roles, including managing concessions, staffing information tables at venues, setting up competition sites, operating the NSDA store and judging the hundreds of rounds held throughout the week.
"We're hard at work with the goal of providing this exceptional educational opportunity to students from around the world. We would, of course, be delighted to have more folks join us and pitch in," says Glover.
To welcome competitors to Phoenix, the NSDA enlisted local artist Jesse Perry, known as MrDowntownPHX, to craft a mural for contestants to take commemorative pictures with. Located on Roosevelt Row, the mural highlights all that Phoenix has to offer through Perry's signature style of bright, bold colors and imaginative images.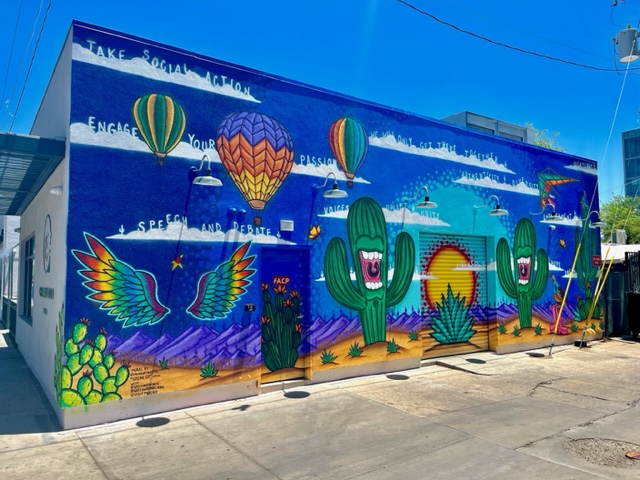 "Speak Up" mural by Jesse Perry, a.k.a. MrDowntownPHX, at 5th St. and Roosevelt in Downtown Phoenix
The journey to nationals is difficult and time consuming. Students have spent the past year competing in dozens of local and national competitions to qualify for the Nationals competition. Competitors have dedicated countless hours of practice, working with teammates and coaches to refine speeches and sharpen debate skills.
The competition features a diverse selection of categories, encompassing both speaking and debating. Debate competitors will discuss a range of political and social topics, including the North Atlantic Treaty Organization, ranked-choice voting and government employees leaking classified information. In speech events, participants will deliver self-authored speeches, perform acting pieces or deliver extemporaneous and impromptu speeches on breaking news topics.
"Speech and debate touches and changes lives for the better," says Glover. "It is the best way I know to develop critical thinking and problem-solving skills."
When students aren't competing, the tournament offers a range of souvenirs and activities to remember the experience. Among these exclusive items is Prickles the cactus, this year's commemorative stuffed animal. Each year, the NSDA selects a featured plush to represent the host state. Prickles will be on sale alongside other mementos, like nationals T-shirts, lapel pins, graduation insignia and competition supplies.
For those interested in viewing the tournament, final events will be featured on stage at the Phoenix Convention Center on Friday, June 16. Alternatively, the event can be watched via livestream.
For more information on the National Speech and Debate Tournament, visit www.speechanddebate.org/nationals. To learn more about the National Speech & Debate Association, visit www.speechanddebate.org.