The Arizona Diamondbacks are celebrating their 25th year as an MLB franchise.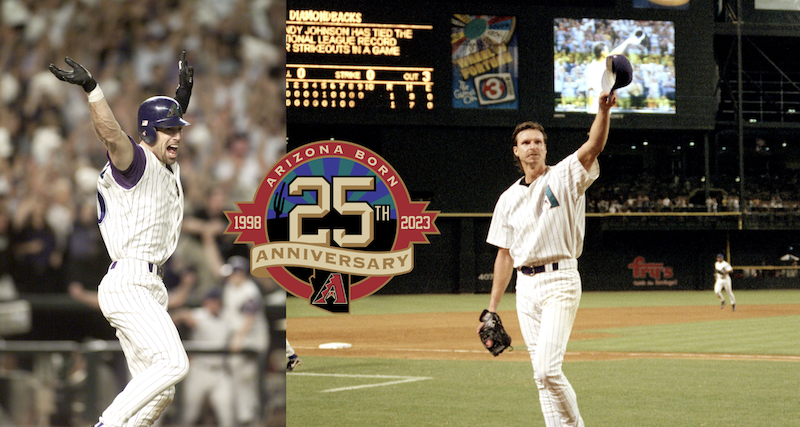 Luis Gonzalez. Photo: Jed Jacobsohn / Allsport; Randy Johnson. Photo: Barry Gossage / Arizona Diamondbacks

Here's a look back at the highlights over the past decades leading up to their silver anniversary, as well as exclusive interviews with famous former players Randy Johnson—hall of farmer and one of baseball's greatest pitchers—and Luis "Gonzo" Gonzalez—former record-breaking all-star left fielder—who have both left an indelible mark on the team we know and love today.
AZF: If you could relive a single moment in your career with the D-backs, what would that be?
Randy Johnson: It is a team highlight but something I was asked to do. It would be coming out of the bullpen in game seven (of the World Series) because a whole year, a whole season was under my belt. I never doubted my ability but didn't know what the results were going to be after everything I accomplished that year. I didn't know what I was going to be able to give. If I don't pitch well and all of the sudden give up a couple of runs, maybe the likelihood of what the outcome was may not have happened. It was a matter of me being in uncharted waters after everything I had gone through that year. It was something I had never experienced, and it was one of the greatest efforts that I've probably ever put forward in anything I've ever done baseball-wise.

Luis Gonzales: Game Seven of the World Series. You dream as a little kid to be in that special moment with all eyes on you to help win a world championship. To be that player in that moment, you wish you could bottle it up and share it with your teammates and everyone in the stadium and throughout the state.

AZF: What is the best advice you've ever received?
RJ: The best advice I ever received was from my dad, Bud Johnson: "You're putting your name on whatever you're doing, do it well."
LG: The best advice I've received came from my mom, Anne Silverstein: Treat people the way you want to be treated. Always be respectful to everyone. Appreciate everything you have because it can be taken away at any time. Always enjoy the moment and live in the moment.
AZF: How has the game changed (or not) since you were playing?
RJ: The game has changed over the last 10 years as things have come and gone and others are being implemented. The shift was new, and now it will be gone. The time and clock has been talked about since I was playing because they wanted to shorten up the game. After being to some Minor League games where they implemented the time clock, I watched games that were two and a half hours.
LG: The game has changed a lot especially with the new rules. It's changed for the players because social media has become a huge part of what they do on and off the field, the endorsements and different types of opportunities these players can come into, especially those with great big personalities. It helps the fans get to know them better and who they are not just as players but as people.
AZF: Crystal ball—Where do you see the D-backs headed in the next 25 years?
RJ: We are building a strong foundation with homegrown talent and hope over time that translates to sustained success. As the team has more success, it will become a destination for players who want to play at home, like I did when I signed here in 1999. We have seen it work in the past with our postseason teams being a good mix of veterans and young players who were invested in this city. The fans here are great about supporting their teams, and I expect we will give them plenty to cheer about in the years to come.
LG: I'd like to see us win a few more championships and make some trips to the World Series. We have a great amount of young talent coming through the system in the next few years. Hopefully, we can continue to grow with them and help them become champions here for our state and for our organization.
This feature is in our special edition IN AZ 2023 issue. Read the full issue online here for more inside intel on where to stay, dine and everything in between IN AZ this sporting event season.