Each spring, 15 Major League Baseball (MLB) teams return to Arizona for Cactus League's spring training, along with thousands of baseball fans and tourists from all over the country who watch the preseason games, explore the Grand Canyon State, and enjoy the beautiful weather and many activities that Arizona has to offer.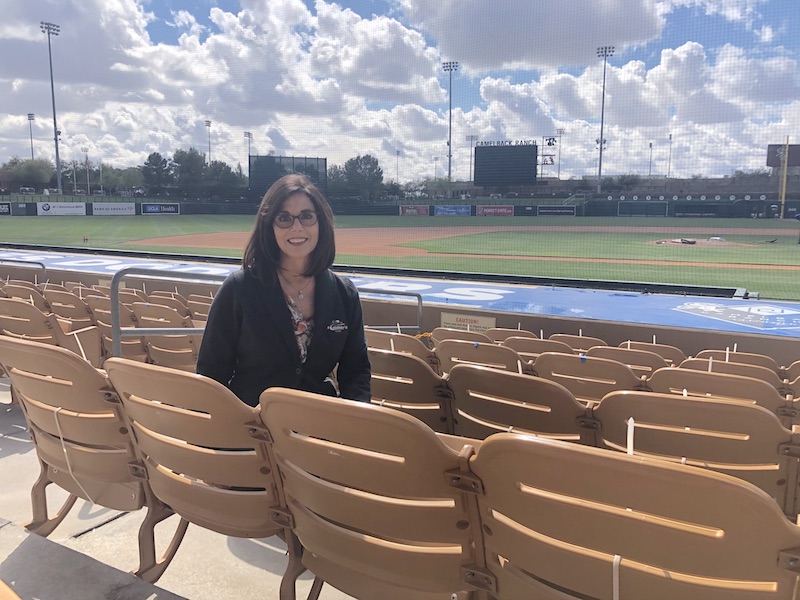 Cactus League Executive Director Bridget Binsbacher
Photo: Cactus League

Founded in 1947, Cactus League spring training has become one of the biggest events in baseball as well as one of the largest economic forces for the state of Arizona, with 10 ballparks across the Greater Phoenix Metro area that host the professional baseball teams and their fans each season.
"I expect the [economic] impact to be massive this year as Arizona's tourism industry continues to recover from the pandemic," says Cactus League Executive Director Bridget Binsbacher. "Each of the last three spring training seasons have been disrupted—the first two by COVID-19 and the last one by the MLB lockout—and I keep hearing that fans are looking forward to a 'normal' season in 2023. Combine that with the fact that more people are traveling these days and I'm optimistic that will translate to higher attendance. Six out of 10 Cactus League fans come from out of the state, so we really rely on visitors to drive the impact."
An Arizona State University study commissioned in even-numbered years measures the economic impact of Arizona's spring training season. In the most recent full season, 2018, the Cactus League generated $644.2 million in economic impact, according to ASU researchers. While the 2020 season was cut short due to the start of the COVID-19 pandemic, it offers the latest data of the Cactus League's economic impact in Arizona, including:
Generating an estimated economic impact of $363.6 million, including a $213.7 million contribution to Arizona's Gross Domestic Product before being suspended due to the COVID-19 pandemic on March 12, 2020.

Attracting 2,344 visitors to Cactus League ballparks, including 1,446 non-Arizona residents.

Drawing a total of 912,956 fans at an average of 6,568 per game.
Creating 3,202 annual jobs paying $128.3 million labor income in 2020.
Directly generating a total of $18.4 million in taxes for the state ($13.1 million) and local governments ($5.3 million).
Nearly a third (31.6 percent) of out-of-state fans said they would visit another part of Arizona during their trips, with North Central Arizona and Northern Arizona listed as the most popular destinations.
The Cactus League also creates opportunities for community impact by partnering with five nonprofit organizations: The Peoria Diamond Club, Hohokams, Tempe Diablos, Sundancers and the Scottsdale Charros, which all provide volunteers and services for spring training events and games.
"[Spring training] is their main source of fundraising, and it provides the most visible platform for their outreach, which includes giving back through scholarships and other initiatives," says Binsbacher. "As someone who ran the Peoria Diamond Club, I will say that giving your time to these organizations is a wonderful way to make a positive contribution to your community, meet great people and have a lot of fun."
For more information, visit cactusleague.com and follow @thecactusleague.
This feature is in our special edition IN AZ 2023 issue. Read the full issue online here for more inside intel on where to stay, dine and everything in between IN AZ this sporting event season.