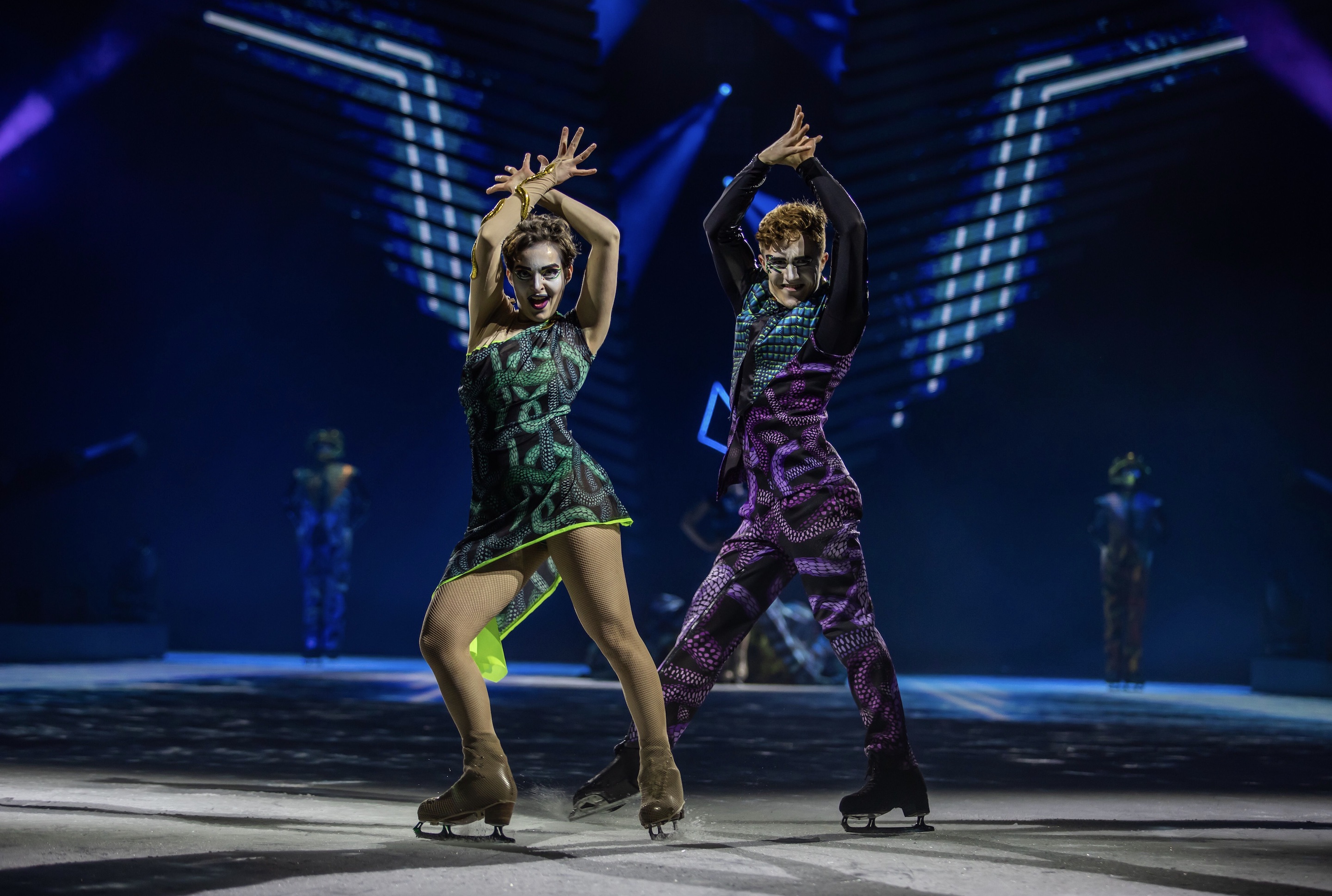 Figure skater Karina Manta, of Chandler, has taken on an exciting adventure as a star in Cirque Du Soleil's Axel, a breathtaking world-class skating and acrobatic performance that is making its way across the country and stopping here in Arizona. (You can catch the show between March 19 to March 21 in Prescott and April 17 to April 19 in Tucson. Ticket prices vary but start at $62 and can be purchased online.) AZFoothills had the privilege of speaking with Manta about competing, her crowning achievements and prepping for the big Cirque shows.
What would you consider to be your biggest accomplishment with your career?
It's hard to pick one thing in particular. Competing on the Grand Prix circuit was a huge goal of mine for a very long time, so being at Skate America in 2018 was incredible, but even beyond that, I'm really proud of the fact that Joe (Johnson) and I were able to bring a creativity and uniqueness to our work year after year. We sort of did things our own way—which is tough in a sport like ice dance—but I'm really proud of the way we stayed true to ourselves throughout our careers, and we were never afraid to push the envelope a bit.
Do you have any future goals you would like to accomplish? Is there anything you are currently working on outside of Cirque du Soleil?
I studied English in college, and during my time as an undergrad, I completely fell love with writing. I'm actually working on a book right now, which is a huge dream of mine. I'm definitely the kind of person who likes to have a lot of things going on at once—so it's fun for me to have something completely different from skating to work on during the off days. In every city, I try to find a really cute coffee shop to visit, and I sit down for a few hours and work on the book.
How long have you been ice skating and dancing?
I've been dancing almost my entire life, and I've been skating for 18 years! Over the years, I've had dozens of wonderful teachers and coaches that I'm so grateful for.
What is it like to be a part of Cirque du Soleil?
It sounds cliché, but it really is a dream come true. We get to collaborate with so many talented athletes and artists, and it's such an inspiring workplace. Our cast really is a family, and we get to travel together, doing what we love, in front of amazing audiences every week. I couldn't have imagined a better way to continue my skating career after stepping away from competition.
How do you prepare for the show?
I usually warm up off the ice for about 20 to 30 minutes. I ride a stationary bike and do some active stretching and core exercises. It's really similar to my warm-up from my competitive skating days!
Have you considered returning to competitions?
Joe (Johnson) and I joke around with the idea of a comeback all the time, so who knows! As much as we talk about it, I think we're really happy with where we're at right now. Competition can be super-stressful and restrictive. It's nice to be performing in an environment that's purely based on entertaining people. We're having a lot of fun exploring our creativity outside of the competitive world at the moment.
Do you have any advice for those looking to have a career on ice?
Make sure to wear lots of layers! Even after years of skating, ice rinks still make me so cold. But otherwise, I would say to really lean in to what makes you unique, and don't be afraid to bring something different to the table. A lot of the people on our cast are skaters who found a way to perform that was totally original. I love seeing skaters bring innovation to the sport.
What do you like to do outside of skating?
A lot of my hobbies are travel-oriented now that my life is on tour. I spend a lot of time listening to audiobooks and podcasts, especially on long bus trips. I've become a bit of a foodie, and I love finding new restaurants to eat at in every city.