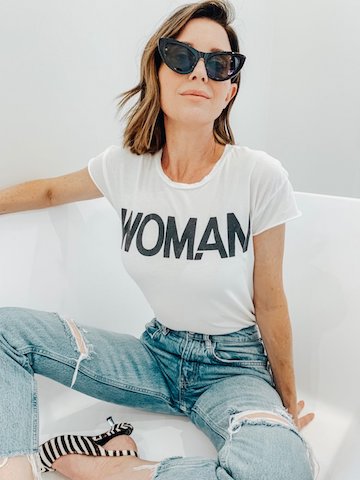 On a bustling September morning at The Henry, Sage Aubrey saunters through the door. She's fitted in a midi denim skirt and a red blouse with puff sleeves. And without fail, draped over her arm, she's sporting one of her own Sage Aubrey Handbags paired with a stylish scarf from the brand, no less. The luxurious accessory has become something of an outfit staple for Aubrey, as well as for most women throughout the Valley.
As she makes a beeline to the coffee bar – where I stand, prepped to order my usual mocha – she struts with an almost unexplainable essence: effortlessly chic, yet casual. Confident, yet approachable. Even in a crowded environment, she's unmissable.
"Sage, right?" asks the barista, as he writes her name on a coffee cup. In this restaurant, Aubrey is a regular.
When she's not busy designing in her studio or keeping up with the fun antics of her family life, this space serves as her "office away from home."
At a glance, Aubrey's life looks picturesque. She's the mother to two creative little girls, and happily in love with her entrepreneur husband, Kevin, who she refers to as her "warrior" and "best friend."
In her professional life, she's the founder and designer of Sage Aubrey Handbags, a brand built on the idea of inspiring and empowering women through connectivity, authenticity and respect. The company statement is refreshing, and noticeably different from what most high-end fashion brands typically market.
It's no accident, though. The same level of transparency that she's meticulously incorporated into her brand, is a similar notion that Aubrey's also adopted within her own life. Or rather, maintained.
"Approachability is very powerful. Having that 'too cool, too rich' vibe isn't attractive. I don't think that's where success comes from for women," says Aubrey.
While Aubrey appreciates her journey, she'll be the first to admit that the road hasn't always been easy. And her early exposure to the realities of the fashion industry often left her disillusioned and frustrated. As she put it: "I was working through this industry that I didn't even feel like I could identify or truly fit into."
Her story began with a simple love for fashion – between her obsession with proportions and a creative eye for compelling product structures, her professional instincts seemed less like something she'd adapted through experience, but rather an inherent understanding that she was born with.
And it's Aubrey's sincere love for the field that's encouraged her to keep working at her craft, no matter the obstacles that she may endure. And she's navigated more than a few.
Between bad manufacturers in Los Angeles and the Dominican Republic, a chance meeting with the head handbag buyer for Bloomingdales Middle East, and the opportunity to work with some of the industry's top designers through a prestigious fashion program in New York – that ultimately made her question her professional goals more than it did to reassure her of them – Aubrey has endured a lot of high highs and low lows.
"Basically, every random, terrible thing that could have happened to me professionally, has happened – like, more than once [LAUGHS]."
At the peak of what she once thought of as success, she admits that she found limited joy. After working so hard and for so long, Aubrey notes that her breakthrough mostly felt really "shallow and empty."
With her own passion to empower women through her work, her frustration towards the field was inevitable, as she believes that there's a lack of "respect and dignity for women in – and outside – the world of fashion.
"I started going into all these luxury stores, and I just really wanted to understand what it felt like to be a consumer. What I found was that a lot of these places were really intimidating, and icy and unfriendly."
Even more than the lack of approachability, Aubrey noted that there's often a general disregard for women – and the problem isn't just exclusive to the stores, but rather the industry as a whole.
"All of these fashion brands have been built on this idea that their product is the icon. How have we convinced women – myself included – all of these years, that the product is the icon, and that they're second to that? That we're somehow lucky to be wearing it? And they've also manipulated us to believe that when we see a handbag, that's all we see. We don't see the woman, we just see that expensive piece that she's wearing."
Rather than allowing the often cold and impersonal tendencies of high-end fashion to intimidate her, Aubrey allowed it to fuel her in building a brand with a mission much bigger than the product's being sold.
"For an industry that's supposed to cater to women, it does the complete opposite. And at that time, I was a part of the problem. That was when I realized that I wanted to be the solution."
And thus, the Sage Aubrey brand was truly born.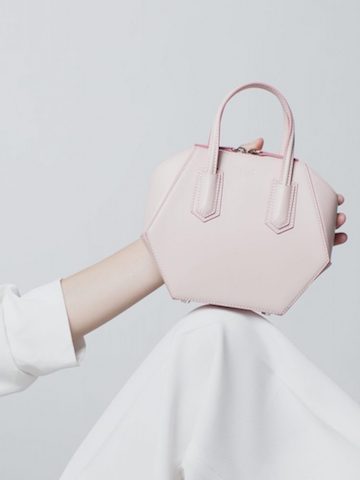 "My next step was asking myself, 'OK, how do I start reworking my brand to essentially reframe the way we think about what luxury is, while still maintaining it as something that's authentic, and collaborative, and that's built entirely on integrity?'"
After a number of frustrating years, Aubrey finally found the right group of people to do business with – who not only invested in her as a designer, but who also believed wholeheartedly in her as an entrepreneur. The chance opportunity came in the form of an Italian manufacturer who helped her to produce her iconic brand design and ultimately launch her first collection in late 2015.
Today, Aubrey's business is thriving both in Arizona and around the world.
Whether you're at a clothing boutique, a women's empowerment conference, or even your local grocery store – Aubrey and her fans frequently run into each other at Safeway, and the proof is in her Instagram stories – you'll see the iconic bag being dressed up and dressed down, all across the Valley.
It's also been spotted on the likes of celebrities like Vanessa Hudgens and Eva Longoria.
While the brand's success is an achievement, for Aubrey it's only the beginning. And it's the work that she has the chance to do because of the brand, that truly makes it all worth it.
She's been known to partner with a number of organizations – most notably, the Fresh Start Women's Foundation, a nonprofit that works to provide women with education and resources to help empower them to positively transform both them, and their families, lives.
It's just one of nearly a handful of ways that Aubrey is ultimately using her business for good – because it's not just about empowering women to fulfill their full potential, it's about actually equipping them with the right resources and support to do so. And whether that support comes in the form of a bold, red Sage Aubrey Handbag or a heart-to-heart chat with the designer herself, Aubrey constantly makes herself available as an ally to all women.
And in the meantime, she's dismantling the misogynistic nature of the fashion industry too. Totally casual.
For more information on Sage Aubrey, visit the brand's official website.