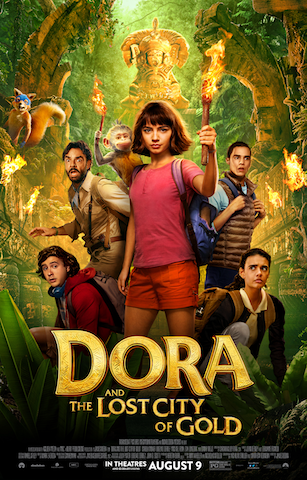 The season of summer blockbusters, sequels and, yes, even the rare occurrence of an unmissable and arguably-odd Tarantino flick, is nearing its end. While the summer movie catalog has delivered a versatile lineup over the last few months, the season's greatest and most unexpected gem is Nickelodeon's very own live-action film, "Dora and the Lost City of Gold."
The film—following a similar anecdote of the hit animated children's show— showcases the merry misadventures of the beloved and sharp-witted character, Dora (Isabela Moner). This story leads Dora on her biggest exploration yet – high school. She quickly finds herself leading her monkey Boots (Danny Trejo), Diego (Jeffrey Wahlberg), a mysterious jungle inhabitant (Eugenio Derbez), and a rag tag group of teens on a live-action adventure to save her parents (Eva Longoria, Michael Peña) and solve the impossible mystery behind a lost city of gold.
The movie has everything fit to make it a massive hit among families and fans, alike—sprinkles of nostalgia tracing back to the animated TV show, sharp and comedic dialogue, an emotionally-charged undertone that drills the idea of cultural appreciation over appropriation, and the notion that it's not just about the adventure, but rather the friends and family we make along the way.
While the film delivers in most every way, it's greatest accomplishment stems from its charismatic cast and their near-perfect chemistry with one another. The standout performance – outside of Moner's refreshingly-warm adaptation of 'Dora' – is courtesy of one of the film's veteran actors, Eugenio Derbez.
Derbez plays the role of the ominous explorer, Alejandro Gutiérrez, who navigates the jungle along with Dora, Diego and their friends, in search of Dora's parents. Gutiérrez is crafted to be the silly and naive, adult adventurer, who is often forced to rely on the expertise of the children to save him from tricky situations. The role allowed Derbez to fall back on his flawless, physical comedy chops, but it pushed him far outside of his comfort zone in other ways.
"For some reason in Latin America, we like to do comedy in a broader way. So, for me, it [physical comedy] was kind of easy, and I like doing my own stunts. I was always doing my own stunts. It was kind of risky because it was very demanding, and I can tell you that physically, it was the most demanding movie I've ever done in my career," says Derbez. "There was an underwater scene, and they trained us to hold our breath for two minutes. And it was interesting because it was more mental than physical. But at the end, we were able to be under water for two minutes, five seconds."
The physical demands of the movie didn't stop there. The nightmare-inspiring quick sand scene in the film was evidently an obstacle of its own for the cast.
"The quick sand—it was a nightmare. It took us one week to shoot that scene, one entire week. And it was winter, the water was getting cold constantly, I ate a lot of sand. Well, it was cork [LAUGHS]. It was a nightmare, but a lot of fun too."
Though Derbez charted into unfamiliar territory with his performance in this film, he's certainly no stranger to cinema. He garnered early success in Latin America, tackling roles as the host of the variety show, "Al Derecho y Al Derbez," and as the leading man in, "La familia P. Luche." In 2014, Variety dubbed him as the "most influential Hispanic male in the entertainment industry" – a feat that Sofia Vergara was similarly recognized for, as she was named the most influential Hispanic woman in the industry. And in 2016, Derbez cemented his status as a trailblazing artist when he was gifted his own star on the Hollywood Walk of Fame.
More recently, he starred alongside Anna Faris in the modern-remake of "Overboard," as well as in the film, "How to Be a Latin Lover," where he worked with the likes of Salma Hayek, Rob Lowe and Kristen Bell. He also starred in and directed his feature film, "Instructions Not Included," which broke numerous box office records, earned more than $100 million, and became the most successful Spanish-language film of all time in the U.S. and worldwide.
Though Derbez appears to have the world at his feet, he hasn't even touched the surface of what he hopes to achieve within the entertainment industry, particularly for the Latino community.
"When I heard about the 'Dora' project, I told my agents, 'I want to be a part of this.' I was always complaining that in Hollywood, they're always portraying Latinos in a negative way. Every single movie, we're the criminals, the drug lords, the narcos, and I wanted to change that in Hollywood as much as I could," says Derbez. "That's why I started producing my own films, because every time they call me, it's for the same kind of roles. The only way to change this, is by producing my own stuff. When I was aware that this movie was in development, I told my agents that I wanted to be a part of this because it's a good way to portray Latinos on-screen, and I know that I can bring a lot of things to the table."
Derbez has a handful of other projects in the works—perhaps even a 'Dora' sequel in the future—with each one continuing to focus on his goals of progressing past the stereotypical role of Latinos in modern cinema, and on providing more inclusive opportunities for all performers in the entertainment industry.
For audiences feeling fatigued by the trend of remakes and live-action films that are being produced out of Hollywood, 'Dora' is a breath of fresh air that serves as a reminder of just how well original stories can thrive with the right team of creatives bringing it to life.
"This movie is different. They really did a great job with the script and they made a more three-dimensional character. It has humor for everyone," says Derbez.
"Dora and the Lost City of Gold," hits theaters August 9.