Page 1 of 3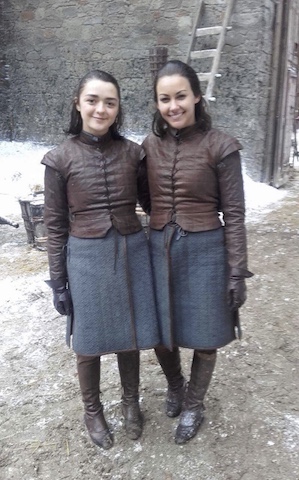 Maisie Williams (left) and Kristina Baskett (right) on the set of Game of Thrones.
As the dust settles following the jaw-dropping series finale of "Game of Thrones" last night, critics and fans alike are reminiscing on what truly made the show of the decade – and arguably one of the greatest of all time – so special. For eight years, audiences were dazzled by beloved scores and stunning cinematography that seamlessly swept them up in the world of Westeros and the antics of the complicated characters who inhabited it. While the series will be remembered as a pop culture phenomenon, the greatest feat for the show arguably occurred behind the scenes, with an array of talented stunt workers, art designers, producers and bold creatives who worked tirelessly to bring the fantasy world to life and to our TV screens each Sunday.
One of those magicians behind the scenes was Kristina Baskett. A Seattle-area native and a former All-American gymnast, Baskett worked as the stunt double for Maisie Williams, who played Arya Stark, from season six through season eight of "Game of Thrones." Though she is from the Pacific Northwest, Baskett has now found her home in the Valley, often serving as a volunteer coach for the ASU Women's Gymnastics team – when she's not traveling the world or balancing a number of impressive TV and film projects, of course.
We had the chance to chat with Baskett – who we're convinced is a Jill of all trades – about her experience working on the hit HBO series, her thoughts on the USA Gymnastics scandal and how her next professional avenue might just be photography.